Meghan McCain Faces Backlash Following Complaints About COVID-19 Vaccine on 'The View'
Meghan McCain is facing widespread criticism online following complaints she made on The View regarding the coronavirus vaccine.
During a segment on Monday's show, McCain voiced frustrations over the rollout of the vaccine, particularly about what she characterized as a lack of clarity around when she herself will be able to receive it. At one point, she made reference to her position on the daytime talk show, which is being interpreted by many people as McCain feeling entitled to the vaccine because of her prominence.
"The fact that I—Meghan McCain, co-host of The View—I don't know when or how I will be able to get a vaccine because of the rollout for my age range and my health is so nebulous. I have no idea when or how I can get it," she said in the segment, which can be seen below at around the 4:45 mark. "I want to get it. If you call me at three o'clock in the morning, I will go any place at any time to get it."
She added, "I want to be responsible and obviously wait my turn, but this rollout has been a disaster and I understand obviously President Trump can take much of the blame but now we're in the Biden administration—I, for one, would like something to look forward to and to hope for."
A clip of McCain referencing her role on The View went viral on social media, with many people mocking the TV figure and labeling her as privileged.
Some people took her comment as being insensitive to the many underpaid and underprivileged people who are more vulnerable to coronavirus. Meanwhile, others suggested that McCain's remarks were disrespectful to the hundreds of thousands of people who have died from coronavirus.
"Just saw why Meghan McCain is trending. Since she's blocked me, someone please tell her that cohosts of The View are not essential workers," one person tweeted on Monday.
McCain's comment came amid a discussion on The View of a clip of Dr. Anthony Fauci's most recent appearance on CNN's State of the Union, which aired on Sunday. When CNN host Dana Bash pushed Fauci to offer solid advice for vaccinated grandparents hoping to visit their family members, Fauci, who is now President Joe Biden's chief medical adviser, refused and said he didn't "want to be making a recommendation now on public TV" but would rather have a sit-down with the coronavirus task force and come up with options privately.
McCain said she was "very frustrated" when she watched the clip.
"Next week it will be a year since we left studio, and I have been very responsible in many different ways as so many Americans have been. And the fact that Dr. Fauci is going on CNN and he can't tell me that, if I get the vaccine, if I'll be able to have dinner with my family," McCain said. "It's terribly inconsistent messaging and it continues to be inconsistent messaging."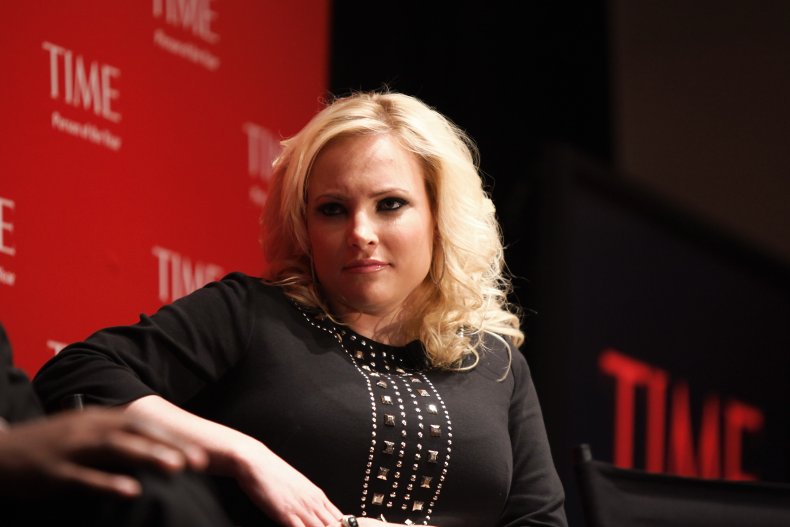 Her comments in reference to Dr. Fauci only further incensed some viewers.
"Does Meghan McCain understand that Fauci is an infectious disease expert/medical advisor and it's not his job to figure out the logistics surrounding the distribution of vaccines? (this is a rhetorical question, she clearly does not understand)," one tweet reads.
"Just imagine who you had to be to go on national television and say: 'Me Meghan McCain, a co-host on The View does not know when I can get the vaccine.' Like 500,000 people have died and she is worried about when she can have drinks with friends," another user tweeted.
Playing off of McCain's additional comment—that she's "over Dr. Fauci" and that the "Biden administration should remove him and put someone in place that does understand science or can talk like these other countries about how we can be more like these other places that are doing this successfully"—some people think that it's The View that needs to find a replacement.
"The producers of @TheView need to fire Meghan McCain, NOW Her daily tantrums, total disregard for the opinions of others, and willful ignorance is exhausting," one person tweeted.
Another wrote: "To the View: Replace Meghan McCain with someone who 'understands literally anything at all.'"
But, at the very least, not everyone disagrees with McCain's outlook on Dr. Fauci. "@benshapiro and @MeghanMcCain are absolutely right about Dr. Fauci," one person tweeted. "They—like me—defended him for nearly a year from attacks that started almost immediately, even though no one knew anything and people were scared. We said he was a straight-shooter. He clearly isn't."
McCain responded to the backlash with a tweet of her own on Monday, which was retweeted by Ben Shapiro and others.
"Many of you can keep worshiping at the alter [sic] of Fauchi [sic]. I'm not a phony - I will not go on tv and lie saying one thing privately and another on air. This is my opinion. We need someone else in charge of coronavirus messaging and leadership," she wrote.
Newsweek has reached out to McCain's reps for further comment, but did not hear back in time for publication.