Meghan McCain Excited to See 'Patriots' Wearing USS John McCain Shirts at Trump's 4th of July Event
The View co-host Meghan McCain kicked off the Fourth of July with a message of gratitude for two veterans organizations and expressed her excitement for people to be wearing t-shirts honoring her father at President Donald Trump's event.
Trump was set to host a Salute to America parade on Independence Day, which he credited with turning out to be "one of the biggest celebrations" in America. The decision to host the event, which drew funds from the National Park Service, was heavily criticized and VoteVets, a progressive political action committee, decided to hand out shirts honoring one of Trump's rivals, late Congressman John McCain.
On Thursday morning, Meghan posted a message on Twitter wishing everyone a "Happy Independence Day." Included in her tweet was a photo of herself, dressed in a shirt from VoteVets and Rags of Honor that said USS John McCain and "Big Bad John." She told her followers that anyone who wanted one could get one at Trump's 4th of July celebration.
"One more - thank you again [Vote Vets] &[Rags of Honor] - can't wait to see the pics of all the patriots wearing it today at Trump's 4th of July event today (they will be handing these babies out) - Who's afraid of Big Bad John McCain?!?!" Meghan wrote in a second tweet.
Jon Soltz, chairman of VoteVets, told Stars and Stripes that the organization and John never really saw eye-to-eye when it came to policy. Even today, if he was still alive, Soltz conceded that they probably still wouldn't agree.
However, Soltz added that the McCain family's service to America "spoke to that sense of realizing this nation is bigger than just one man." On Fourth of July, he said honoring that "kind of legacy" seemed fitting.
VoteVets partnered with Rags of Honor, an apparel company that hires homeless veterans, and the company's founder, Mark Doyle, told Stars and Stripes John, his father, grandfather and sons gave "more to this country than most."
VoteVets encouraged people on Twitter to share photos of themselves wearing their t-shirts and posted on Twitter that they hoped to get "McCain4th" trending by the end of the night.
"By tonight, when Trump is forcing people to celebrate him, we would LOVE everyone to make #McCain4th trend, to honor a family who sacrificed and served in the military for the idea of a country bigger than themselves," the tweet said.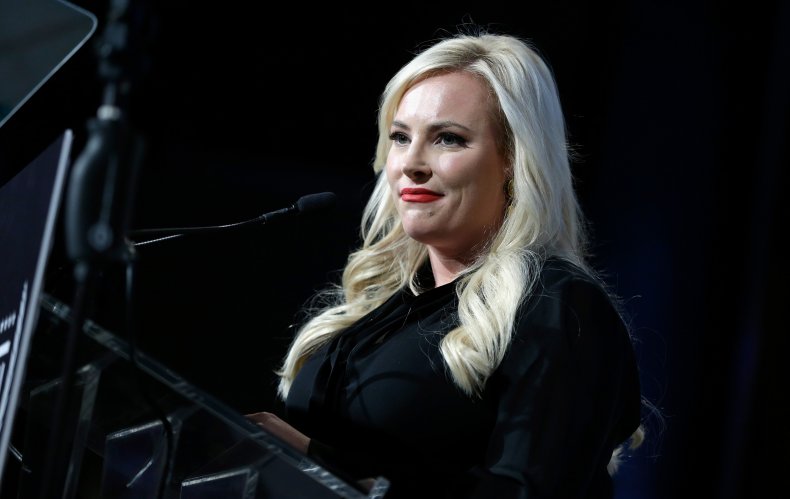 Trump's repeated attacks on John, including after his death, have made Meghan, who was very close to her father, a vocal critic of the president.
"It's impossible to go through the grief process when my father, who's been dead 10 months, is constantly in the news cycle because the President is so obsessed with the fact that he's never going to be a great man like he was," Meghan said in May. "It's a bizarre way to do this. It's a bizarre way to grieve. It's a bizarre way to say goodbye to my dad."
The USS John McCain is named for Meghan's grandfather and great-grandfather, John Sidney, Sr. and John Sidney, Jr., who both served in the Navy. The ship was commissioned in 1994 and on Tuesday, it celebrated its 25th anniversary.