Meghan McCain, co-host of ABC's The View, said Wednesday that she was afraid that if lawmakers don't attempt to reduce divisive rhetoric, someone like controversial Georgia Republican Representative Marjorie Taylor Greene could eventually be elected president.
Before her election to the House, Greene made comments aligning herself with conspiracy theories, including that the 2018 mass shooting at Marjory Stoneman Douglas High School in Parkland, Florida was a "false flag" event. Greene also allegedly expressed support for social media comments calling for violence toward Democrats before taking office.
McCain has criticized Greene in recent days for her comments, expressing concern that Americans will equate Greene with all Republicans. While discussing the impeachment trial of former President Donald Trump on Wednesday, McCain said the possibility of someone like Greene in the Oval Office made her "fearful."
"I really call to the rest of you on this show," McCain said, "and to everyone in America to all of us collectively come together and really try and amp down this temperature as much as we can because I don't want to see any more violence, and I'm actually scared about what the future holds, and if we just keep demonizing each other, and attaching all Republicans with those lunatics on Capitol Hill, we're going to end up with a Marjorie Taylor Greene as president, and I'm more fearful of that than possibly anything else facing us in the future."
In response to a request for comment, Greene's office directed Newsweek to a tweet Greene posted on Wednesday. Referring to the career of Meghan McCain's late father Arizona Senator John McCain, Greene wrote "Don't fret, @MeghanMcCain! Things could be worse ... at least I didn't vote to spend trillions of American dollars and cost thousands of American lives in the Middle East."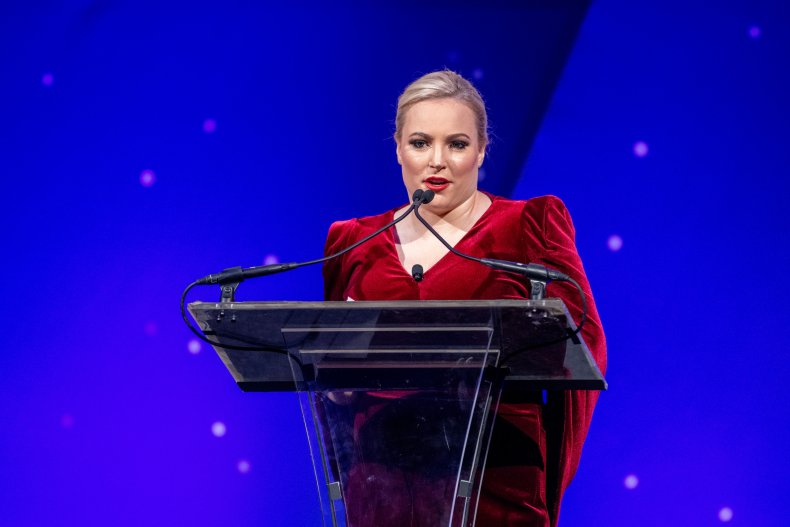 Greene, a long-time Trump supporter, voiced support for the former president's baseless claim that voter fraud caused his election defeat to President Joe Biden. Many Democrats believe that Trump's rhetoric created the environment for his supporters to riot at the U.S. Capitol building last month. The Senate is currently engaged in Trump's impeachment trial. If convicted, Trump would be prohibited from running for public office in the future. Some Republicans, including Greene, have condemned the trial as a last jab at Trump.
"This #ImpeachmentTrial is more than just another hoax to stop Pres Trump from running again for President in '24," Greene tweeted Wednesday. "They are really putting every Trump supporter on trial today. The #Jan6 attackers, roughly 800 people, don't represent us. Trump rallies have always been peaceful!"
Greene's pre-election conspiracy theory-related comments caused some House Democrats to call for her to be removed from House Committee appointments, including a spot on the House Education and Labor Committee. Greene defended her remarks in a speech on the floor, during which she said her incendiary comments were "words of the past, and these things do not represent me."
After a closed-door meeting with House Republicans in February, House Minority Leader Kevin McCarthy declined to discipline Greene. "Past comments from and endorsed by Marjorie Taylor Greene on school shootings, political violence, and anti-Semitic conspiracy theories do not represent the values or beliefs of the House Republican Conference," McCarthy said in a statement. "I condemn those comments unequivocally."
House Democrats voted to take away Greene's committee appointments the following day. Before the vote, House Rules Committee Chair Jim McGovern said that any person that supported shooting another member of the House "should lose the right to serve on any committee."
"If this isn't the bottom line," McGovern said, "I don't know where the hell the bottom line is."
Updated 2/11/2021 12:16 a.m. EST: This story has been updated with a response from Greene's office.