Meghan McCain Ridiculed for Saying 'Hanoi Hilton' Was Real 'Torture Facility,' Unlike Migrant Detention Centers
The View co-host Meghan McCain demanded doctors, politicians and human rights activists stop comparing migrant detention centers to "torture facilities," saying her late father's experience in Vietnam's so-called "Hanoi Hilton" truly embodied the term.
McCain lamented the "hyperbole" used to describe migrant detention centers at the U.S. southern border and said the Vietnam War-era prison used to detain late Republican Senator John McCain is not comparable to today's "horrible" migrant holding facilities. The ABC television host employed several defenses of the detainment of migrant children but conceded they are "horrific" and a "complete and total humanitarian crisis." Her father was shot down over Vietnam in October 1967 and remained a prisoner of war in a notorious torture facility for five-and-a-half years.
"I had such a problem with this, 'a torture facility,'" McCain first complained Tuesday.
McCain pushed back against the appalled reactions of several co-hosts including Whoopi Goldberg and Joy Behar, who noted even the worst U.S. domestic prisoners and terrorists had toothbrushes and soap in prison, something reportedly denied to some migrant children.
"I just want to say one quick thing," McCain began, before prophetically acknowledging it's become "parody" for her to follow that phrase with very controversial comments.
"Calling these places torture facilities—I understand it's a humanitarian crisis, it's horrific...but I know what a torture facility looks like, I've been to one," McCain said, angrily demanding Behar let her finish her thought.
"When you have a facility whose specific purpose is to torture people, that is not what's going on," McCain continued. "Yes, it's inhumane but there's a big difference between the Hanoi Hilton and what's happening at the border right now."
The View co-host Sunny Hostin shot back. "But we should be less concerned with what we're calling them than what is happening inside of them," she said, drawing cheering applause from the studio audience.
"We should care about the dead kids that are coming out of them," Hostin added, before a visibly frustrated McCain replied: "Well, my father couldn't lift me above his head as a child because of his torture wounds so I do think hyperbole is important."
"But that was a war and they were grown-ups," Behar replied.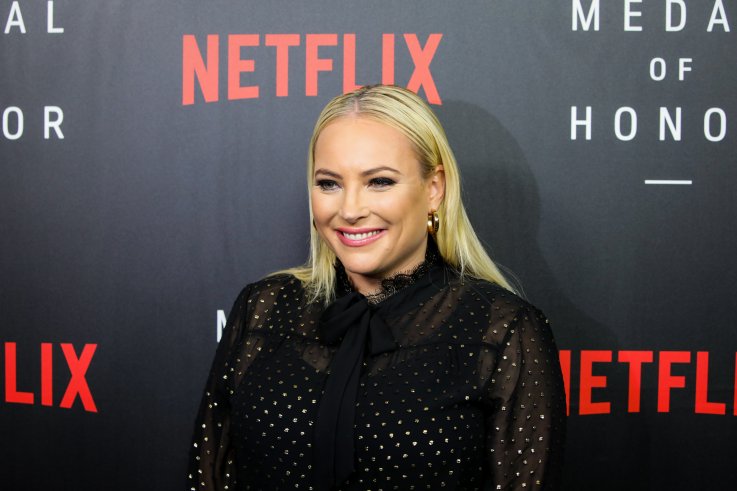 McCain praised Republican House Minority Leader Kevin McCarthy for calling on every member of Congress to be required to see the southern border crisis for themselves in a Sunday tweet.
"It is horrific and it is a complete and total humanitarian crisis and we don't have the infrastructure to deal with it," McCain continued, urging congressional Democrats to sign off on more funding for the Trump administration to deal with immigration problems.
Earlier in the segment, McCain went after the Trump administration attorney who was seen arguing that toothbrushes and soap weren't necessary for migrant children in front of the U.S. Court of Appeals for the Ninth Circuit last week.
"Can we put one thing in context though?" McCain said Tuesday on The View. "This woman Sarah Fabian, she's actually a holdover from the Obama administration and she actually argued for the Justice Department in 2015 that detention authorities should have the power to put immigrant children in solitary confinement—so I don't know...what?"
McCain's detention center comments drew almost immediate backlash from military figures and other first-hand experts on imprisonment and torture.
Fred Wellman, a veterans advocate and former Army spokesman for Generals David Petraeus and Martin Dempsey, rebuked McCain via Twitter Tuesday.
"I'm relieved to know Meghan McCain thinks the Hanoi Hilton was worse than where we have children detained. I mean...that should be the standard here in the US right? We treat children just a little better than prisoners of a barbarous Communist regime. She wins that argument!" he wrote.
Sulome Anderson, author and daughter of longtime Hezbollah hostage Terry Anderson, responded: "Hey @MeghanMcCain, my dad wasn't around for the first seven years of my life because he was kidnapped by terrorists. They did, however, let him brush his teeth and shower occasionally and he says 'torture' is a fine word to use here."
Meghan McCain Ridiculed for Saying 'Hanoi Hilton' Was Real 'Torture Facility,' Unlike Migrant Detention Centers | U.S.