Meghan McCain, Hayley Williams and More Weighing In on Taylor Swift's 'evermore'
Taylor Swifts' ninth studio album evermore has been out for less than 24 hours and it's already the internet's latest obsession. The folklore sister record sparked conversations from all corners of society, including from some of Hollywood's elite.
A number of celebrities commented on Swift's latest album and expressed their plans to play the album all day long. From admiration of folklore to love of evermore's content, praise for Swift was not difficult to find, even from some of the most successful netizens.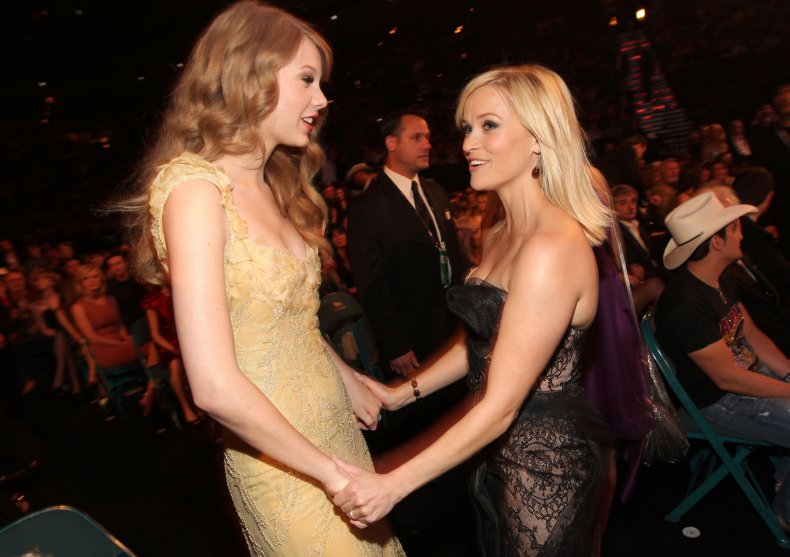 Hayley Williams
The Paramore front-woman Williams was one of the first celebrities to give an official critique of Swift's evermore via Twitter. She regarded it as one of the best albums Swift has ever made. "I am pretty sure evermore is the f****n coolest album Taylor has ever made," tweeted Williams
Meghan McCain
Co-host of The View McCain hadn't listened to evermore before she weighed in. Instead, the Republican commentator explained Swift's July release, folklore, was monumental in defining her year. evermore, McCain implied, would follow suit.
Reese Witherspoon
The Legally Blonde star apparently gave up her plans on Friday to spend time with evermore. We have to say, Witherspoon's lazy day sounds like the best way to indulge in the album.
The Chicks
Swift's former collaborators, the Chicks, were quick to point out a girl-power anthem on evermore. Known for "Goodbye Earl," the country band's approval of "no body, no crime," featuring HAIM, makes it a certified revenge bop.
Lauren Mayberry
Chvrches lead Mayberry showed off her Swift skills before evermore was released. In a video, which was liked on Twitter by Swift, the singer identified some of Swift's biggest hits and lesser-known anthems with impressive accuracy.
Tegan and Sara
In a tweet, musical duo Tegan and Sara expressed their honest feelings toward evermore immediately after the album's release, and to say the least, it's relatable.
Kristin Chenoweth
Another musical legend, Chenoweth, whose Broadway career has led her into the Hollywood spotlight, praised Swift for the newest release. Before evermore dropped, Chenoweth shared her anticipation. The actor also issued a cryptic tweet that made some fans wonder if Chenoweth has plans for a folklore tribute of some kind.
HAIM
While HAIM may be biased, considering it is featured on the album, the trio of sisters applauded Swift for her songwriting capabilities in a Reels video on Instagram. They even gave an ode to Olive Garden, as mentioned in their duet "no body, no crime."
Olive Garden
Speaking of Olive Garden, the Italian restaurant chain didn't let their mention go unnoticed, either. In a series of tweets, the eatery made puns with the word evermore while praising Swift's ninth album.
Kiernan Shipka
Netflix's Sabrina star didn't have too much to say about evermore—beyond the very relatable excitement, she tweeted as the album released. Hilariously, one of Shipka's last tweets praised folklore pretty much the same way in July.
Maisie Peters
British musician Peters dove deep into Swift's lyrics during her first listen analysis. In addition to praising the album pre-release, she spotlighted a few emotional lyrics from the collection.
Dylan Minnette
13 Reasons Why actor and Wallows singer Minnette's short but sweet tweet summarized the basic feelings of the internet on Thursday after Swift dropped the album news on her fans abruptly.