Meghan McCain Complains About Trump's Attacks on Ilhan Omar: 'Taking Away My Agency to Criticize Her'
The View's Meghan McCain complained about President Donald Trump and his supporters' repeated attacks on Minnesota congresswoman Ilhan Omar, saying they were taking away her "agency" to criticize her policies.
Update: McCain apologized on Twitter Thursday afternoon saying her comments were intended to call for "more productive conversations" about policies rather than broad xenophobic rants like those of the president: "I am sorry. I was trying to say Trump's racist tweets and the horrific chanting prevent us from arguing about critical policy issues. It's my fault for using language that has led people to feel frustrated. I would like to strive for more productive conversations all around."
McCain and the other The View co-hosts responded to the "dystopian" Trump supporter chants of "send her back" at a North Carolina rally Wednesday. Omar, who was targeted by Trump's Sunday "go back" tweets, fled Somalia with her family at age 10 and has since become a U.S. citizen and an elected Democratic congresswoman. McCain doubled down on her past criticisms of Omar, noting the accusations of anti-Semitism against her and a "dumpster fire" interview with Seth Meyers in which she blasted the congresswoman's policies.
But McCain particularly took issue with Trump focusing on race and ethnicity in his attacks on Omar rather than her stances on topics such as Israel.
"I've been one of Ilhan Omar's most vocal critics on her policy regarding Israel, regarding her comments that I and many others interpreted as anti-Semitic," McCain said Thursday. "But the problem right now is, [Trump] is taking away my agency to criticize her policy."
"You're making this about race, xenophobia, racism. I think any time you're hitting in a territory where you're telling any American citizen of a different color than you, to send them back—I too didn't think this is something I would see in my country, especially going into 2020."
McCain posted an October 2008 video on Twitter showing her late father, GOP Senator John McCain, telling a "scared" supporter that Democratic opponent and Senator Barack Obama is a "decent man" and calming his fears. Her tweet appeared to call for civility she believes is no longer present in presidential politics: "For anyone who needs reminding of how a lot of Republicans like me were raised and how we view the world. I love you Dad and I've never missed your leadership more," she wrote Wednesday after the Trump rally.
McCain also shared video of Senator Chuck Schumer condemning the rally chant by invoking McCain's memory: "There's no John McCain anymore. When this kind of bitter racism emerged at his town hall meeting, he rejected it...It went down in history as one of his finest moments. Where are the fine moments of my colleagues?"
An Arizona Republic editorial shared by McCain Thursday argued the late Republican senator would have "defended" the House Democratic "Squad" if he were alive today even if he didn't agree with any of their policies.
McCain earlier in Thursday's segment conveyed how news of the "send her back" chant ruined her dinner and evening out with family members.
"Clearly they're feeling threats from all the way around," said McCain, who repeatedly accused Omar and Michigan congresswoman Rashida Tlaib of anti-Semitism. "But they're blaming Nancy Pelosi for sort of opening the channels for Trump, and I wish we could all take a collective breath, roll all of this back, and then we can fight about policy on The View all day long."
Co-host Whoopi Goldberg asked viewers: "Should we be worried about this? I mean there were children in there yelling 'send her back.' What is the message? Who are we sending back?"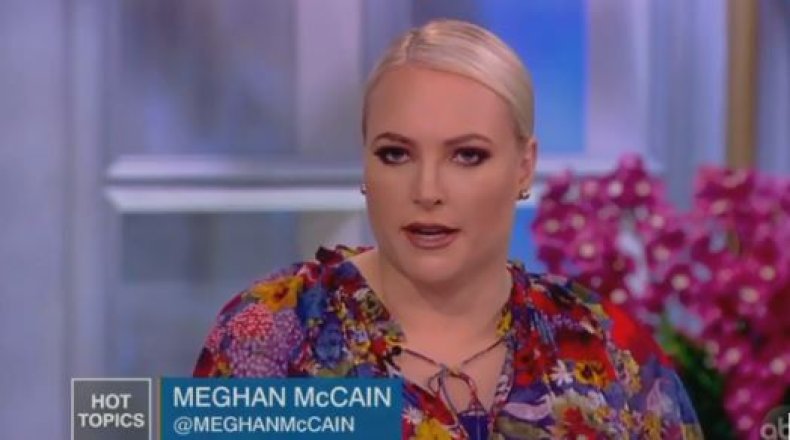 Meghan McCain Complains About Trump's Attacks on Ilhan Omar: 'Taking Away My Agency to Criticize Her' | Politics