Meghan McCain Invokes P.F. Chang's and Feminism in Latest Twitter Feud
The View's Meghan McCain has no problem clapping back at her critics on Twitter, often in colorful ways. She has famously responded to President Donald Trump's frequent criticisms of her late father, former Republican Senator John McCain.This time she used feminism and P.F. Chang's into a defense of herself and her husband, conservative writer and commentator Ben Domenach, co-founder and publisher of The Federalist.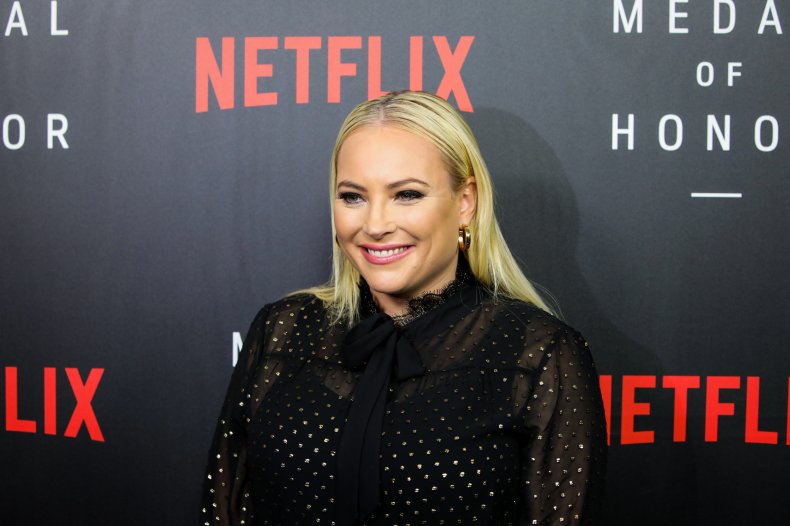 Democratic strategist Greg Pinelo tweeted on June 24 a response to a tweet from Joan Walsh, The Nation's National Affairs Correspondent, criticizing McCain and her husband.
Pinelo wrote, "Meghan desperately wants to keep her Blue America life. She is terrified of social and professional shunning of bigot Trumpers like her husband. The View is all that stands between her and a life of box wine shots with Seb Gorka's wife at CPAC after parties."
McCain responded to Pinelo in a since-deleted tweet, "B----h - I vacation in Cornville and my favorite restaurant is PF Chang's. Who exactly do you think you're talking about?"

In her deleted response defending her blue-collar bonafides, McCain implies the restaurant chain P.F. Chang's and Cornville, Arizona are what gives her credibility.
Pinelo didn't respond to McCain's deleted tweet, but he did reply to a Twitter user questioning why he looped McCain into a criticism of her husband.
"My wife and I disagree about lamb chops, not about, say, whether LGBTQ people are subhuman. Domenech is a bigot ideologue. Meghan's paid millions to be on TV, and criticism comes with that territory. I've given her plenty of slack, but she's a spoiled, whiny conservative brat."
The Twitter feud didn't begin with Pinelo, though. It all started with a tweet from Joan Walsh on June 23. Walsh tweeted a criticism on about Domenach's website selling T-shirts that read, "Kamala Is A Cop." The shirt is a reference to California Senator Kamala Harris's tenure as Attorney General of California, which has drawn criticism from the left as too strict during her run for president.
Walsh tweeted, in response to another tweet featuring a screenshot of the shirt, "But wait, @MeghanMcCain's husband @bdomenech is selling these t-shirts? Are they doing it because they support Kamala? Or they're just being trolls and gremlins? Whoa, I'm gonna really look into this because...it seems super dirty but please please tell me if I'm wrong about it."
Well, McCain didn't like being drawn into this debate.
"Do you hold Ben accountable for everything I say on @TheView?" Meghan tweeted in response. "I know this is a hard concept for some but we are not the same person, believe different things and love and respect each other's differences. This is why I have no patience or place with third wave modern feminism."
"I love how you hold third wave modern feminism responsible for a question I asked!" Walsh responded. "If you think the whole cop thing is creepy too, just say so Meghan!"
McCain didn't respond to Walsh's tweet.
The Federalist listing of the "Kamala Is A Cop" T-shirt that started the Twitter feud says, "Nobody loves prosecuting and putting people in prison more than Democratic Presidential candidate Kamala Harris. If you thinking bragging about increased arrests, unfurling criminalization and extending sentencing is the sign of an authoritarian policeman, then we have a shirt for you. Show the world Kamala's true colors with our subtle, screen-printed, soft white tee."
It's unclear whether the shirt is in support of Harris or is meant to troll Harris, as Walsh implied in her initial tweet. Considering The Federalist's conservative views, it's more than likely the latter.
This isn't the first time Domenech's motives were questioned or were controversial. Most recently he went on a Twitter rant defending McCain's appearance on Late Night with Seth Meyers, where Meyers questioned McCain about her accusation that Minnesota Rep. Ilhan Omar was anti-Semitic. Domenech tweeted a series of criticisms against Meyers, saying he only is able to host the show because "he regularly gargled Lorne Michaels' balls."
He later deleted the tweets and apologized.