Meghan McCain Slams 'Pathetic' Joy Behar for 'Trolling' Her on Valentine's Day
Meghan McCain has lashed out at her former The View co-host Joy Behar, calling her "pathetic" for "trolling" her over a Valentine's Day post she shared on Twitter.
McCain, who departed the ABC daytime talk show over the summer after four years as the conservative voice on the panel, took to the micro-blogging platform to share a post dedicated to her husband, Ben Domenech, on Monday.
Later on in the day, the TV personality, 37, returned to Twitter to accuse Behar, 79, of "trolling" the post in a move that she said "creeps" her out.
Things started on a far more celebratory note when McCain shared a photo of herself posing alongside her husband of four years.
"Happy Valentine's Day Ben @bdomenech," she captioned the post. "I love you and am grateful every day for the life we have together."
According to a screenshot shared by McCain, a Twitter user asked if "every thought and sentiment [needs] to be on Twitter," prompting Behar to respond: "Apparently."
Sharing the screenshots, McCain wrote: "Imagine spending your Valentines Day trolling your ex [colleague's] tweet about her husband."
Responding to McCain's tweet, Fox News meteorologist Janice Dean said of Behar: "She can't quit you!"
"It's pathetic and it creeps me out," responded McCain, who engaged in a number of heated on-air exchanges with Behar during her time on The View.
Newsweek has contacted a representative of Behar for comment.
In October 2021, McCain said in an interview with Variety that Behar "might have hated" her as she admitted that one on-air swipe from the veteran panelist led to her quitting The View.
As McCain returned to the show from maternity leave in January 2021, the panelists were discussing fractious relationships within the Republican party when McCain interrupted Behar, who repeatedly told her: "I'm talking!"
McCain eventually joked that Behar had "missed her" while she was away on maternity leave, to which Behar responded: "I did not miss you."
After McCain branded Behar's comment "nasty," moderator Whoopi Goldberg stepped in and moved the conversation in another direction.
Speaking with Variety about the moment, McCain said: "I didn't know I was going to leave [The View] until my second day back from maternity leave when Joy told me that 'Nobody missed me—zero.' That was the day I decided."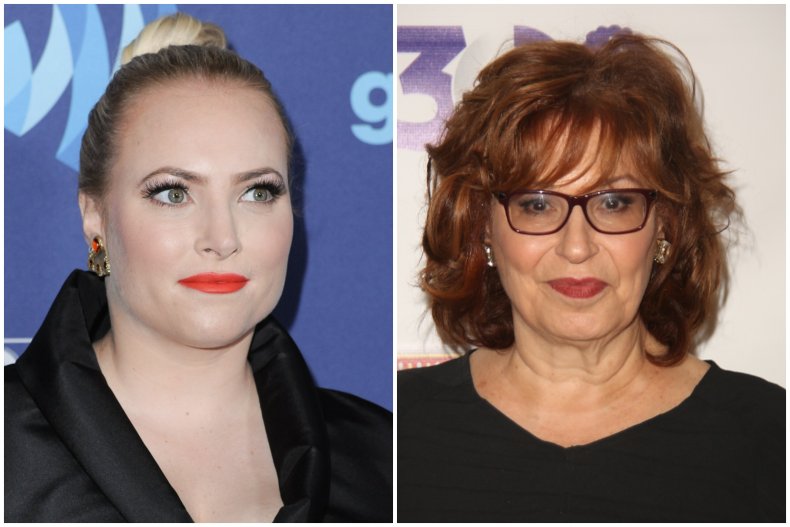 She went on: "I had postpartum anxiety. When I was back, I was really nervous. It was like starting TV all over again. I felt unsteady. I was trying to make a joke, 'You missed me so much.' If you watch the clip, her reaction is very sharp.
"I can't explain what it felt like. The people in the room with me in the D.C. bureau, there was a sound engineer and the hair and makeup artists. The sound woman looked shell-shocked at what she'd seen."
She went on to reveal that she cried during a commercial break after the exchange, adding: "I did end up being able to go back on-air. I remember Dr. Sanjay Gupta was on, and he looked weirded out. He went out of his way to be nice to me.
"After the show, I went back to my office and I had a panic attack. I couldn't stop crying, and I'm not always crying. I couldn't compose myself. I threw up in the garbage can. I was so overcome.
"This is my narrative—'I come back from maternity leave and no one missed me.' I knew it was going to be everywhere. I was just so confused, because women when they have babies should be treated respectfully when they come back to work."
When asked during her interview if Behar ever apologized, McCain said: "I asked for an apology from our executive producer and her producer. They said she wouldn't do it. I don't know if they asked her."
As for why Behar reacted to her the way in which she said, McCain said: "I don't know. She might have hated me."
McCain also shared that she initially had a "great relationship" with Behar, though things changed during the COVID pandemic when the show was shot remotely. "I think it's easier to solve problems in person," McCain said.
Since quitting The View, McCain, daughter of late Arizona Senator John McCain, has gone on to become a columnist for The Daily Mail.