Meghan McCain Blasted for Kellyane Conway 'Just Another Chick' Jab: 'Only Reason You're on TV Is Your Dad'
McCain brought up Conway during a Tuesday discussion on the ABC talk show about members of the Trump administration "selling their soul" to defend the president. McCain, who is ridiculed for frequently citing her late father and longtime Republican Senator, John McCain, took yet another dig at Conway and her vocally anti-Trump husband, George Conway.
"I'm sorry, but without Trump, Kellyanne Conway is just another chick on cable news," McCain said, prompting co-host Joy Behar to remark, "but we're not talking about her." [Pertinent comment below begins about 3:17].
Earlier this year in March, as Trump was undermining George Conway on Twitter, McCain asked her co-hosts if it's "worth it" for the couple to ruin their marriage over pithy political sniping.
"I just want to know if this is worth it to them, if this has been worth it, working in the White House for President Trump during possibly only a four-year term. Was it worth it to rip your family apart for this? Because it wouldn't be for me," McCain said of the Conway family and marriage.
Ardent critics of McCain jumped on her commentary and used her frequent references to her father against her.
"[This is a bold statement when the only reason you're on tv is your dad," said ShareBlue senior writer Oliver Willis. "Says the daughter of John McCain. Irony is not dead," replied another McCain critic.
Speaking on Tuesday, McCain said the White House figures "selling their souls" to defend Trump need to reclaim the news media narrative instead of bungling their responses in TV interviews.
"If you're in the White House and your surrogates are bombing left and right and making complete jackasses of themselves, going viral with their explanations, you have to try and retake the narrative. The problem with Republicans and the White House right now is the narrative is completely spun out of control in every way," she added.
"If you have something to tell me that explains why you don't think this is unethical or illegal, please get somebody out there with more than three brain cells to explain it to Republicans. But Stephen Miller and Rudy Giuliani are making this exponentially worse, and now Mike Pompeo just made it exponentially worse."
The View co-host Joy Behar went on to say, "I understand why Lindsey Graham is selling his soul" before questioning why formerly respected figures such as Attorney General Bill Barr and Giuliani would choose to tarnish their names to save Trump's presidency.
In March, Trump lashed out at George Conway: "George Conway, often referred to as Mr. Kellyanne Conway by those who know him, is VERY jealous of his wife's success & angry that I, with her help, didn't give him the job he so desperately wanted. I barely know him but just take a look, a stone cold LOSER & husband from hell!"
Abby Hunstman, another The View co-host, on Tuesday asked why more Trump administration defectors don't follow suit and depart like former Defense Secretary Jim Mattis left before "selling his soul."
"I would follow Mattis into hell," McCain said of the longtime respected U.S. military general. "I love that guy."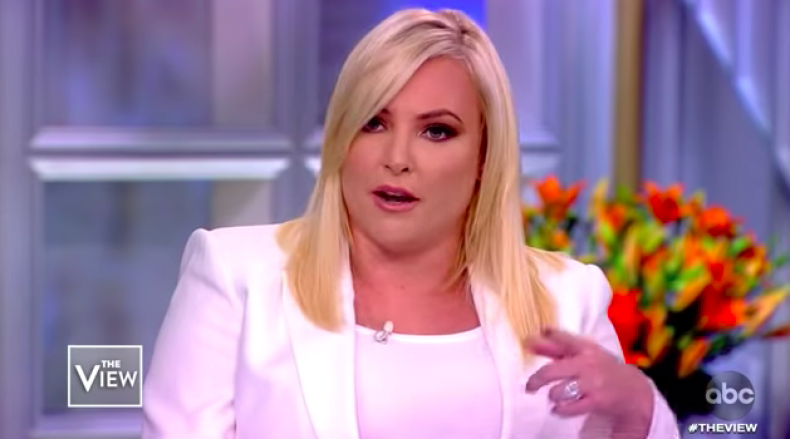 McCain is routinely targeted by critics on the left as the go-to, lone conservative on The View program. Early last month, McCain was ridiculed alongside her husband Ben Domenech for claiming gun violence will occur if the federal government should enact any "gun grabbing" policies as suggested by Democratic 2020 candidate Beto O'Rourke.