Meghan McCain Lashes Out at GOP for Turning on Liz Cheney After She Stood Up to 'Cheeto Jesus'
The View co-host Meghan McCain lashed out at the Republican Party for turning on Representative Liz Cheney after the highest-ranking Republican woman in Congress stood up to former President Donald Trump, who McCain referred to as "Cheeto Jesus."
"What's going on is Liz Cheney was already, by the way, voted in January to stay in her position and overwhelmingly had support to stay when they tried to oust her before. What's happening is it's clear—I'll be a little crass—they're shivving her for her saying the election wasn't stolen and refusing to debase herself to Cheeto Jesus," McCain said on The View.
The co-host also accused House Minority Kevin McCarthy of purposefully trashing Cheney from a leaked hot mic moment on Tuesday, saying: "Well, let's cut the crap. He wasn't caught on a hot mic. That was done intentionally."
On Tuesday, McCarthy was caught telling Fox News' Steve Doocey off air: "I think [Cheney's] got real problems. I've had it with...I've had it with her. You know, I've lost confidence.... Well, someone just has to bring a motion, but I assume that will probably take place."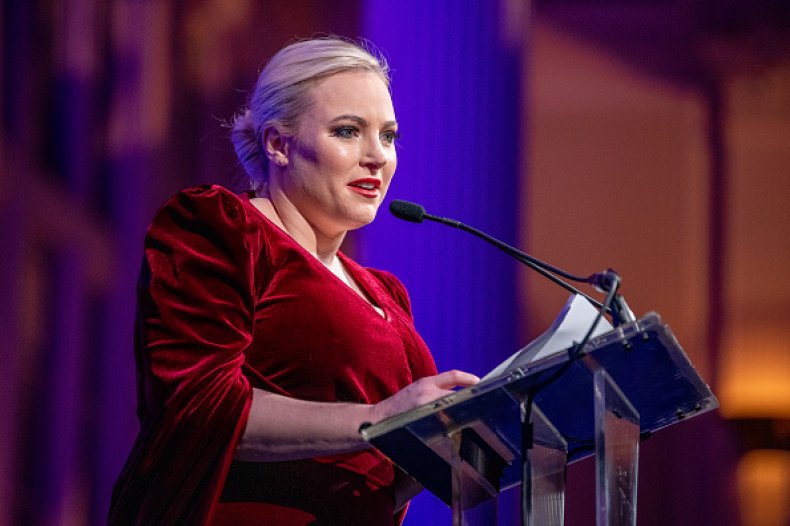 McCain argued that the GOP was sending a clear message to Republicans that support for Trump is a prerequisite to being a part of the party.
"The message that's being sent by the highest member of Republicans in Congress is that women like me and Liz Cheney who refuse to bend the knee to President Trump, but still remain loyal Republicans, we don't have a place in this party," she said. "We're worthless. We're not worth fighting for to keep. It's Kafkaesque to spin in this any other way."
McCain said she feels "very defensive" of the Wyoming Republican and warned the GOP there would be consequences if Cheney is ousted from her leadership position.
"Go ahead in this sausage-fest of MAGA up on Capitol Hill! Pull her out and put another woman in who will do anything you want for President Trump," she said.
Trump has endorsed Representative Elise Stefanik from New York to replace Cheney as the conference chair. Stefanik, who is responsible for recruited almost all the record number of women who make up the GOP freshmen class, has long been a staunch Trump supporter. Unlike Cheney, Stefanik voted against impeaching Trump both times.
In January, Cheney and nine other House Republicans broke with their party and voted to impeach the former president. Cheney has since defended her vote and continued to speak out against Trump's false claims about election fraud.
Newsweek reached out to Cheney's office for comment, but did not hear back before publication.
Updated 2:27 PM ET, with additional information.