Meghan McCain Blasts Laura Ingraham, Says if it Wasn't For Fat-Shaming She 'Wouldn't Have a Career'
Meghan McCain knows firsthand what it feels like to be fat-shamed. In fact, it was critical comments regarding her weight spawned by Fox News host Laura Ingraham that helped her get the guts to pursue a career in broadcast television.
McCain shouted out Ingraham and thanked the news host for making comments regarding her size on The View on Monday. "I want to say if I weren't fat-shamed, I wouldn't have a career," McCain said during a segment about fat-shaming.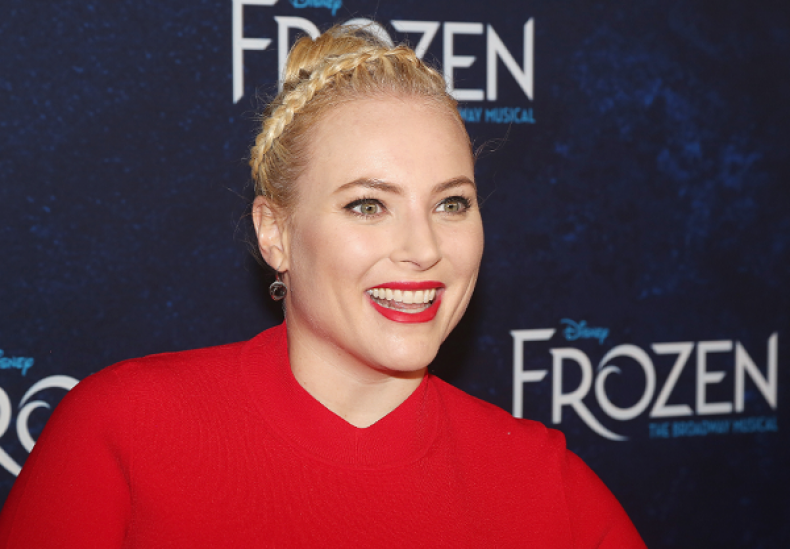 "Laura Ingraham said I was too plus-sized to be on TV. Shout out to Laura, I'm on The View and you're not!" McCain continued.
Ingraham's comments regarding McCain's body type and size are nothing new. Long before McCain made her debut on the ABC daytime talk show, Ingraham blasted her former Fox News colleague on a 2009 episode of her radio show and criticized McCain's appearance on The Rachel Maddow Show.
Ingraham, mimicking McCain, said: "I was really hoping that I was going to get that role in the Real World, but then I realized that, well, they don't like plus-sized models. They only like women who look a certain way."
McCain, at the time, cheekily responded on social media telling Ingraham to "kiss my fat a**."
On The View, McCain opened up on her struggles with her fluctuating weight and the constant negativity people spew on social media regarding her image. "I'm fat-shamed every day. Every day somebody on Twitter is like, 'You're too fat to be on The View,' blah blah blah," she said.
"I go like way up. I'm like 20 pounds up, 20 pounds down. I struggle with it," McCain continued.
The 34-year-old noted her personal experiences with fat-shaming didn't compare to some of the cruel rhetoric other people endure regularly, leading her to urge others to be more kind towards "people who are struggling in life in general."
"So much about obesity in this country is about poverty and access to health care," she said, referencing comments made by fellow View host Whoopi Goldberg earlier in the show.
McCain's comments came during a discussion regarding statements Bill Maher made on a recent episode of his HBO late show, Real Time with Bill Maher, which The Late Late Show host James Corden responded to last week. Maher suggested fat-shamming needed to make a comeback in America since being overweight "isn't a birth defect," adding that America's big obesity issue was merely because "Americans eat s**t and too much of it."
Corden clapped back at Maher's comments and said that fat-shaming only caused the damaging cycle of shame that leads to "depression, anxiety and self-destructive behavior — self-destructive behavior like overeating."
Obesity in the U.S. has only continued to increase over the years. Thirty-five percent of adults in nine states are considered obese while 30 percent of adults in 31 states and 25 percent of adults in 48 states were found to be obese in the 2018 State of Obesity report published by Trust of American's Health and the Robert Wood Johnson Foundation earlier this year.