'Meghan McCain, Bless Your Heart': Marianne Williamson Campaign Calls on 'The View' Host to Apologize
Democratic 2020 candidate Marianne Williamson has hit back at Meghan McCain and called on her to apologize, a day after the co-host of The View compared Williamson to President Donald Trump and strongly criticized her comments expressing skepticism about vaccinations.
"For the second day running, Meghan McCain has chosen to attack and misrepresent who Marianne Williamson is and her stance on the issues," began a statement from Williamson's campaign manager Maurice Daniel.
"Meghan McCain owes Marianne Williamson an apology," Daniel added. "For addressing Williamson rudely, dismissively and with total disrespect, and for comparing her to Donald Trump which couldn't be further from the truth."
Williamson, a spiritual adviser and best-selling author, is a long shot for the Democratic presidential nomination but has qualified for the opening debates set to take place in Florida next week. Her appearance on The View on Thursday, came just hours after she attracted criticism for saying that mandatory vaccines are "Orwellian."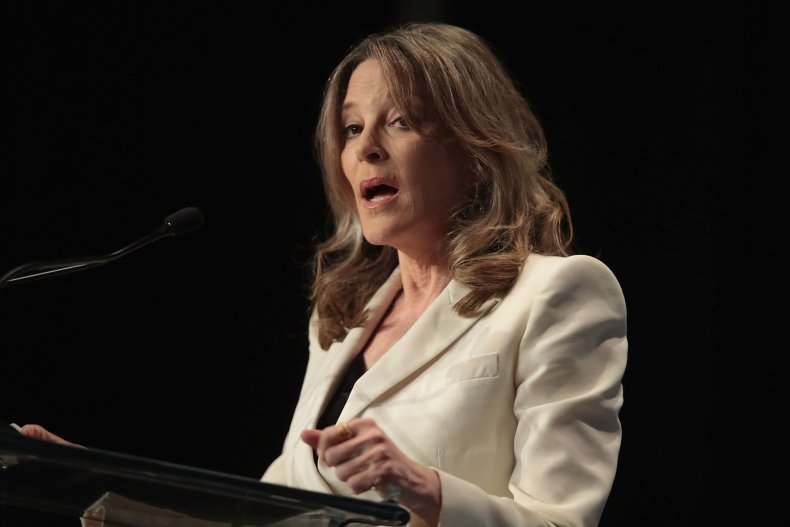 The United States is currently experiencing its largest measles outbreak in 25 years, with multiple states either passing or considering proposals that would prevent children from skipping vaccinations.
"You're talking a lot about children of America, the children, how much you care about children, you also just came out as the anti-vaxxer candidate," McCain said to Williamson on Thursday.
"What about the kids exposed to measles and all of that, and the people suffering because of the measles outbreak?" McCain continued "Why would you say that?"
Williamson immediately pushed back, insisting that she was not an anti-vaxxer and claiming that she misspoke. The candidate shared a similar message on Twitter, although continued to assert that people should be skeptical of "Big Pharma."
The vaccination comments were not all that McCain, the daughter of former Republican senator John McCain, criticized Williamson for.
"You sound a lot like Trump, just so we're clear, this is his message," McCain, an outspoken critic of the president, said after Williamson spoke about how "corrupt this system is."
While Williamson was no longer present, McCain remained on the subject during Friday's episode of The View.
"At a certain point, Marianne Williamson, you're wasting our collective time and I'd like to see people who are extremely serious that can win and, as all of you want, can beat Trump," she said. "Some of these people, it doesn't take a political scientist to know that some of these people ain't going to be president."
But Williamson, despite low polling numbers, has shown no sign of dropping out.
"Meghan McCain's words and deeds are what is wrong with American politics," said Daniel concluding his statement. "The entitled and those entrenched in the establishment do not want to hear a different message. American voters do."