Meghan McCain Names Trump Jr, Jeanine Pirro as Worst Guests on 'The View'
Meghan McCain named Donald Trump Jr. and Jeanine Pirro among her list of least favorite guests during her time as a guest host on The View.
McCain—whose four-year run on the ABC talk show came to an end over the summer—has recently spoken candidly about her time on The View, addressing her tumultuous relationship with co-hosts Whoopi Goldberg and Joy Behar.
And in her newly-released book, Bad Republican, the daughter of the late Senator John McCain has given a no-holds-barred assessment of some of the guests she sat down with during her stint as a panelist.
Making the cut of her least impressive guests was Trump Jr., who visited The View for its 5,000th episode.
"It was a disaster," she wrote, per the Daily Mail. "He packed the audience with Trump supporters and brought his girlfriend Kimberly Guilfoyle who I used to work with at Fox News, before she was fired for allegedly sending around penis pictures.
"It felt a lot like an episode of the Jerry Springer Show or an MMA cage match."
However, the son of former President Donald Trump paled in comparison to Fox News personality Pirro, said McCain.
"She came on the show and told us we all had Trump Derangement Syndrome, and when we pushed back, she became instantly enraged," McCain wrote.
According to McCain, things only got worse when Pirro allegedly hit her on the chest with her tossed microphone and said she had done more for Black women that Goldberg ever had. There was also an alleged stream of expletives.
"Who says c***sucker, much less shouts it 1,000 times?" McCain wrote in her book. "It's the dumbest word. I heard Whoopi yelling at her to get the hell out of the building.
"Pirro went on Sean Hannity's show that night and recalled the episode as if she'd been an innocent victim and Whoopi was insane. I yelled at my TV when I saw that."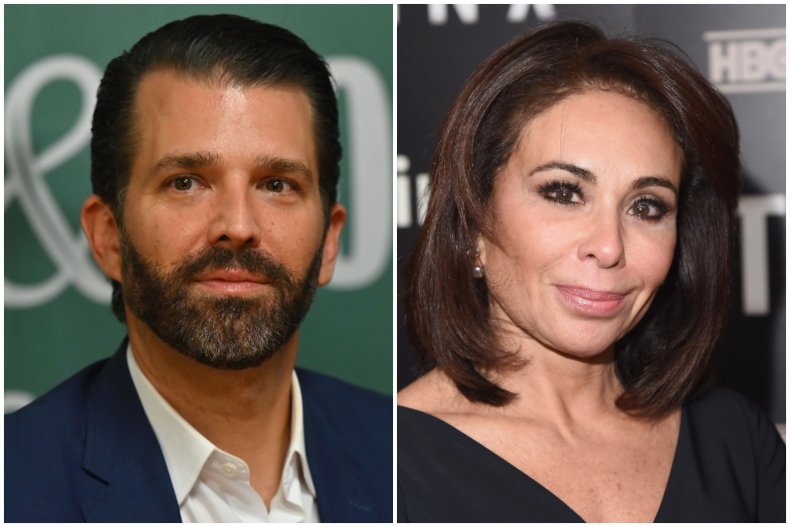 Also making McCain's list was former FBI director James Comey, who she described as "so slick and rehearsed that he was a terrible guest. Rachel Maddow same thing. Nathan Lane was a d***. It made me so mad because I loved him before I met him."
There were also guests who McCain enjoyed: "Jamie Lee Curtis is one of the most wonderful angel ladies," she wrote. "Terry Crews has always been an incredible guest. Tyler Perry is lovely, smart and so supportive... he has this miraculous energy about him, it's gravitational."
In a recent interview with Variety, McCain also revealed that she made her decision to quit The View following a heated exchange with co-host Behar.
McCain said: "I didn't know I was going to leave [The View] until my second day back from maternity leave when Joy told me that 'Nobody missed me—zero.' That was the day I decided."
She went on: "I had postpartum anxiety. When I was back, I was really nervous. It was like starting TV all over again. I felt unsteady. I was trying to make a joke, 'You missed me so much.' If you watch the clip, her reaction is very sharp.
"I can't explain what it felt like. The people in the room with me in the D.C. bureau, there was a sound engineer and the hair and makeup artists. The sound woman looked shell-shocked at what she'd seen."
"After the show, I went back to my office and I had a panic attack," she said. "I couldn't stop crying, and I'm not always crying. I couldn't compose myself. I threw up in the garbage can. I was so overcome.
"This is my narrative—'I come back from maternity leave and no one missed me.' I knew it was going to be everywhere. I was just so confused, because women when they have babies should be treated respectfully when they come back to work."
In discussing her relationship with Goldberg, she addressed the moment when the Oscar winner said to her during a an intense exchange: "Girl, please stop talking!"
"I have a lot of love and affection for her. She was surprised when I left," McCain said of Goldberg. "She yields an unfathomable amount of power in television, in culture. And it felt at a certain point, she didn't want me at the table anymore. It started with the 'Girl, please stop talking!' incident. I remember when it happened almost crying on the show. I never wanted to upset her.
She added: "To her credit, Whoopi apologized the next morning. I would apologize when I messed up. I f***** up a lot on that show."