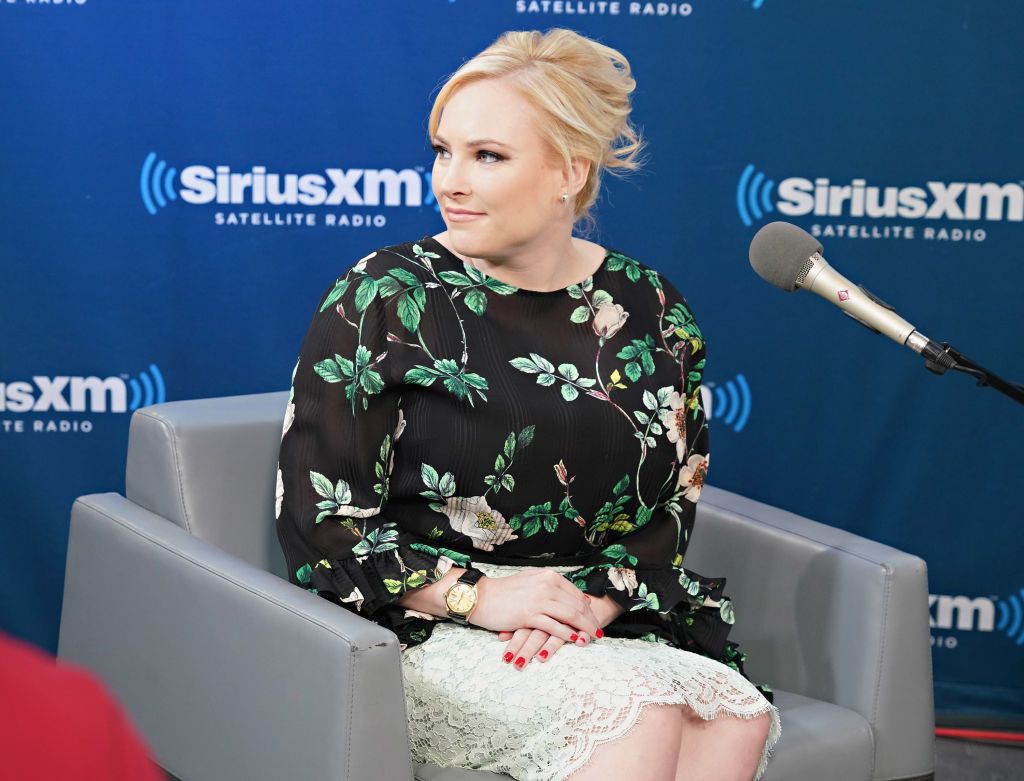 Meghan McCain might not call herself a Republican anymore, but that doesn't mean she's giving up her conservative views.
In a lengthy interview on CNN's The Van Jones Show, McCain discussed her political viewpoint, President Donald Trump's impact on politics and the GOP, and navigating grief following the death of her father, Arizona Senator John McCain.
McCain and Jones both recently lost their parents, and they began the interview with a talk about grief, with The View co-host saying that she is "sad every single day."
"I don't think there's anything wrong with sharing that. I have moments where I think that I just can't do anything anymore without him. And it's a weird place to be in so many different ways," McCain said, using her experience after losing her father to segue into her feelings about politics.
"As a daughter, I'm grieving and I'm sad," she said. "As an American, I hate this country without him in it. I know that sounds awful. I don't hate America, but I just hate it without his leadership. I'm very—I'm sad all the time. I'm struggling with that sadness, and I miss him in ways that I never even could have fathomed."
McCain took it a step further, telling Jones that she feels that the Republican Party has lost its character and that it isn't the political party that she grew up in because Trump has changed it so much. She also confirmed that she no longer calls herself a Republican since the party is "so tied up with being for Trump."
"I call myself conservative. I mean, I'm still a member of the Republican Party, and I still vote on the Republican ticket," McCain said. "I'm not a 'Never Trumper.' Trump didn't melt my brain. I can still see the forest for the trees, and it didn't expunge all my conservative principles out of me.... Honestly, I'm just trying to survive in a lot of different ways and politically, as well right now."
McCain has been vocal on numerous occasions about her opinions on Trump, his policies and how the president has changed the landscape of American politics. She even repurposed Trump's campaign slogan "Make America Great Again" during her father's eulogy in September 2018, saying, "The America of John McCain has no need to be made great again, because America was always great."
Despite McCain's disapproval of Trump, she has maintained her defense of the GOP and conservative values on The View, including defending the party when her fellow co-hosts asked if those wanting border security, or a border wall, were racist.
"I think this is the problem with identity politics in this country. When you broad-stroke everyone—all black people think one thing, all Hispanics think one thing, all Republicans think one thing—that's how we got ourselves into this mess, and I'm one of the people who would like to help pull ourselves out of it," McCain said during the show.
McCain also defended Trump supporters after conservative commentator Tara Setmayer said that Trump and his supporters were a "cult."
During the interview, Jones played a clip for McCain of former presidential candidate Bob Doyle during the 1996 Republican National Convention.
"If there is anyone who has mistakenly attached themselves to our party in the belief that we are not open to citizens of every race and religion, then let me remind you...tonight this hall belongs to the party of [Abraham] Lincoln, and the exits, which are clearly marked, are for you to walk out of as I stand this ground without compromise," Dole said.
In response to the clip, McCain said that she felt it was harder to stand her ground because Republicans who don't support Trump are outnumbered by those who do.
"I think over 80-something percent of Republicans support President Trump, and maybe they are doing it because they don't have another option, but I think the populous Trump brand really has taken over," McCain said. "Which is why there's this sort of no-man's-land that I'm in."