Meghan McCain Refuses Ozempic Post Pregnancy: 'Clear Moral Issue'
Meghan McCain slammed suggestions she should take the weight loss drug Ozempic just weeks after giving birth to her second daughter.
McCain, 38, welcomed daughter Clover Jade with husband Ben Domenech on January 19. The couple are also parents to Liberty Sage, two.
She opened up about how common it was for people to ask her if she would start Ozempic to help shift any weight she had gained during pregnancy.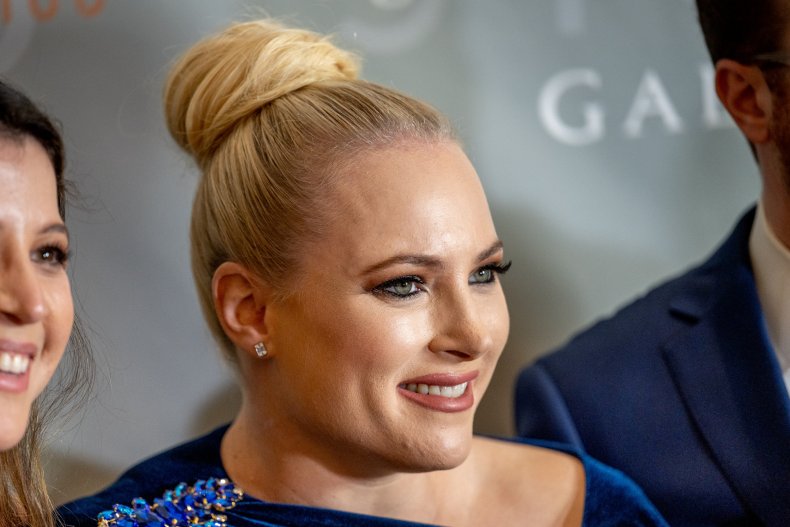 "Excuse me?" she wrote in her Daily Mail column, before describing how the new "miracle" drug known by its brand names Ozempic and Wegovy, was becoming a popular trend in Hollywood for those wanting to lose weight fast.
Ozempic is an injectable diabetes medication that is used to manage blood sugar levels in patients with Type 2 diabetes. It's based on a naturally occurring human hormone called glucagon-like peptide 1 (GLP-1), which is critical in regulating appetite and blood sugar levels.
The active ingredient in the drug is a molecule called semaglutide, which mimics the structure of GLP-1 and activates its receptors.
Studies have found Ozempic can help obese patients by slowing gastric emptying and restoring feelings of fullness. Other research has shown people with obesity are often less sensitive to the hormones that make people feel full.
McCain not only slammed the pressure to lose baby weight, but the fact the demand for Wegovy and Ozempic has led to a shortage of the drugs, which are often critical for diabetes patients.
"Predictably, the demand exploded and outpaced production. As Wegovy supplies dwindled and doctors faced patients clamouring for the latest weight loss fad, some started prescribing Ozempic off-label for vanity, not health," McCain wrote.
"In maybe the sickest twist in this story, diabetes sufferers are now struggling to find the potentially life-saving drug, because otherwise healthy people are using it to lose a few pounds."
She added: "You can't get more Hollywood than that. And surprise, surprise – that's where it's apparently popular."
McCain described Ozempic as "the hottest thing in the media industry."
"So many of the men and women you see on TV every day are rumored to be using the drug," she wrote.
The mom-of-two added that she understood patients who "legitimately struggle with obesity" need Ozempic.
"But I am not one of those people," McCain asserted.
"Which is why I have been really astonished by how many, from casual friends to industry acquaintances, have brought it up with me."
McCain added: "I'm told 'everyone is doing it,' as if that was ever a compelling case. I hear 'just take the shot', as it has become known in shorthand. I was even offered a black-market freebie by someone with 'extra shots at home.'
"Well, let me make one thing very clear. I'm not taking it. I refuse."
'Clear Moral Issue'
She described the situation as "a clear moral issue" because "it's hard to take a drug because swimsuit season is around the corner, while others need it to stay alive."
"I am also concerned - as I believe everyone else should be - about Big Pharma capitalizing off culture's fat phobia," McCain continued, before adding she was worried the 1990s trend of being stick thin was making a comeback.
"I truly fear this trend. I know the kind of damage that it did to so many women who grew up in that era. We came of age when the most celebrated beauty standard was emaciated. Today, the buff look – complete with chiselled abs and defined arms – is in vogue. But like the 'heroin chic' look of the 90s, it is just not realistic for many women -- especially women who just had a baby!" she wrote.
The TV star added she was also not comfortable taking the shot without more research into potential side effects.
She addressed wanting to be a good role model for her daughters, especially after the recent rise in the body positivity movement.
"Our culture has made incredible strides towards body-type acceptance over the past few decades. And this celebration of Ozempic threatens all of that," McCain wrote.
"I am realistic about how long it takes to have your body feel normal again post-baby. So, don't rush me!"
She added: "As a new mother, I also have a responsibility to set an example for my daughters, who will one day face the same beauty standards. Their world will only be more challenging as social media seeps more deeply into the American mind. This is not the world I want for them and not the world I want for myself."