Meghan McCain Presses Elizabeth Warren to Acknowledge Qasem Soleimani is a Terrorist: 'Of Course He Is'
Democratic presidential candidate Elizabeth Warren acknowledged that recently killed Iranian General Qasem Soleimani was a "terrorist," after being pressed by The View host Meghan McCain to explain her opposition to the strike.
During Tuesday's show, McCain repeatedly demanded the Massachusetts senator either reject or embrace the label of "terrorist" being applied to Soleimani in the wake of last week's Trump-ordered drone strike. In response, Warren said there is no question Soleimani "was a bad guy" and acknowledged that both the U.S. Treasury and State Departments had designated him and the Iranian Revolutionary Guard Corps-Quds Force as "terrorists" for years. However, Warren shied away from the outright label until McCain pressed her to acknowledge the term point-blank.
"I don't understand the flip-flop," McCain told Warren, noting that she'd previously described Soleimani as both a "murderer" and a "senior foreign military official" in past interviews. "I don't understand why it was so hard to call him a terrorist and I would just like you to explain."
"This isn't a change, the question is, 'what is the response that the President of the United States should make and what advances the interests of the American people ... going to war in Iraq was not in the interest of the United States," Warren said, before McCain interjected several times with the same yes or no query.
"Do you think he is a terrorist?" McCain asked.
"He's part of a group that is but-" Warren said, before McCain cut her off and repeated the question. "But is he a terrorist?"
The testy back-and-forth concluded with Warren explaining, "Of course he is, he's part of a group that our federal government has designated as a terrorist. The question, though, is 'what's the right response?' And the response that Donald Trump has picked is the most incendiary and has moved us right to the edge of war, and that is not in our long term interests."
Earlier on the program, Warren said she opposed the airstrike both in terms of Trump's unilateral decision to take such provocative action as well as the risk it now puts on American lives. Warren and many Democrats have acknowledged Soleimani was a "bad guy," but have ridiculed the president's drone strike as reckless and short-sighted.
"Soleimani was a bad guy, but the question is 'what's the right response?' The job of the President of the United States is to keep America safer. And having killed Soleimani does not make America safer," Warren said, before noting Trump's Twitter threats against Iranian cultural sites. "We're having to pull American citizens, civilians out of the entire region because we fear for their safety. We've stopped the work against ISIS with our allies. And we have a president who is tweeting out threats of war crimes."
Warren and McCain both shared their family military ties during the show, with Warren rehashing that Tuesday, "you know all three of my brothers served in the military," Warren said. "We've talked about this before," she added, with McCain replying that she believes the senator "respects the military."
Warren later conceded on The View that she had to pitch one of her two Republican brothers "pretty hard" to vote for her in the upcoming 2020 election.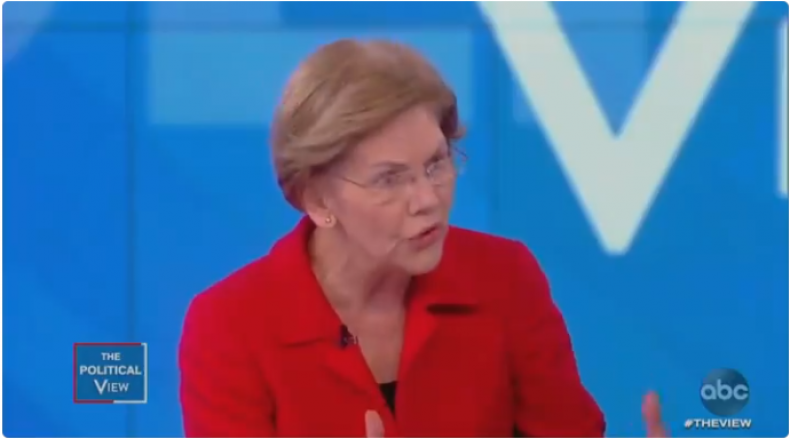 **Correction: An earlier version of this article mischaracterized Warren as having been mildly supportive of the drone strike's outcome. She reiterated her opposition to the process and the result throughout the interview.
Meghan McCain Presses Elizabeth Warren to Acknowledge Qasem Soleimani is a Terrorist: 'Of Course He Is' | U.S.