Meghan McCain Says Everything Father Told Her About Putin 'Has Come True'
Meghan McCain is reflecting on the legacy of her late father, Senator John McCain, amid Russian President Vladimir Putin's invasion of Ukraine.
Hours before Russian tanks were shown converging on Ukraine's capital, Kyiv, on Friday, former The View panelist Meghan McCain revealed that her dad, who died in 2018 after battling brain cancer, had correctly predicted Putin's actions.
Taking to Instagram on Thursday, the TV personality described her father as "one of the godfathers of the Ukrainian revolution," as she stated she was "furious" and "heartbroken" that the late politician was no longer alive to show Ukrainians that Americans are with them.
Posting an image of the Ukrainian flag emblazoned with the words "Russian Warship, Go f*** yourself," she wrote: "Everything my Dad ever said to me my entire life about Putin and Russia has come true."
Taking aim at previous presidents, she continued of her dad, who made an unsuccessful bid for the White House in 2008: "I watched him give thousands of speeches where he railed against the horrors of Putin and said his famous line that he looked into his eyes and saw 'KGB' (unlike [George W.] Bush who saw a soul in Putin's eyes and [Barack] Obama who saw a reset and [Donald] Trump who saw a tyrannical bromance). Every single warning he gave for years and years so many ignored.
"Dad was nicknamed one of the godfathers of the Ukrainian revolution. He supported and protested alongside [Ukrainians] in 2014 in front of thousands of freedom fighters. YouTube it—it's incredible.
"He declares to a massive crowd—we support your just cause, we are with you, [America] is with you, I am with you! Want to know what western leadership looks like for Ukraine? Watch what he did when he was alive!
"I am furious he is dead and not here to once again show Ukrainians we are with you. He was so beloved there, a street in [Kyiv] was named after him."
Putin on Thursday announced a "special military operation" in the Donbas area of Ukraine, a separatist region which the Russian leader said should be independent—prompting objections from President Joe Biden and Ukraine President Volodymyr Zelenskyy.
In her Instagram post, Meghan McCain slammed "weak leadership" for not heeding the "decades of warnings" about Putin ahead of the current military action.
"There were decades of warnings about Putin," she wrote. "But weak leadership continued to ignore it. SHAME on us. Absolute shame on America for this. We lead, we don't retreat."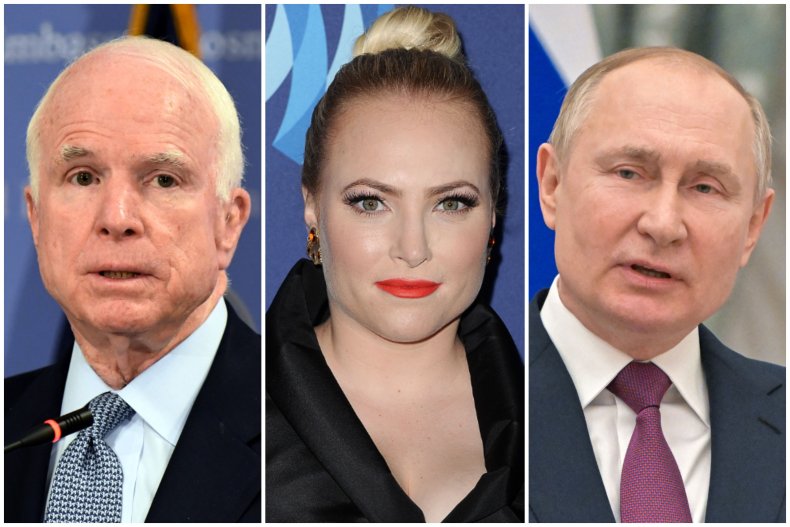 "We don't side with murderous dictatorships slaughtering innocent civilians who simply want freedom like the rest of us," she continued. "This is not difficult—it is good versus evil, freedom versus fascism.
"What exactly does American stand for if it doesn't stand unequivocally with the [Ukrainians]?! Anyone saying anything else is a maniac with no business in any form of leadership or a platform—full stop."
"I am furious. I am heartbroken," she went on. "But more than anything I am proud to have always stood with Ukraine and still stand today. NATO must act more aggressively before it's too late.
"We are setting a precedent of consequences that will be felt for generations. [These] weak sanctions are NOT GOOD ENOUGH BIDEN. And there will be blood on your hands just like there was in Afghanistan.
The final words of the Ukrainian [heroes] of snake island who were slaughtered for their sovereignty was 'Russian warship, go f*** yourself.' Remember them and their brave final words. Stand with Ukraine—yesterday, today, F****** tomorrow, F****** always."
Meghan McCain expressed similar sentiments in her column for the Daily Mail on Wednesday, writing: "If we don't show strength in the face of this invasion, Putin will not stop in eastern Ukraine, and America will cease to be a feared superpower.
"There can also be an expectation of more expansions and invasions from other tyrannical countries, like China into Taiwan. I am heartbroken. I am disgusted. I am fearful of the future. The time to act is now.
"We call on President Biden and the Congress to take swift and aggressive action or I fear the severe consequences will be felt for generations to follow."