Meghan McCain said she thinks President Donald Trump is on course to win the 2020 election even as he battles against impeachment by the House.
McCain, who is the daughter of the late Republican Sen. John McCain of Arizona, a commentator, and a co-host of The View, also said the Democrats were acting "crazy."
"If I were betting today I would say Trump is getting re-elected," McCain told Yahoo! Entertainment. "If the election were today, yes. Democrats are blowing it. All they have to do is not be crazy and that was apparently too much for everybody. It's unbelievable. And shame on everyone. Do a better job across the board."
Republicans have sought to brand Democrats as extreme leftists, casting the prominent democratic socialists such as New York Rep. Alexandria Ocasio-Cortez and Minnesota Rep. Ilhan Omar as representative of the party's mainstream, even though they sit outside of it.
This messaging backfired at the 2018 midterm elections when Democrats took back control of the House in a landslide. And current polling suggests that any one of the Democratic Party's frontrunning 2020 candidates could beat Trump at the election.
Trump, who according to 538 has a net approval rating of -12.7 percent, is facing impeachment during the election year, potentially even before Christmas this year. House Democrats are using an impeachment inquiry to gather evidence of Trump's alleged misconduct.
The president is accused of abusing the power of his office to try to coerce Ukraine's President Volodymyr Zelenskiy into opening dubious corruption investigations that would benefit him politically at the next election.
Those two investigations, which were not opened, were into the Democratic Party and former Vice President Joe Biden, who is a leading candidate for 2020.
Trump allegedly used the stick of withheld security aid and the carrot of a White House meeting to pressure Zelenskiy and his administration into opening the investigations he wanted. The president denies any wrongdoing and, so far, Republicans are sticking with him.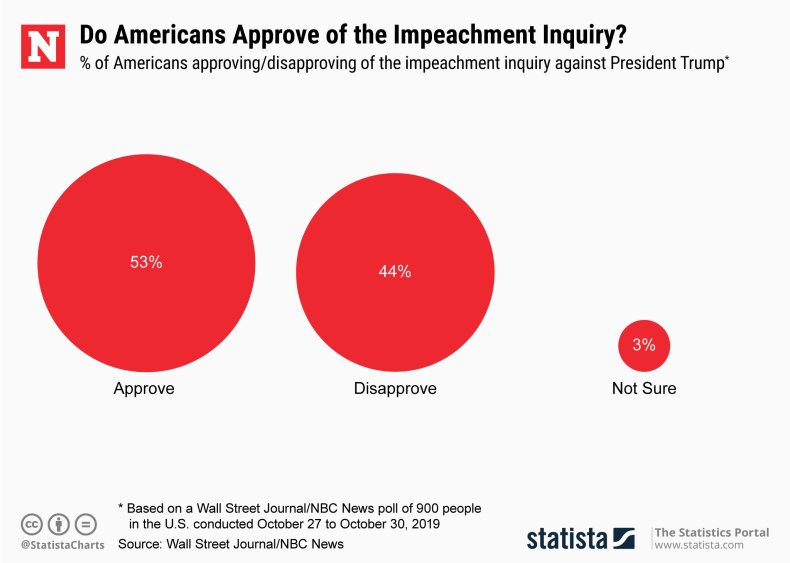 This chart was provided by Statista.
Last week in a speech to Democratic donors, former President Barack Obama warned the party not to veer too far left in its politics by allowing the "activist wing of our party" to dictate policies that could put moderate and independent voters off.
"Even as we push the envelope and we are bold in our vision we also have to be rooted in reality," Obama said, The New York Times reported. "The average American doesn't think we have to completely tear down the system and remake it."