Meghan McCain Leaving 'The View?' New Report Claims 'Exhausted and Defeated' Co-Host Considering Exit
The View co-host Meghan McCain may be considering exiting the show. While the Daily Mail has reported that McCain wants off the show for some time now, in a new report shared by The Daily Beast on Wednesday, friends of the Republican political commentator said McCain was feeling "so exhausted and defeated" after two seasons on the show.
"It's getting to a point where it's not worth the emotional toll every week," an anonymous friend told the news site. "If she doesn't stay at The View, she will find other work."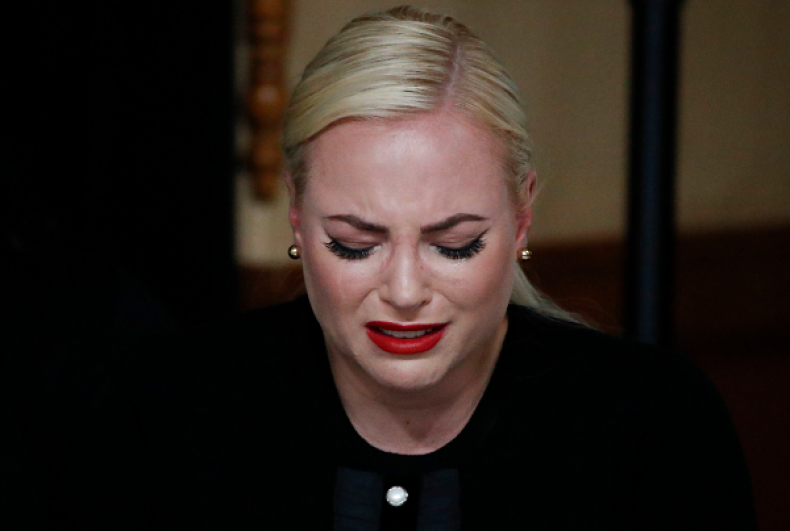 McCain's presence on The View has been a source of contention since she started in October 2017. Throughout her tenure on the show, she's riled up viewers with her conservative views and social media showdowns with followers. She's also engaged in heated on-camera battles against liberal and Democrat panelists, particularly Joy Behar, whom she recently called a "b***h" on camera, and Sunny Hostin. There have also been rumors of her behaving aggressively backstage, which could be fueling her decision not to return for the 23rd season of the ABC talk show.
While she did not confirm or deny the possibility of McCain leaving The View, the show's senior executive producer, Hilary Estey McLoughlin, told The Daily Beast execs were "happy to have Meghan" on the talk show.
"I think she does want to be there. I think she wants to be on the show. She realizes it's a very good platform for her and we love having here there. I feel like she will come back," McLoughlin said, noting that the exit rumors just "don't seem to go away."
"What happens with Meghan is that because she's so passionate about what she's talking about, and she feels very strongly that she's carrying this mantle for the conservative perspective, and what she wants to talk about is so important to her, I think that's the part that's the most draining for her," McLoughlin continued.
A spokesperson for The View felt similarly and said in a statement to Newsweek each of the current co-hosts are expected to return for Season 23. "The co-hosts and The View have had an incredible season and we expect them all back for an epic year ahead," the statement read.
If McCain was to quit The View, she'd be joining a long list of women who've appeared on the show since its debut in August 1997. The original cast initially included Barbara Walters, Star Jones, Meredith Viera, Debbie Matenopoulos and Behar. Since then, cast members have included Lisa Ling, Elisabeth Hasselbeck, Rosie O'Donnell, Jenny McCarthy, Sherri Sheperd, Rosie Perez, Nicolle Wallace, Candace Bure, Abby Huntsman and Whoopi Goldberg, who is still a cast member alongside McCain, Behar and Hostin.
Meghan McCain Leaving 'The View?' New Report Claims 'Exhausted and Defeated' Co-Host Considering Exit | Culture