Meghan Trainor Plans to Home-School Her Children Over Shooting Fears
Meghan Trainor has said that she plans to home-school her children, with one of the deciding factors being that she fears the possibility of a mass shooting.
The "All About That Bass" singer, 28, who has 19-month-old son, Riley, with her actor husband Daryl Sabara, 30, has converted the attic of their Los Angeles home into a school room for their child and his future siblings.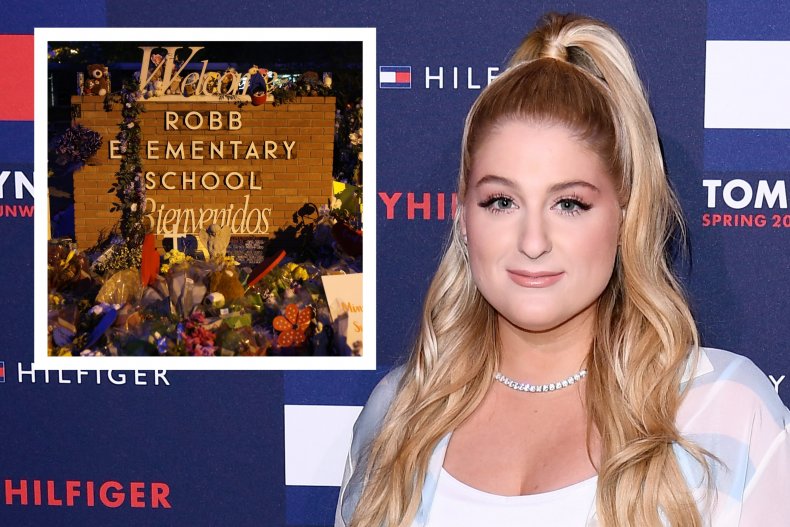 Trainor, who is planning to start trying for another child later this fall, said in an interview with motherhood website Romper that her desire to be in control of her children's early education stems from some of the frustrations she experienced.
Recounting her own time at school while growing up in Nantucket, Massachusetts, Trainor said: "I'd sit there in a class while my teacher played a movie, and I'd be like, 'This is pointless. I could be writing a song right now.'"
She also looked toward the style of education she wants for her children, going beyond more than just the conventional.
"I want to hire a preschool teacher that will be able to teach emotions," Trainor said. "How to handle it when you want to freak out and scream, because they don't usually do that."
With gun control in the U.S. being an ongoing hot-button issue—particularly with continued mass school shootings—Trainor said: "And not to get dark here, but [in schools, you have to worry about] guns and all that stuff. I don't really want to send my kids somewhere where I'm just like, 'Hope to see you later!' It's horrible. Horrible.
"There's all those victims' parents thinking, 'I never thought it would happen to me,' until it does. Everyone tells me, 'You can't keep your kid in a bubble,' and I'm like, 'Oh, but I can,'" said Trainor.
Part of that home bubble includes her tight-knit group of celebrity moms, including Hilary Duff and Ashley Tisdale, whom she often goes to for advice.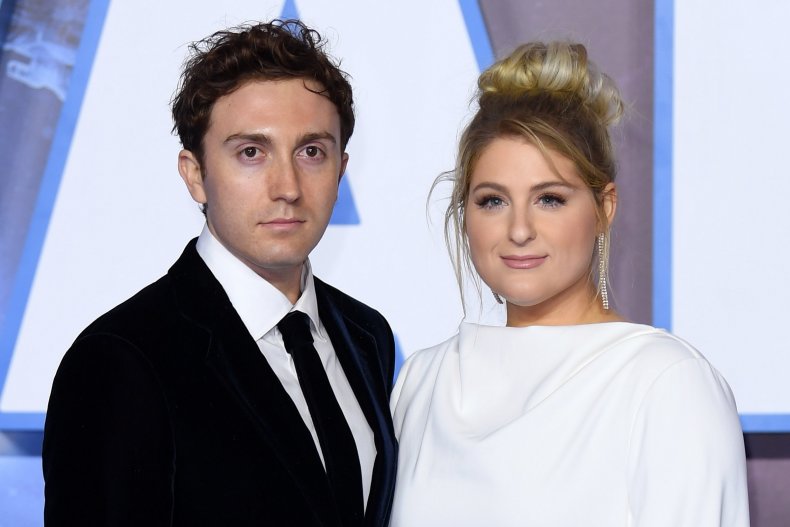 "I got lucky. All the moms in our group are so cool," Trainor said. "The other day I texted them like, 'My butt is acting up,' and someone sent me their butt doctor—literally saved my ***.
"I was just with Hailey Bieber and was like, 'The best thing you can do when you have a baby is find a group of moms and join them.' It's our lifeline."
Elsewhere in her interview, Trainor said she broke down because her son had taken to saying "dada" instead of "mama"—a change that she attributed to her working too much.
"I literally had a meltdown over it," she said. "But you just take all the blame [when you're a working mom]. Men don't have that same feeling, and they're shocked that we do."
Those feelings have been explored on her track "Superwoman"—from her album, Takin' It Back due on October 21 —which addresses how hard moms can be on themselves
"All the wives, all these mamas, you can't cry," Trainor said. "Nope, you have to be like, 'Everything's perfect; we're all perfect and happy.' And it's not easy."