Megyn Kelly Blasts Jill Biden Playoff Game Appearance: 'Wannabe'
Megyn Kelly took aim at the First Lady of the United States on Sunday, suggesting we should stop addressing her as "Dr. Jill Biden."
The TV journalist was watching the NFL playoffs when she took to Twitter to air her frustration with how Biden was addressed, suggesting she uses a "fake title." Kelly's tweet was liked and retweeted tens of thousands of times, but others accused her of being "jealous and petty."
Despite her husband Joe being the president of the United States, Jill has continued to work as an educator, using the doctorate she gained in the '00s.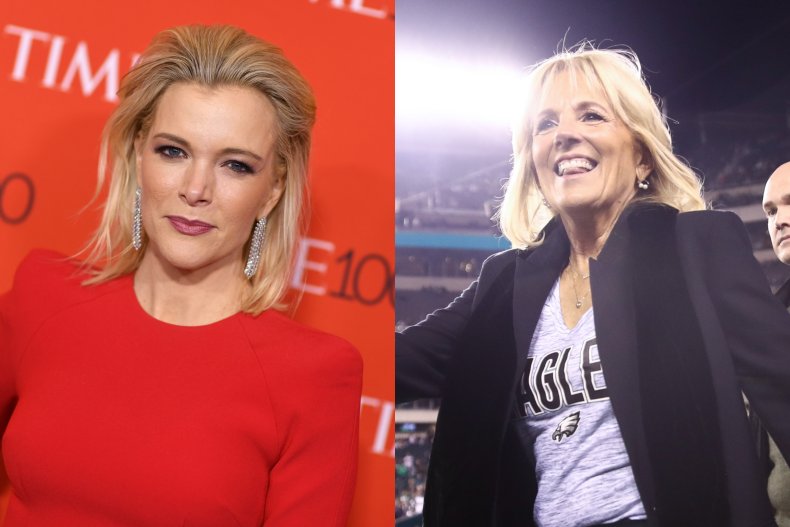 First Lady Biden attended the Philadelphia Eagles win over the San Francisco 49ers at the Lincoln Financial Field on Sunday in the NFC Championship game. She was shown among the crowd on TV, but a watching Kelly took issue with how she was referred to.
"Announcers for this Eagles-49ers game just spotted the First Lady in a box and of course call her 'Dr. Jill Biden,'" Kelly wrote on Twitter on Sunday. "Wonder if she realizes what a wannabe she looks like insisting on this fake title. Get a real MD or just work on your self-esteem."
Dr. Biden has two masters degrees, from Villanova University and West Chester University, and she earned her doctorate in education from the University of Delaware in January 2007. Biden continues to teach English and writing at Northern Virginia Community College.
After Kelly called out Biden, some of the comments with the most likes were critical of the former Fox News presenter.
"PhDs existed before MDs. You sound jealous and petty," Dr. Allison Gill, host of the Mueller, She Wrote podcast, replied.
Others brought up Kelly's past usage of the title for other people. Former Obama staffer Tommy Vietor accused Kelly of "selective outrage" as he dragged up Kelly's tweets from 2015 where she refers to "Dr. Sebastian Gorka." Gorka was Donald Trump's deputy assistant to the president of the United States in 2017 and has had his doctoral credentials questioned by many academics.
"Why is it important?" radio host Dan Joseph replied to Kelly, "All of my professors in college were referred to as 'Dr.' No one had a problem with it."
Writer Brooke Hammerling said she was confused by Kelly's strong feeling on the subject. "This is the strangest hill to die on. Like the strangest most bizarre thirsty trying to stay relevant but legit have nothing to hold onto hill to die on," she wrote.
Community actress Yvette Nicole Brown was more forthright with her assessment of Kelly's tweet. "You are an insufferable twit," she wrote in response.