Megyn Kelly Says Britney Spears' Conservatorship 'There for a Reason'
Megyn Kelly has suggested that Britney Spears' conservatorship exists for a "good reason" following the pop star's testimony in court on June 23.
The former Fox News host discussed Spears' court appearance in Monday's episode of her podcast, The Megyn Kelly Show, in which she questioned the singer's "mental state" and asked if she should remain under the court-appointed guardianship.
"The thing that bothered me about her testimonial was, we didn't hear the other side," Kelly said.
"And this judge, especially when I found out that Britney has been pushing to end this thing and objecting to it for many years, the judges heard this before, the judge has had reason to question, you know, whether this should stay in place for many years now, and she's allowed it to."
Under the conservatorship, Britney Spears' father Jamie Spears controls his daughter's more than $50 million estate and has had control over her health and financial decisions for the past 13 years.
The pop star asked for an end to the arrangement last week, telling judge Brenda Penny that she "just wants [her] life back."
Vivian Thoreen, attorney for Spears' father, gave a brief statement on his daughter's testimony, per The Associated Press last week.
"He is sorry to see his daughter suffering and in so much pain," Thoreen said. "Mr. Spears loves his daughter, and misses her very much."
In her podcast, Kelly continued: "There has to be a good reason for it. What we don't know we don't know what kind of mental state Britney is actually in. We don't know whether she's attempted suicide over and over whether she tried to hurt others. I'm just making this up just to be clear. We just don't know they're there."
She added: "And they the other side, the dad's side said almost nothing in response to something to the effect of, through his lawyer, sorry to see his daughter suffering so much."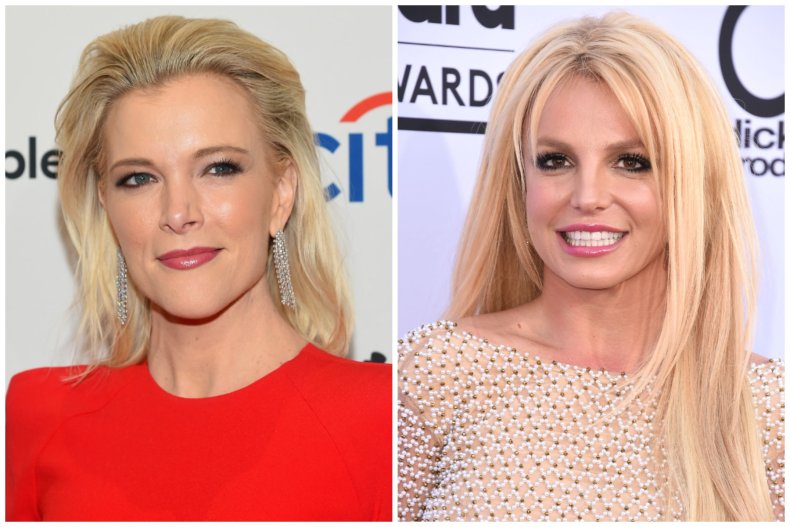 Kelly and Spears previously made headlines together back in 2009 when the anchor criticized Spears' hit "If U Seek Amy."
"Selling sex in a bikini is one thing. Getting on public airwaves and essentially spelling out the F-word over and over, when little girls, who idolize Britney Spears, for whatever reason, are listening, is quite another," Kelly said on Fox News at the time, per Yahoo!
"It is profane. It's offensive, and radio stations should play it, if at all, only during the hours that children are not listening."
Spears' responded by including a character that was very clearly modeled after Kelly in the music video for the song.