Megyn Kelly claimed politically correct forces against "offensive" Halloween costumes are "cracking down like never before," with the Today show panel blasting an ever-increasing list of inappropriate outfits.
The Tuesday Today show panel including Melissa Rivers, NBC News reporter Jacob Soboroff and Jenna Bush Hager took sides on a U.K. university's plans to ban outfits such as disgraced Hollywood producer Harvey Weinstein, Mexican culture and cowboys. Kelly incredulously asked "What is racist?" as she compared her perception of today's political correctness against her own childhood Halloweens. Although several panel members agreed "if you think it's offensive, it probably is," Kelly firmly rejected any third-party "fashion police" telling her what she or her family can or cannot wear on October 31.
Kelly then stepped up her attacks on politicially correct costumes but questioning why wearing blackface on Halloween is racist.
"There was a controversy on 'The Real Housewives of New York' with Luann, as she dressed as Diana Ross and she made her skin look darker than it really is. People said that that was racist! And I don't know, like, I thought, like, 'Who doesn't love Diana Ross?' She wants to look like Diana Ross for one day," Kelly said during the panel on Tuesday. "I don't know how that got racist on Halloween. It's not like she's walking around [wearing blackface] in general."
"People fired up over Halloween costumes this morning, I mean truly, political correctness has gone amuck there are strict rules about what you may or may not wear issued by someone who thinks they're the boss of you," Kelly said Tuesday.
"This is a different kind of fashion policing, Melissa," Kelly quips to the former "Fashion Police" E! TV host. "This year the costume police are cracking down like never before. You may no longer dress as a cowboy, that's now offensive," Kelly said, noting a story about a university attempting to ban cowboy outfits for being offensive and inappropriate. The University of Kent she referenced in the proposed cowboy costume ban is a school in the U.K.
"What is racist?" Kelly mused. "You do get in trouble if you are a white person who puts on blackface on Halloween, or a black person that puts on whiteface for Halloween. Back when I was a kid, that was okay, as long as you were dressing up as, like, a character."
Although much of the panel and "Today" show audience gasped at the absurdity of a cowboy outfit ban, only Megyn Kelly appeared to defend her right to wear a "Harvey Weinstein" Halloween outfit. "Yea, but I don't want the University of Kent telling me that I can't do it."
Jenna Bush Hager defended the wearing of the cowboy outfit, saying she's from Texas and "cowboys really do dress like that."
Kelly also lamented the proposed ban on Mexican cultural outfits featuring sombreros as well as the attempt to block Catholic nun outfits.
"Isn't the whole purpose of Halloween to dress up and pretend like you're something other than yourself?" Kelly asked, drawing applause from the studio audience. "You've got guys with fake axes coming out of their head. It's going to be jarring."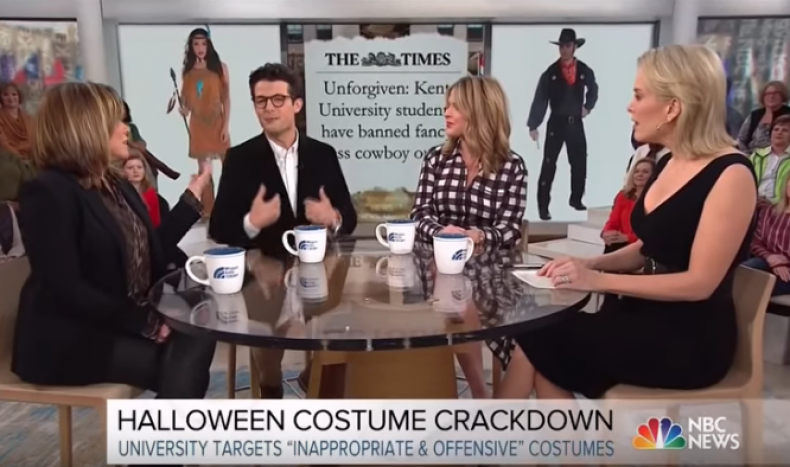 Fellow NBC employee Soboroff agreed with Kelly, defending people's right to self-incriminate. "You can dress like an idiot, act like an idiot and actually dress and be racist, somebody should say something to somebody — but you should be able to dress like a moron," he said.
In 2013, Kelly's comments about Santa Claus being white or black stirred controversy while she was a Fox News host.