Joy Behar Slams 'Bitch' Megyn Kelly After Hanoi Jane Fonda Diss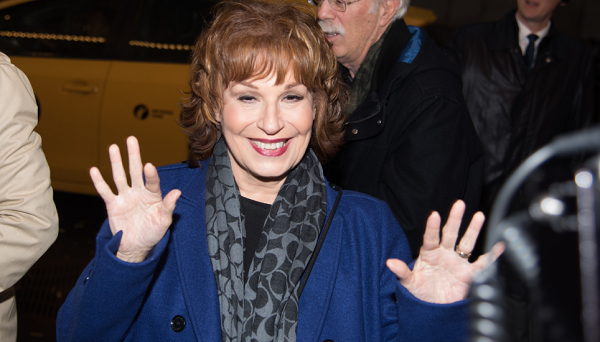 The View host Joy Behar offered her take on the continuing Jane Fonda–Megyn Kelly brouhaha. Behar even offered Fonda a belated response to Kelly: "Jane should have just said to her, 'And how much work have you had bitch?'"
Behar's comment comes a day after Kelly responded to Fonda, who, months after her guest appearance on Kelly's September 27 Today show segment, began bashing the morning host in public. During the September appearance, to promote Fonda's film Our Souls at Night, Kelly asked the 80-year-old actress about her plastic surgery, saying: "I read that you said you're not proud to admit you've had work done. Why not?"
Fonda snarkily responded, "We really want to talk about that right now?"
On January 16, Fonda returned to the Today show, this time during Hoda Kotb and Savannah Guthrie's segment, and she took a few shots at Kelly. While promoting season four of Netflix's Grace and Frankie, her co-star, Lily Tomlin, said the two actresses had been friends since "before [Fonda's] first facelift." Fonda replied, "Who are you, Megyn Kelly?"
Kelly responded on Monday. "Look, I gave her the chance to empower other women, young and old, on a subject which she purports to know well, and she rejected it, that's OK," the 47-year-old host said on her show. "But I have no regrets about that question, nor am I in the market for a lesson from Jane Fonda on what is and is not appropriate."
Claiming Fonda's name was "synonymous with outrage," Kelly dug up Fonda's controversial past, when the anti-war activist was blasted for posing on an anti-aircraft gun used by North Vietnam to shoot at American aircraft. The year was 1972, and the infamous photo earned Fonda the derogatory nickname "Hanoi Jane," which stuck for years despite multiple heartfelt apologies from the actress.
This was why, argued Kelly, Fonda "had no business lecturing anyone on what qualifies as offensive."
"To drag the Vietnam War into a plastic surgery conversation is a real stretch," Behar, 75, said on The View on Tuesday. "And also, why are people more angry with Jane Fonda about the Vietnam War than they are with [President Richard] Nixon and [President Lyndon B. Johnson] and people who lied about the war and sent boys as cannon fodder to that unjust and filthy war? It amazes me how you can focus on Jane Fonda."