In her first TV appearance since her firing from NBC News, Megyn Kelly on Wednesday night called for an "outside investigation" into her former employer over allegations made by reporter Ronan Farrow in his new book Catch and Kill.
Farrow unleashed criticism on NBC News executives over their alleged poor handling of accusations against disgraced Hollywood producer Harvey Weinstein in the new book, released on Tuesday. In it, the reporter said Weinstein had attempted to use misconduct allegations against former Today anchor Matt Lauer as leverage to stop NBC from continuing their probe into him. NBC News has denied much of Farrow's allegations contained in the book.
During her conversation on Fox News' Tucker Carlson Tonight, Kelly discussed Farrow's allegations against the network with her former colleague, host Tucker Carlson. Kelly left NBC last year after her controversial defense of blackface makeup drew widespread backlash.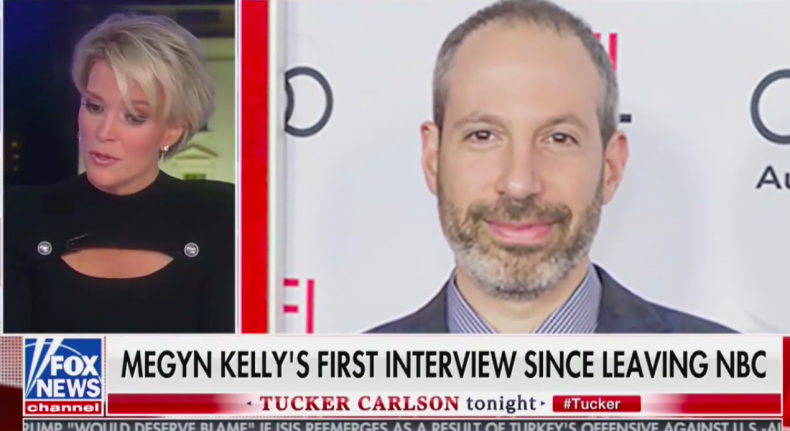 Carlson noted that before her exit from NBC, Kelly had expressed support for an outside investigation into sexual harassment allegations against Lauer.
"There needs to be an outside investigation into this company. They investigated themselves. That doesn't work. Fox News had an outside investigator. CBS News had an outside investigator. NPR, the NFL. This is how it's done," Kelly asserted, before calling on NBC to release any current and former staffers from confidentiality agreements related to Lauer.
Although NBC denies it, Farrow's book also accuses the network of paying out Lauer accusers before his firing with settlements to silence them from going public with their allegations. Kelly called the alleged move a "legal sleight-of-hand."
"You can get paid out as a sexual harassment victim in something other than a settlement," she explained. "You can get what's called 'enhanced severance.' That's the situation where the receptionist is suddenly getting a seven-figure goodbye."
"The number one thing that needs to happen now is they need to release any and all Matt Lauer accusers from their confidentiality agreements," Kelly continued. "NBC says it has nothing to hide. Great! Let's not hide anything."
She added: "Show us all of the agreements, the enhanced severance agreements that were reached or at least the numbers, so we can see which ones pop out and which ones were super high."
Kelly played a key role in ousting Fox News founder Roger Ailes after the emergence of sexual harassment allegations against him by Kelly and multiple other employees. Her return to Fox News today sparked speculation online that the network might be looking at her as a replacement for former Fox News anchor Shepard Smith, who left the company earlier this month.
Fox News quickly denied the rumors. "Megyn Kelly's forthcoming guest appearance on Tucker Carlson Tonight was coordinated weeks ago and is a one-time occurrence," a Fox News spokesperson said in a statement to Newsweek. "Any future programming changes we are considering do not involve her."