Mehmet Oz Accuses Philly Newspaper of Trying to 'Cancel' Him by Dropping 'Dr.' From His Name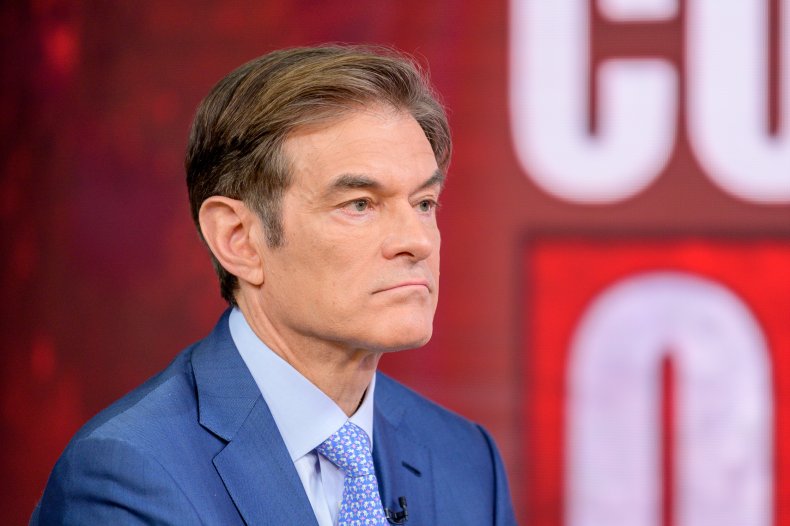 Tv personality and Republican Pennsylvania U.S. Senate candidate Mehmet Oz has accused The Philadelphia Inquirer of trying to "cancel" him by not including the honorific "Dr." with his name during the election.
The paper announced last week that it would not include "Dr." while covering Oz or any other candidate during the election, while noting that it had also not used the title while referring to a Democratic Senate candidate who is a medical doctor. Oz, a celebrity heart surgeon, argued that the move was part of an attempt to "silence" him and the "movement" that he represents during an appearance on the Fox News talk show Fox and Friends on Monday morning.
"The Inquirer hates, hates that I'm empowering you, hates that I'm taking on some of the established folks, hates that the entrepreneurial solutions that I'm offering might make sense," said Oz. "So they want to silence me. And I tell you, it is shocking that it would make them that uncomfortable this early in my campaign. But I think it's reflective of the movement we represent."
Oz agreed when host Steve Doocy, who remarked that the Inquirer was not "trying to help" Oz earlier in the segment, said that the paper's decision was evidence that it was "trying to cancel" him. Doocy also referenced a video that Oz posted to Twitter last week shortly after the editorial decision was announced. The video features Oz holding a copy of the paper and saying that he "won't be cancelled."
"The Twitter response that I posted back got a huge response because people see it," Oz said. "I mean, you can't look away. Why would the Inquirer get involved in this process? Why would they not want to call me Dr. Oz. Everyone knows I'm Dr. Oz. But they don't think it's the right thing to do. They think it gives me an unfair advantage."
"I think what gives me an unfair advantage is that we have better ideas," he continued. "We're actually hearing people, we're letting them express themselves. And we're just calling it what it is."
The chyron "Dr. Oz Fights Back Against Cancel Culture" appeared on screen during the segment. On the same day that Oz complained about being "canceled" by the Inquirer on Fox News, Sony Pictures announced that his long-running The Dr. Oz Show been canceled due to Federal Communications Commission equal time rules triggered by his Senate run, with the last episode set to air in January. The show will be replaced by spinoff show The Good Dish, which is co-hosted by his daughter Daphne Oz.
Critics and political opponents of Oz have noted that the doctor was a longtime resident of New Jersey prior to announcing his run for political office in Pennsylvania. Oz, who has railed against COVID-19 vaccine mandates and Dr. Anthony Fauci during the early days of his campaign, has also been heavily criticized for endorsing questionable health advice on his now-cancelled TV show.
Democratic opponent Val Arkoosh, the other candidate and physician that the Inquirer said it would not refer to using "Dr.," blasted Oz for promoting unproven COVID-19 cures during an interview with The New York Times last week. Arkoosh, who bills herself as "a no-BS physician," said that she did not understand "how he still has a license, with some of the stuff that comes out his mouth."
Newsweek reached out to The Philadelphia Inquirer for comment.