Meijer Issues Cantaloupe Recall in 6 States Due to Potential Salmonella Contamination
Michigan-based grocery chain Meijer has issued a recall for whole cantaloupes and select cut cantaloupe fruit trays and bowls due to potential risk of salmonella contamination.
The multi-state recall is part of a sampling investigation by the Michigan Department of Agriculture and Rural Development
The cantaloupe was sold throughout Meijer's 253 supercenters across Michigan, Ohio, Indiana, Illinois, Kentucky and Wisconsin between September 26 and October 5.
While no illnesses have been reported, consumers who purchased any products containing the potentially contaminated fruit are advised to throw it away immediately or return it to the nearest Meijer store for a full refund.
According to the Food and Drug Administration (FDA), salmonella can cause serious and sometimes fatal infections in young children, frail or elderly people. Symptoms among healthy adults include fever, diarrhea, nausea, vomiting and abdominal pain.
The recall notice said the infected cantaloupe ingredients may have originated from Eagle Produce LLC and the recalled whole cantaloupe would have featured a sticker label from Eagle that reads Kandy Brand. However, if there is no sticker label, the notice warned the fruit should be considered as part of the recall.
Newsweek reached out to Meijer for comment, but did not hear back before publication.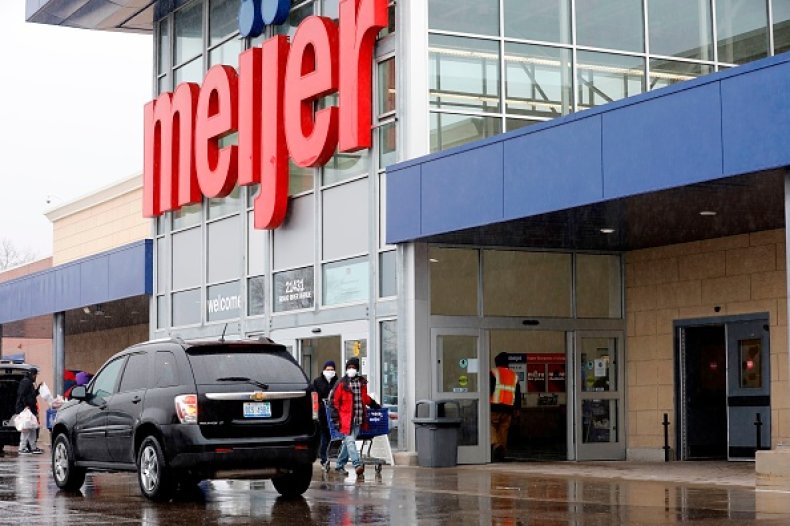 The recall comes days after Walmart pulled various containers of cut and sliced apples, grapes, mangos, pineapples, and cantaloupe due to an outbreak of listeria.
Country Fresh, a packager of pre-cut fruit sold at Walmart stores, issued a voluntary recall of their cubed watermelon last week but expanded the recall to include other fruit a day later. The "best by" dates on these products are between October 3 and October 11.
So far, there have not been any reported cases of illness from this outbreak, the third listeria outbreak prompting a recall this year.
The Meijer recall is the second salmonella recall this month and the 66th salmonella recall notice from the FDA this year.
The FDA also published a recall from Seneca Snack Company on Monday for the Washington company's cinnamon-flavored apple chips, citing possible salmonella contamination.
This is the fourth recall from the Grand Rapids-based grocery chain. Meijer issued three other recalls earlier in March for its dill pickle-flavored potato chips, taco seasoning mix and mixed nuts, citing undeclared food allergens. The grocer's three previous recalls have been declared completed and terminated by the FDA.
Last week, a man allegedly left his feces in an empty box on a shelf at a Meijer store in the Van Buren Township of Michigan. Police posted the surveillance footage on their Facebook page before store officials requested it be taken down due to company policy. There are currently no suspects at this point.