First lady Melania Trump's white, rainbow-striped dress she wore to her husband's "Salute to America" event on July 4 — markedly different from the red, white and blue outfits sported by President Donald Trump, the vice president and second lady — left some Twitter users wondering if she was trying to get a certain message across.
Melania Trump wore the off-shoulder dress, by Carolina Herrera, with bright fucshia heels just four days after the end of LGBTQ Pride month in June.
"Is @FLOTUS wearing a gay pride dress at Trump's 4th of July celebration?" a Twitter user wrote Thursday evening.
Another Twitter user replied to President Donald Trump's video with his wife with the note, "@FLOTUS loving the gay pride rainbow subtlety," along with two rainbow colored flag emojis.
Some Twitter users were certain the first lady was making a statement of support for the LGBT community, unlike her husband who failed to recognize the observance of Pride month in his first two years as president and has made an effort prohibit transgender people from serving in the military.
"Good to see Melania Trump wearing her gay pride dress today," one Twitter user wrote. "We are reminded that some people are still fighting for liberty. #TrumpParade#IndependenceDay"
Melania Trump's spokeswoman Stephanie Grisham, who is in transition to her new role as White House press secretary, did not immediately respond to a request for comment from Newsweek on Friday.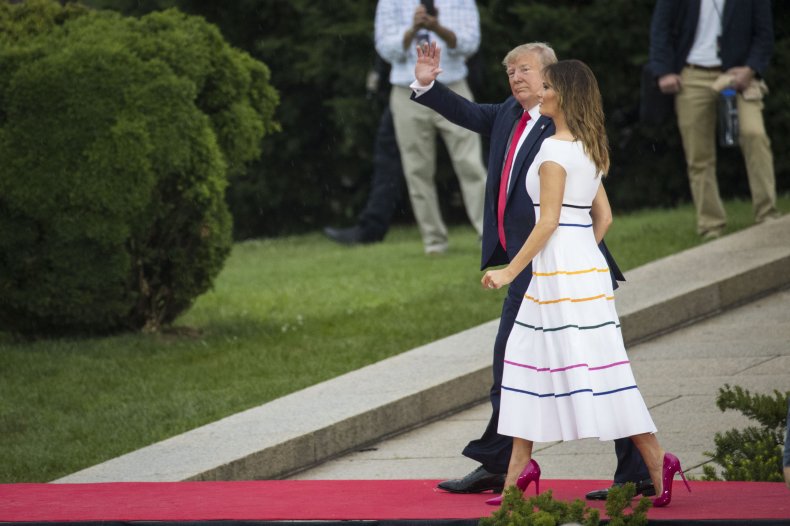 Donald Trump acknowledged Pride month for the first time as president this year, tweeting it was an occasion to "recognize the outstanding contributions LGBT people have made to our great Nation," a time to "stand in solidarity" with them," and that his administration was launching a global campaign to decriminalize homosexuality. The president invited all nations to join in the effort, even as his administration directed U.S. embassies and consulates around the world to not fly the rainbow Pride flag alongside the nation's official banner.
Melania Trump did not tweet about Pride month from her official or personal Twitter accounts this past June.
Thursday was not the first time that Melania Trump has dressed in a way to suggest she supports the LGBT community.
At the White House congressional picnic in 2017, which was the same weekend as New York City's Pride parade, Melania Trump donned a White and rainbow grind dress by Mary Katrantzou.
"Could the FLOTUS be using her wardrobe to silently protest against her husband's anti-gay agenda?" a Hollywood Reporter writer asked at the time.
Though Melania Trump and her office may never reveal what intention she had wearing a rainbow dress on July 4, the New York Times on Friday noted that she has worn red, white and blue on other Independence Day celebrations, and that the first lady "knows her symbolism."