Melania Trump Addresses Abu Bakr al-Baghdadi Killing, Thanks U.S. Military for 'Final Justice'
First lady Melania Trump, who usually avoids commenting on political matters, broke her silence on the killing of ISIS founder and leader Abu Bakr al-Baghdadi by U.S. military personnel, calling it "final justice."
"I want to take a moment and address Saturday's successful special ops raid that brought final justice to the leader of the evil terrorist group known as ISIS, and acknowledge the courageous soldiers who carried out this dangerous operation," Trump said during a visit Wednesday to Joint Base Charleston and an elementary school in Charleston, South Carolina.
The first lady added, "Our military has never been stronger or more capable than it is now, and our nation will continue to stand strong in the face of any enemy," according to the Charleston Post and Courier.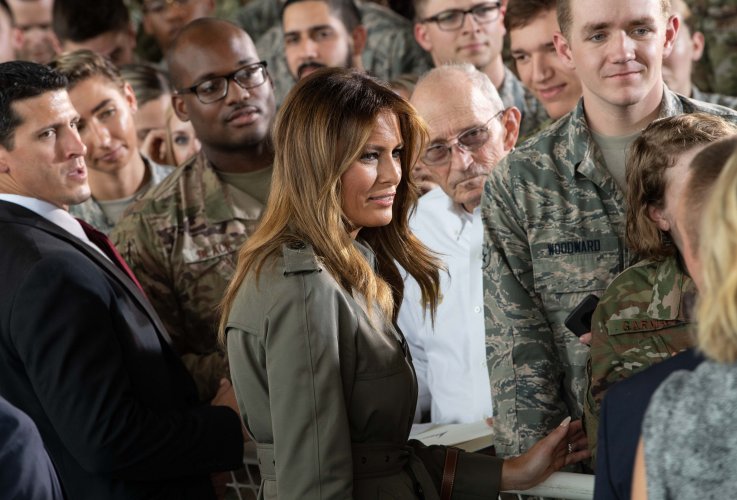 Her words supported the work of the Trump administration and were similar to a statement from her husband President Donald Trump issued by the White House on Sunday: "The United States brought the world's number one terrorist leader to justice."
Melania Trump's brief comment was softer than her husband's statement. The president called al-Baghdadi "thug," said he "died after running into a dead-end tunnel, whimpering and crying and screaming."
"He died like a dog," the president stated. "He died like a coward."
While Melania Trump did not tweet about al-Baghdadi's death, other Trump family members did, including first daughter and senior White House adviser Ivanka Trump.
Shortly after the news on Sunday, the president's daughter shared a link to her father's statement, thanked American soldiers and called al-Baghdadi a "monster."
"Thank you to the brave men & women who planned & executed this Special Operations raid," Ivanka Trump tweeted. "With the death of this monster, the world is a safer place."
Ivanka Trump also bashed The Washington Post's obituary headline as "unreal," for describing al-Baghdadi as an "austere religious scholar."
Other remarks Melania Trump made during her Charleston visit were more typical of the first lady. She told fifth graders at Lamb Elementary School, "You are very special to me," and, "Tell your parents I say 'hello.'"
Trump met the students, who were participating in the Red Cross Pillowcase Project for natural disaster preparedness, as part of her Be Best initiative aimed at helping children and improving their wellbeing.
The first lady gave a six-minute speech inside a hanger to about 500 service members and their families and did not answer any questions from the media. She has not commented on her husband's impeachment inquiry.
Melania Trump Addresses Abu Bakr al-Baghdadi Killing, Thanks U.S. Military for 'Final Justice' | News