Melania to Brave London During U.K. Trip as Donald Trump Avoids Protests in Capital
As President Donald Trump lands in London for a two-day trip that will feature a joint press conference with British Prime Minister Theresa May and tea with the queen, his wife Melania will spend time in London—a place her husband has reportedly taken pains to avoid.
Amid mass protests against the president's visit, Donald Trump's itinerary features a relatively short stay in London, with a lavish black-tie dinner to be held for him at Blenheim Palace in Oxfordshire on Thursday night. A press conference with May will be held at Chequers, in Buckinghamshire, on Friday rather than at 10 Downing Street.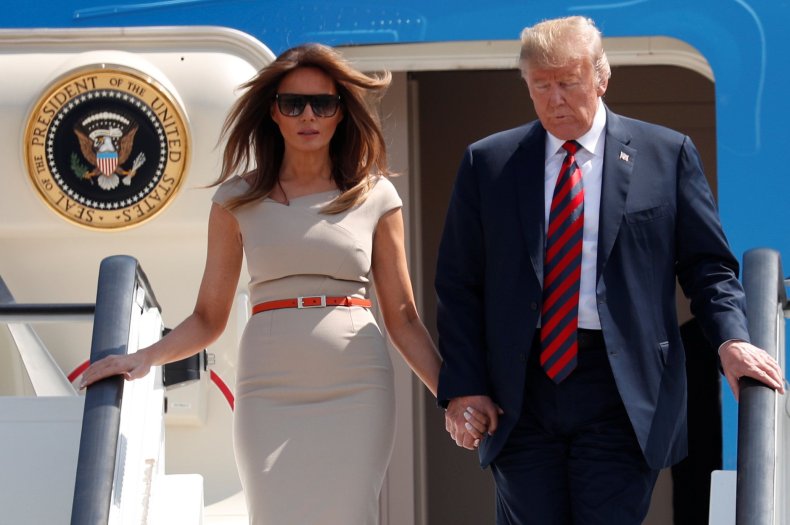 But while Trump's Friday morning plans involve a visit to a military site with May, followed by their joint press conference at Chequers, the first lady is expected to remain in London, in the company of May's husband, Philip May.
"He's looking forward to meeting Melania," May said of her husband, The Sunday Times reported. "He has been out and bought a new suit."
Melania's Friday morning plans will differ greatly from her husband's, since she will be meeting members of the public; something Trump will not be doing during his time in the U.K.
A Downing Street spokesperson told HuffPost UK: "On Friday she is going to have a separate program in London, and because it's in London I'm not able to share the location but she plans to meet veterans and local schoolchildren."
It is during the meeting with schoolchildren that the first lady is expected to tout her "Be Best" campaign, which touches on cyberbullying.
"In London, one of her solo events will be tied to 'Be Best,' but it is not the focus of the visit," Melania's spokesperson, Stephanie Grisham, confirmed to Bustle.
Melania's day won't be spent entirely apart from her husband, as she and Donald are set to meet the queen at Windsor Castle, where they will take tea with the royal after watching a military parade.
She will also enjoy a lavish dinner at Blenheim Palace on Thursday evening, spending just Friday daytime in London while her husband stays out of the capital.
Melania Trump's spokesperson did not immediately respond to a request for comment.