Melania and Ivanka Trump Accepted Humiliation and Agreed to Become Donald Trump's Brand Extensions
When President-elect Donald Trump took the stage at the New York Hilton Midtown on election night, trailed by a gaggle of younger, photogenic women, he had just wiped the floor with another woman, Hillary Clinton, who until a few hours earlier had expected (as did most of the world) she would be the first female president of the United States. American women were left not with a second-wave role model headed for the White House, but with a clan of camp followers engaged in the sort of transactional relationship many feminists hoped had gone the way of the corset. They were as Trump-branded as the buildings bearing his name across the city of New York.
Looking at his third wife, Melania, and daughters Ivanka and Tiffany—gleaming, towering replicas of one another—many in America were asking themselves the same question: Could their support for Trump, a man caught on tape belittling and objectifying women only months before, be genuine?
Ivanka, who was educated at the finest schools and a friend to Manhattan's liberals and culturati, was considered the one person who could curb her father's crass and more conservative instincts. But in the months after the election, it became clear that she would offer little in the way of tempering Trump; in fact, her views appeared to become more aligned with his.
Melania, always something of a mystery, took months to move into the White House and appeared reluctant to accept the first lady role. She has gone her own way on some issues, and social media has joyfully shared photos of her, clearly peeved, brushing her husband's hand away or traveling alone to Africa, channeling Katharine Hepburn in a pith helmet or white 1940s suit with the pyramids of Giza as backdrop. But despite rampant rumors that she had intended to divorce him prior to the election, she has stuck by the father of her son, Barron.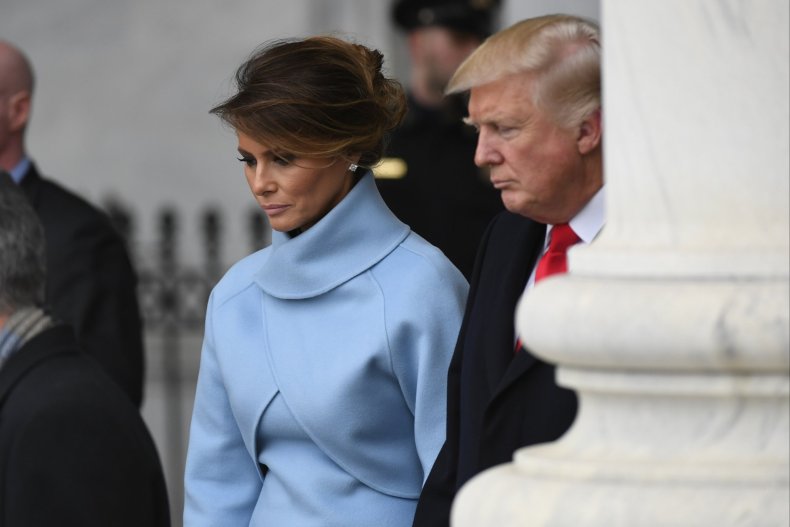 What makes Melania—or any woman, for that matter—stand by a man who is a noted bully and philanderer? Daughters are different, especially when they stand to inherit a fortune. But even Ivanka has had to endure humiliation. For a man for whom life is just a series of deals, women are simply set pieces for business or other transactions—there to consume or possess. But what's in it for them?
That is the question I wanted to explore in Golden Handcuffs: The Secret History of Trump's Women. In relinquishing the right to act and speak freely in order to maintain access to his wealth, fame and power, Trump's women agree to become accessories themselves. To be loved by Trump, if that's what it can be called, is to submit to becoming, first and foremost, a brand extension.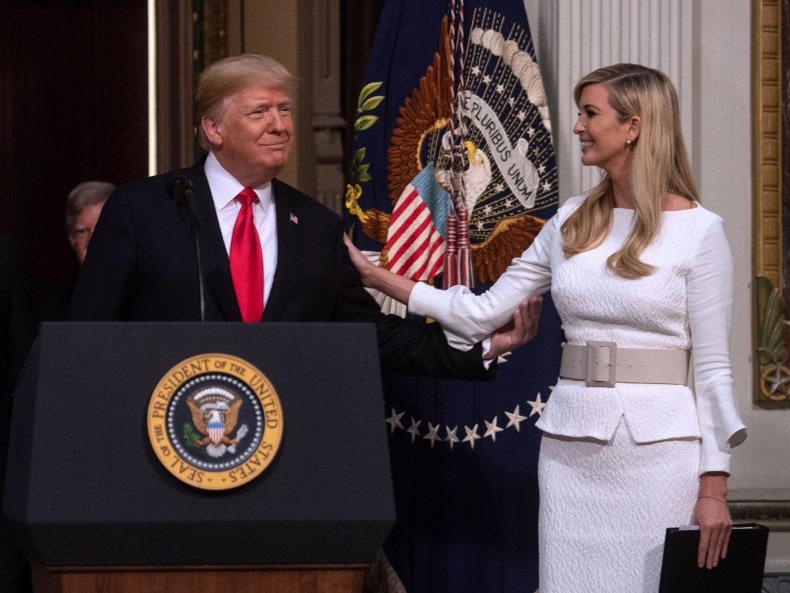 IVANA ZELNÍCKOVÁ
"I can bring home the bacon and fry it up in a pan."
That was the TV jingle for the perfume Enjoli—an ad on heavy rotation when Ivana Zelnícková came to New York in 1976. In the commercial, a woman metamorphosed from office drone to hottie with a spritz of Enjoli. That working woman trope would be heavily woven into pop culture in the early '80s on TV and eventually in films like Working Girl , Fatal Attraction and Pretty Woman . In each, the main character navigates a new version of the Madonna-whore paradigm—except in this iteration, they were expected to work like men.
Trump welcomed the post-feminist era with a sexist spin: He saw a new and eager sector of the labor market that he could exploit. Trump did hire women; he even put a female engineer—extremely rare in the 1980s—in charge of construction at New York's Trump Tower. But when it came to his wife, Trump was no feminist.
They were married in 1977, and by the early 1980s Ivana and Trump were New York City's golden couple, riveting to the media for the excessive, big-haired lifestyle that personified the Me Decade. But Ivana wanted a career, and she was tasked with designing the interiors of all of her husband's major real estate, including Trump Tower and the Grand Hyatt Hotel in Manhattan, as well as Trump Plaza Hotel and Casino in Atlantic City, New Jersey. In 1988, a New York Post writer suggested Ivana was "the woman beside and not behind the man."
Ivana seemed to believe the hype. "If Donald were married to a lady who didn't work and make certain contributions, he would be gone," she told Time m agazine. At that moment, Ivana, the Icarus of working mother-wives, was at the apex of her flight, failing to notice the heat singeing her wax wings. To her mind, she was on her way to an equal partnership with her husband. "Ivana really was a partner and helped build up Trump," one of their friends recalled. "She was a working mother, a working partner. Ivana wasn't just a trophy wife who did nothing—she was part of creating that empire."
Trump saw things differently. Even as he promoted his wife, he undermined her. "I pay her a salary of one dollar a year and all the dresses she can buy," he famously joked to a reporter shortly after he named her president of the Plaza Hotel. When the couple appeared on The Oprah Winfrey Show , he told Oprah, "There's not a lot of disagreement because, ultimately, Ivana does exactly as I tell her to do." Ivana teased him for being a "male chauvinist," and everybody laughed, including Ivana.
She wasn't laughing behind closed doors. Trump's female engineer, Barbara Res, came to her office at the Plaza to discuss a problem she was having with Trump in the late 1980s. To her surprise, Ivana burst into tears. "She tells me that I don't know what it's like. 'I have to be with him 24 hours a day,'" Res recalled Ivana saying. "I felt so sorry for her."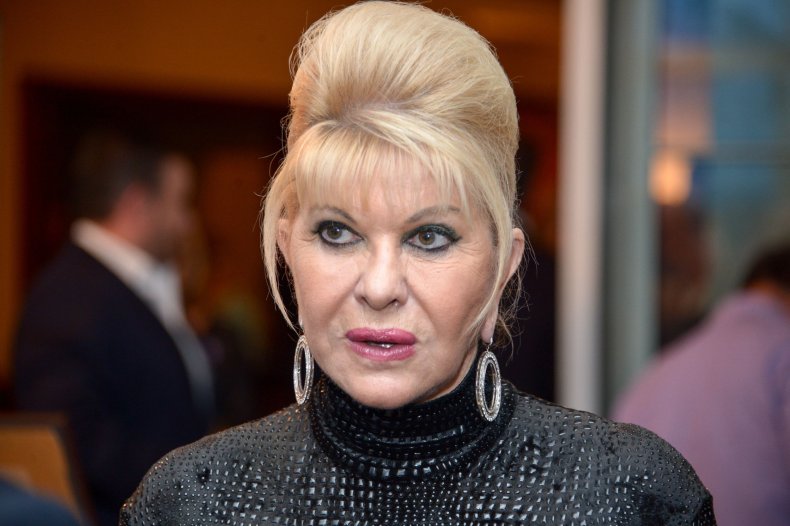 Trump was already cheating on Ivana, and shortly after Ivana found out he was seeing Marla Maples, she filed for divorce in 1990. It was a tabloid battle royal with a dark side: a rape charge in a deposition she signed (which did not emerge until years later; in 2017, she dismissed it as "lawyer talk"). The split was ultimately amicable and the divorce finalized in 1992: Ivana received $14 million in cash, a 45-room Greenwich, Connecticut, mansion, an apartment at Trump Tower (where their three children were raised) and over $650,000 in child support and alimony.
Ivana the working woman never publicly embraced the second wave of feminism. All along, even after divorce, she was simply a female version of Trump, without his dad's money. Of all his wives, Ivana was the most like him. The girl who grew up in Communist Czechoslovakia proved to be a capitalist idiot savant, with a penchant for shameless marketing. After the divorce, she wrote two novels, plus a self-help book, and created a clothing and cosmetics line. You can find '90s YouTube videos of her—hair piled high, purring in that Zsa Zsa Gábor accent—pitching silk shirts, hand creams and fragrances for House of Ivana.
IVANKA TRUMP
You've seen the pictures. If not, just Google "creepy pictures of Trump and Ivanka."
Trump hate is so visceral that the president's foes cringe at the thought of his hands touching anything , from a White House doorknob to a Miss Teen USA crown to his own daughter. Viewed through that lens, one can read a lot into photos of adolescent Ivanka, sliding into an Italian sports car with Daddy or sitting on his lap on a bed.
The myth of Pygmalion is about a sculptor who creates the perfect woman and falls in love with her. Trump sees his daughter Ivanka as his greatest creation and loves her as that.
In public, she calls him "my father," and Ivanka's display of filial duty has never wavered. In private, she calls him "Daddy," which Trump apparently prefers.
Her childhood was not easy. Ivanka was just 9 when reporters publicly asked her, on the street, if her father was good in bed. You either never recover from that or learn how to give it right back. During an infamous 2013 appearance on The Wendy Williams Show , Williams asked what they had in common. Trump, sitting next to his daughter, replied, "Sex," followed by a pointed pause. "OK, golf and real estate." Ivanka tossed her hair, snickered and flicked a nanosecond of a benign, almost maternal oh you naughty boy look at him, as the audience made appalled noises.
Ivanka was branded at 15, when her mother, Ivana, trademarked her name. She founded her own Ivanka Trump brand in 2011, selling affordable clothes and jewelry, and since having three children herself, with Jared Kushner, she has been marketing the hell out of being a working mother. American feminists regard Ivanka's career with the same gimlet eye the French rabble aimed at Marie Antoinette, when she'd dress up like a milkmaid at her faux farm in Versailles, the Hameau de la Reine.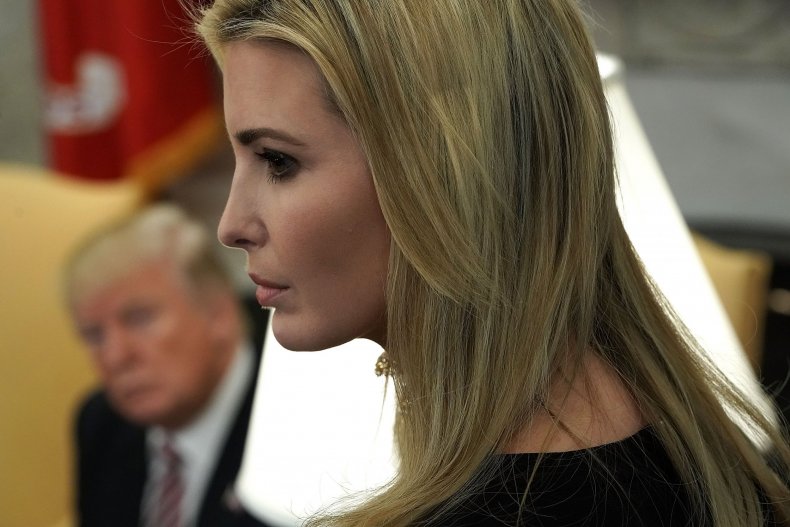 In the brand she's been honing since college, the photogenic doll you see on Instagram is the value-added element to her role as a Trump dealmaker, an act she perfected on his reality show The Apprentice . "She is going to be able to narrate her own story," said a New York friend, estranged because of politics. "The movie that she is writing of her life is as a developer, of growing up and hanging out on construction sites."
When the Trump presidency prompted journalists to start looking into the family company, they found her blithely making deals with alleged money launderers—from New York to Panama. Her soigné presence was a real asset in covering some of her father's shadier tracks.
On those deals, she is not, of course, the person who gets handed the bag of cash; she keeps her manicured hands clean. Finalizing a 2014 licensing deal with the Mammadovs, a notorious family in Azerbaijan, she told an interviewer for Baku magazine that she couldn't wait to visit the hotel's Spa by Ivanka—"a huge spa area."
As the Trump presidency juices the family businesses, Ivanka joins an elite class of super-rich female scions in the developing world, made vastly wealthier after their fathers turned their public offices into family business dynasties. In her position at the White House, as one of her father's closest advisers, she now has more in common with the glamorous daughters of legendary kleptocrats in the developing world, like Angola's Isabel dos Santos and Azerbaijan's Leyla Aliyeva, than with Caroline Kennedy or Chelsea Clinton.
"When you are on the board of a state-owned entity, you are a government official and private business person, and you get this weird crossover position," said Alexandra Wrage, president and founder of TRACE International, a global business ethics analyst. "Like the Aliyevs, the Trumps were in business, now they are in government, and one day they will move back to business. That is usually found in the strange muddied waters of developing countries. That is not usually the hallmark of a democracy."
The Ivanka brand took a hit in inverse relation to the number of Trump's days in office. After a year in the White House, the volume of growth had shot down to a negative 1 percent in comparison to the year before.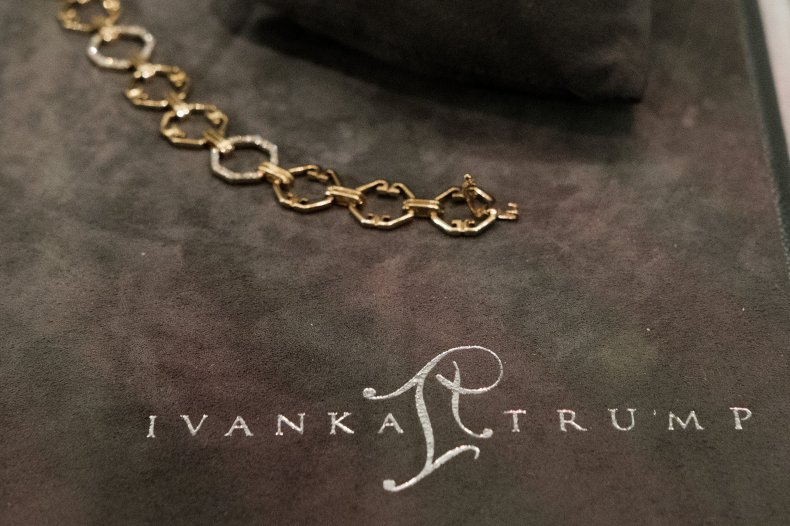 Turned out, it didn't matter so much anymore. It earned pin money compared with the $800 million fortune she and Kushner were sitting on.
And it was bad optics—a matter to which Ivanka pays close attention. While Trump was urging Americans to "buy American," Ivanka's company was still paying workers in China less than the spartan Chinese minimum wage. Inspectors who made a two-day visit to the Chinese factory where G-III Apparel Group was licensed to make clothes for the Ivanka Trump brand found workers had five days of paid leave annually, the factory didn't have a union, and it was deficient in safety procedures and training.
Three months ago, Ivanka abruptly shuttered her company. In a statement, she said, "After seventeen months in Washington, I do not know when or if I will ever return to the business, but I do know that my focus for the foreseeable future will be the work I am doing here in Washington."
The woman who once raised $40,000 for Democrat Cory Booker and donated tens of thousands to other Democrats now campaigns for Republicans in the House and works behind the scenes at the Small Business Administration and other agencies on her list of pet projects. At least one of them has been a great success: She kick-started a World Bank fund for female entrepreneurs in the developing world that has won kudos from both sides of the political spectrum.
Unlike her stepmother, Melania—the other Trump-branded White House female—Ivanka likes and understands power, and she has an instinct for strategy. She keeps her sights on the long game, positions herself as a global brand ambassador and collects high-level global contacts under the guise of "women's empowerment," while not advancing that goal within her father's presidency.
With the leaders of China and India and the EU in her pocket and with her father dispatching her to sit next to German Chancellor Angela Merkel, or suggesting that she could be his next U.N. ambassador, what can it matter that former fans like Barry Diller—billionaire mogul and husband of designer Diane von Furstenberg—is now throwing shade at her? "I mean, we were friendly," Diller said in spring 2018 to Maureen Dowd of The New York Times . "I would sit next to her every once in a while at a dinner. And I, as everyone did, was like, 'Oh my God, how could this evil character have spawned such a polite, gracious person?' I don't think we feel that way now."
The great challenge for Trump's ultimate branded woman will be figuring out how to delete her father's logo and carry on. If Ivanka pulls it off, it will be the marketing feat of the century, the truest test of everything she has learned.
MARLA MAPLES
She was Trump's not-so-secret mistress while he was married to Ivana, then his very public girlfriend after their divorce. She was arguably also his first Pygmalion project—a women he would mold into his own Playboy magazine–Vegas showgirl ideal of feminine beauty.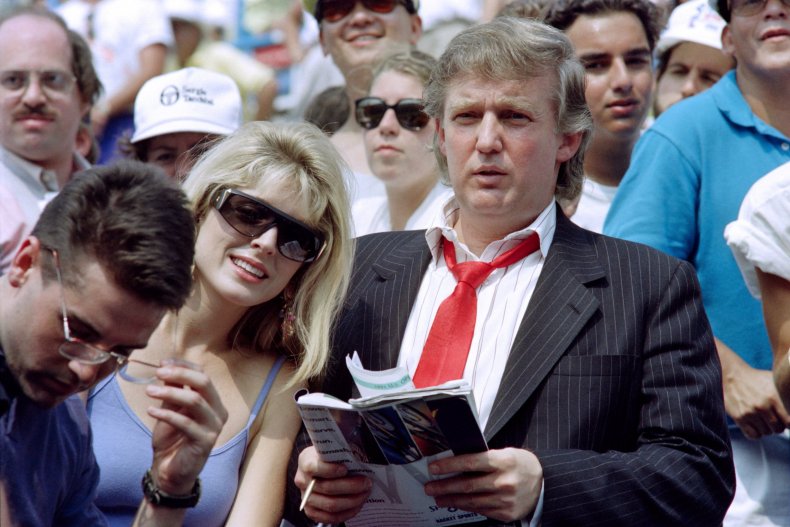 For a few years, publicists, stylists and journalists on the Trump payroll participated in the Marla Maples pop-up industry. George Carpozi Jr. put her on the cover of a magazine devoted to Trump, The Real Story—Trump. Trump got her gigs on WWF WrestleMania and co-hosting beauty pageants. She played herself on the hit series Designing Women. She appeared as herself in a cameo, alongside Trump, on Fresh Prince of Bel Air .
She gave birth to their daughter, Tiffany, in October 1993, and became his second wife three months later, in front of a thousand guests at the Plaza Hotel in December. But her career high point had already come and gone: a role in 1992 in the Broadway show The Will Rogers Follies . The musical got good reviews and ran until September 1993, but by then she had been out for months, sidelined by pregnancy.
Eventually, the Pygmalion effect wore off; Maples wasn't interested in being branded Trump: "I am the kid that likes to go without makeup and let my hair grow naturally, and not have to keep an image up." Trump, she said, "wanted to change me into that person, into that thing, into that social animal…. It was an ugly symbol of—it was like the symbol of greed."
They divorced in 1999. The settlement gave her $1 million and child support after tabloids reported that Maples was having an affair with her bodyguard. She got away relatively unscathed.
MELANIA KNAUSS
"I got a good deal," Trump brayed about Melania on May 24, 2002, in one of his stream-of-consciousness interviews with radio jock Howard Stern. He did not mean that he got a good deal on Melania. He meant he got a good deal for his new girlfriend—a huge Times Square ad for Camel cigarettes.
At 28, Melania was aging out of modeling, and she needed a dealmaker. She entered the international modeling world just as news of the sexualization of Eastern European women—tracked, abused and often truly desperate—was going global. Their plight was covered extensively in articles and studies about the trafficking of " the Natashas " and in Michael Gross's book about the New York modeling industry, Model: The Ugly Business of Beautiful Women .
It's possible that is why she Germanized the spelling of her maiden name (from Knavs to Knauss), and at one point claimed to be Austrian. But her accent, and her Yugoslavian roots, meant she could never really escape being associated with that generation of Slavic women.
In October 2017, Finnish writer and playwright Sofi Oksanen wrote an open letter to Melania, published in several Nordic newspapers, accusing her of failing Eastern European women by not publicly criticizing Trump for his sexist behavior and oafish remarks. "You are the First Lady of the United States of America, but whenever you hear a familiar accent on TV, the woman on-screen is a prostitute, a stripper, or a mail-order bride," Oksanen wrote. "Each new article about the indignities you've endured in your marriage sells more bachelor getaways, attracts more customers to the dating apps and interpretation services. That's why your silence isn't a private matter. It affects the lives and opportunities of countless other women."
Melania never responded publicly to that challenge.
For Trump, her appeal was obvious: The silken, silent Melania—24 years his junior—enhanced a brand that was beginning to age and tarnish. But the benefit, at least initially, was even clearer for Melania. Just another beautiful wannabe prior to their relationship, she was soon the beneficiary of the Trump publicity machine, which churned into high gear when they started dating.
They were engaged in 2004 and married in January 2005, this time at Trump's gilded Palm Beach estate, Mar-a-Lago. (Among the celebrities attending: Bill and Hillary Clinton.) She gave birth to Barron in March 2006.
After marrying Trump, Melania followed Ivana and Ivanka into Trump-branded retail, with a line selling accessories and cosmetics. One product, an anti-aging treatment, was supposedly made with caviar imported from France. Two millionaire pals of Trump funded the anti-aging cream, but when a subsequent dispute disintegrated into a highly entertaining octopus of litigation, the product never got to retail.
When Trump was elected, Melania's name was still listed as CEO of Melania Marks Accessories Member Corp., the holding company of Melania Marks Accessories LLC; as of the spring of 2016, she was still hawking eponymous "affordable" jewelry and "timepieces." According to a fawning interview published that summer in DuJour magazine, "her QVC line of sparkly jewelry sold out in 45 minutes."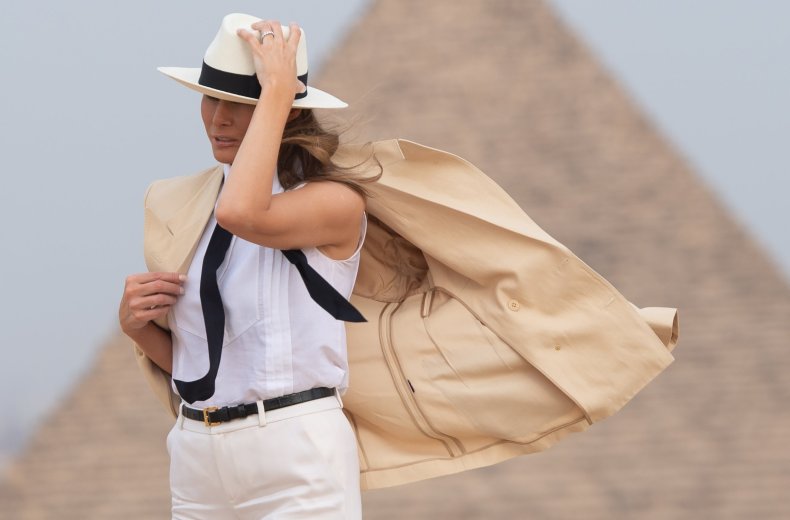 The truth about Melania is that she was never comfortable with exposure—and this, according to Stane Jerko, the photographer who discovered her, was true even when she was a teen. It explains the tension that is always there, in most photos taken of her now that she's the first lady, with the eyes of the world on her every day.
It has been an ordeal, with humiliations involving porn stars, GIFs of her looking sad on social media posts and the media dissecting every moment of her life. In an interview with ABC news during a recent official visit to Kenya, she described herself as "the most bullied person on the world."
"Her friends are worried about her," one New York friend revealed. For a while, she was believed to be living with her parents in a house near Barron's school. But after roaming between the White House and Trump properties in New York, New Jersey and Florida throughout her first year as the president's wife, and a mysterious 24-day disappearance earlier this year, she has made numerous solo trips to the border—at least once without consulting the West Wing first—and now, to Africa. At 48, finding herself in a global role for which nothing in her life really prepared her, Melania seems to be testing her autonomy and maybe even tasting a new kind of freedom.
This story is adapted from Golden Handcuffs: The Secret History of Trump's Women.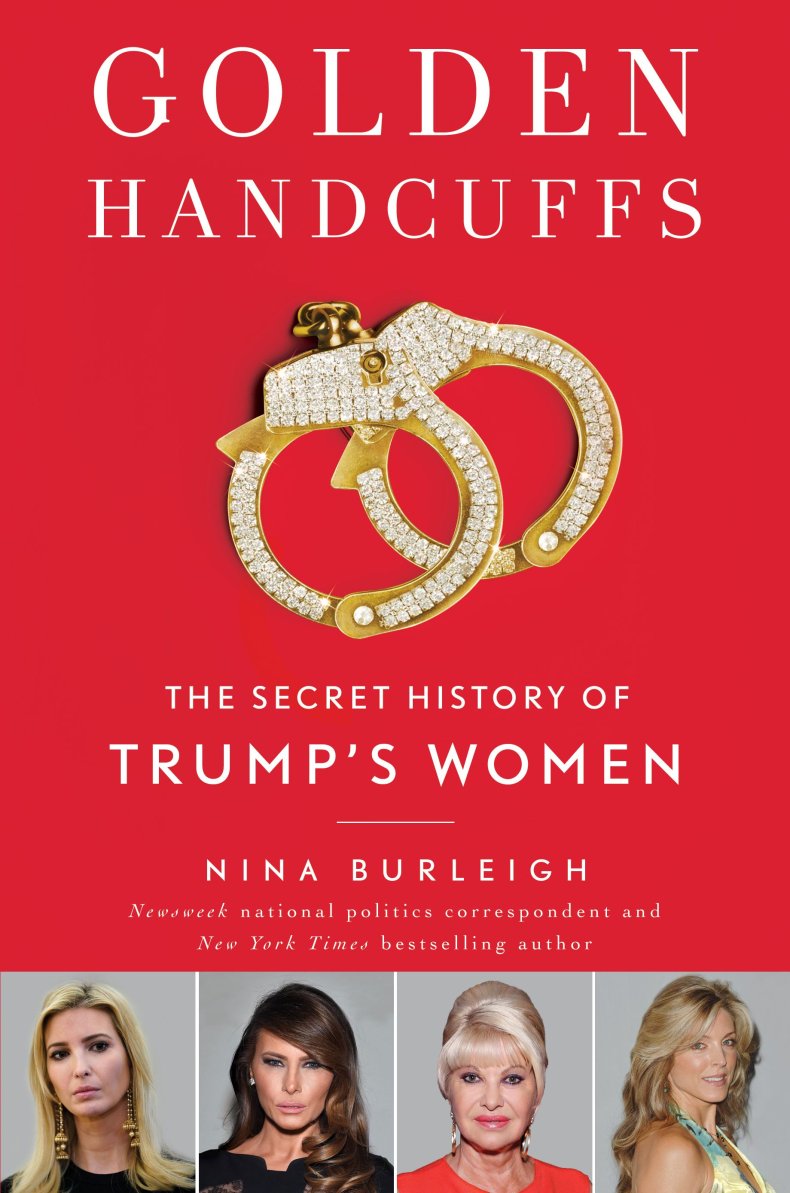 Nina Burleigh, Newsweek's national politics correspondent, is an award-winning journalist and the author of six books. Her latest, Golden Handcuffs: The Secret History of Trump's Women, is published by Gallery Books, an imprint of Simon & Schuster.