Melania Trump is More Admired Than Hillary Clinton and Ivanka Trump, But Michelle Obama Takes First Place in New Poll
First lady Melania Trump is the third most admired woman in the United States, trailing her predecessor Michelle Obama who took first place, but beating another former first lady, Hillary Clinton, and her own stepdaughter, Ivanka Trump, according to a poll released Thursday.
Melania Trump jumped seven places from her position in the same ranking by YouGov last year, indicating she has become more popular despite her continued silence on President Donald Trump's controversial policies and some outfit choices that made negative headlines.
Also more popular than Melania Trump was Supreme Court Justice Ruth Bader Ginsburg, who was ranked second behind Obama. Clinton, who served as secretary of state and lost to Donald Trump in the 2016 presidential election, dropped four places from last year to eighth place.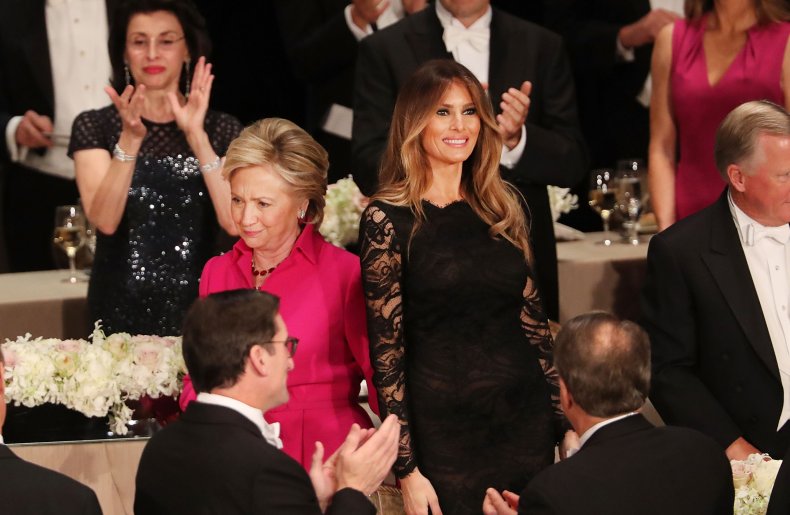 Melania Trump is notably more popular among Americans than first daughter and senior White House adviser Ivanka Trump, who just missed the top 10, placing at eleventh.
Obama this year replaced actress Angelina Jolie as the most admired woman and her husband, former President Barack Obama, was first on the list of most admired men in the U.S. for the second year in a row. Also unchanged from last year was Donald Trump's second-place showing.
Melania Trump debuted on YouGov's world's most admired women list at No. 19. She was beat by Michelle Obama again in first place and Clinton in eighth place. Ivanka Trump did not make the top 20.
Melania Trump's popularity relative to Ivanka Trump is consistent with recent polling.
An Economist/YouGov poll conducted in mid-January showed that the first lady's popularity rose to the most likable member of the Trump family, while Ivanka Trump's dropped. Melania Trump was the only family member with a higher favorable than unfavorable rating, with 48 percent of poll participants viewing her favorably. Donald Trump was second with 43 percent favorability, followed by Ivanka Trump with 41 percent favorability.
First ladies are generally more popular that presidents and vice presidents. Melania Trump's popularity in a CNN poll dipped from 54 percent favorable last October to 43 percent in December. Lauren Wright, author of On Behalf of the President: Presidential Spouses and White House Communications Strategy Today published in 2016, told Newsweek at the time that it was likely due to an "overly political" sit-down interview she did with Fox News in which she seemed to be "adopting all of the West Wing Trump aggressive language."