Melania Trump Made at Least $100,000 off Photo Deal Last Year and Only Wanted 'Positive Stories'
First lady Melania Trump made between $100,000 and $1 million last year from a photo rights deal with a major picture distributor and wire service, according to President Donald Trump's most recent financial disclosure form.
The former model earned royalties through a deal with Getty Images, in which a wide range of media outlets used some of the 187 exclusive photos taken by photographer Regine Mahaux between 2010 and 2016, NBC News reported Monday.
Many of the almost 200 photos show the first lady and the president before his successful bid for the White House, as well as their son, Barron. Others include glamorous shots of the first lady posing by a pool and playing tennis with Barron, as well as lavish pictures of their home in New York City.
Many news outlets (Newsweek included) have a subscription with Getty Images that allows the downloading and use of photos for articles and slideshows, but some photos require additional payment and list the price. The first lady's photos instead point a prospective buyer to contact Getty and state: "User will not be able to price or download image without prior negotiation."
The description also states the pictures can only be used for "positive stories only."
Major media outlets like The Daily Mail, the Houston Chronicle, Marie Claire and Yahoo News have published some of the pictures, according to NBC's report.
One of the portraits taken of the Trumps was used in a White House calendar last year. The final product sold for $14 at the White House gift shop, NBC reported. Some of the pictures were published by outlets before Trump took power, but previous income from Getty was not found on older financial disclosure forms.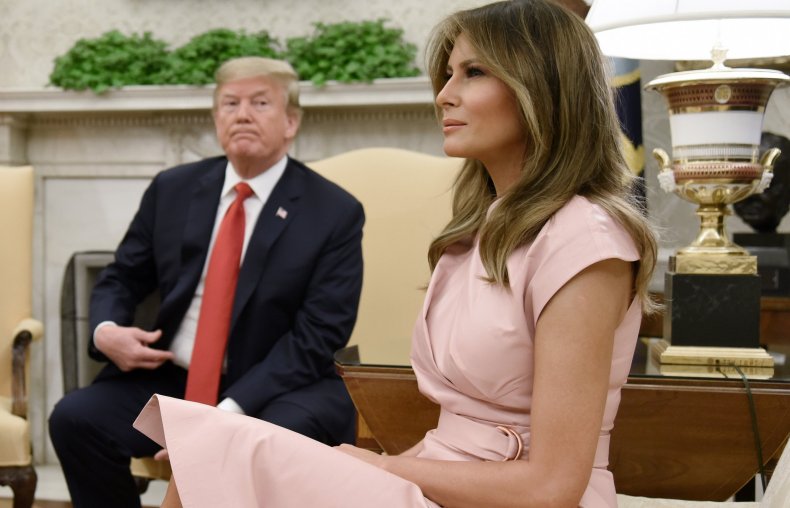 Such royalty deals are common for celebrities, but one for a first lady is not. It's even rarer for a media outlet to guarantee what kind of coverage it would grant the subject of a story.
The report is one of several recent stories critical of the first lady. She was previously angered by news reports about her whereabouts following a medical procedure in April, and her lack of public appearances nearly a month after the procedure.
Melania Trump later took significant flack last month when she wore a jacket with the phrase "I really don't care, do u?" on the back when she visited a detention center for immigrant children in Texas.
President Trump later claimed his wife wore the jacket as a snub toward the "Fake News Media."
"'I really don't care do U?' written on the back of Melania's jacket, refers to the Fake News Media. Melania has learned how dishonest they are, and she truly no longer cares!" the president tweeted June 21.