Melania on Donald Trump's Alleged Affairs: 'More Important Things to Think About'
First lady Melania Trump said she has "much more important things to think about" than allegations of her husband's infidelity.
In footage scheduled to air Friday on ABC, Melania Trump emphasized her roles a mother and first lady. She said the claims of the president's former sexual ventures are "not [a] concern and focus of mine."
Melania Trump talked about how her husband's reported extramarital affairs have affected her. "It's not always pleasant, of course, but I know what is right and what is wrong and what is true and not true," she said. "I know people like to speculate and media like to speculate about our marriage and circulate the gossip," she continued. "But I understand the gossip sells newspapers and magazines ... and, unfortunately, we live in this kind of world today."
When asked if she loved her husband, she responded, "Yes, we are fine."
The Hill reported that "this marks some of Melania Trump's first public comments regarding any of the allegations of infidelity against her husband."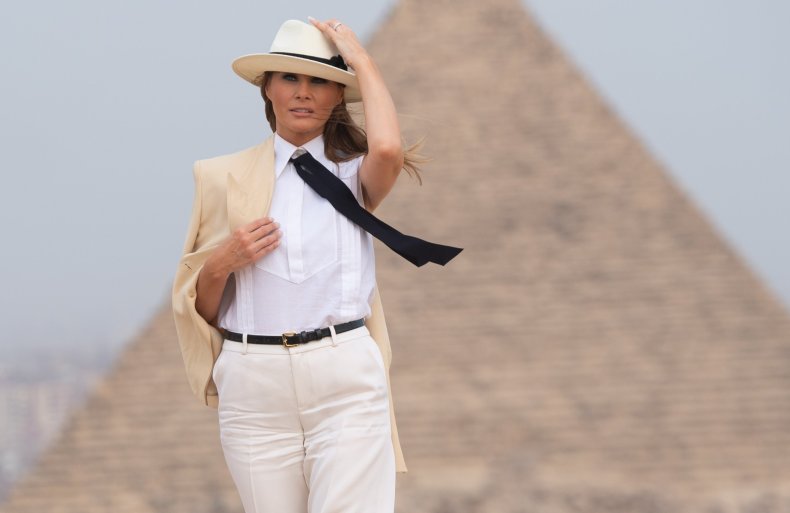 Adult-film star Stormy Daniels claimed she had sex with Donald Trump in 2006, shortly after Melania had given birth to Barron Trump. In addition, former Playboy model Karen McDougal said she had a months-long relationship with Trump in 2006.
The president said both women were lying but did, however, admit to reimbursing former personal attorney Michael Cohen for a $130,000 nondisclosure agreement made to Daniels, whose real name is Stephanie Clifford.
Melania Trump provided a number of public statements about contentious political debates while on her solo tour of Africa, which began at the beginning of the month.
"I could say that I'm the most bullied person in the world," Melania told ABC. "One of them—if you really see what people are saying about me."
In a segment teased on Wednesday, Melania offered her thoughts on the #MeToo movement. "I do stand with women, but we need to show the evidence," she said. "You cannot just say to somebody, 'I was sexually assaulted,' or 'You did that to me,' 'cause sometimes the media goes too far, and the way they portray some stories, it's not correct. It's not right."
Late-night hosts including Seth Meyers and Jimmy Kimmel have frequently made jokes about the first lady.
In April, Kimmel mocked the accent of the first lady, who is from Slovenia. Fox News host Sean Hannity subsequently called the comic a "despicable disgrace" for the remarks. A protracted online feud followed.
Melania on Donald Trump's Alleged Affairs: 'More Important Things to Think About' | U.S.