Melania Trump in 2018: Battling Affair Reports, Embracing Politics and Declining Popularity
First lady Melania Trump had something of a roller-coaster year in 2018, amid reports of her husband Donald Trump's extramarital affairs before he became president, her disappearing from the public eye for nearly a month, her wearing a controversial jacket and seeing her popularity drop.
"What is clear is that the first lady's public activities ramped up significantly this year compared to last year, which is common for first ladies," Lauren Wright, author of On Behalf of the President: Presidential Spouses and White House Communications Strategy Today told Newsweek on Friday.
In January, following reports that Donald Trump had had an affair with adult film star Stormy Daniels shortly after she had given birth to their son, Barron, Melania Trump arrived alone at the State of the Union address wearing a white pants suit that drew comparisons to Hillary Clinton. The first lady, for the most part ,avoided traveling with her husband from February to April.
In April, she hosted the Trump administration's first state dinner for French President Emmanuel Macron and his wife. She was widely praised for organizing the event.
But criticism returned the following month. In May, Trump launched her signature "Be Best" campaign aimed at helping children and fighting against cyberbullying. Critics slammed her initiative in light of her husband's frequent use of Twitter to bash his opponents.
The first lady then disappeared from the public eye for 26 days following a minor kidney procedure. Her absence prompted rumors that she had left Washington, or even that she'd had a face-lift.
When his wife joined him for a Federal Emergency Management Agency briefing in June, Donald Trump denied the speculation.
"Melania, she's doing great. She went through a little rough patch, but she's doing great, and we're very proud of her. She's done a fantastic job as first lady," the president said. "The people love you, the people of our country love you. Thank you, honey."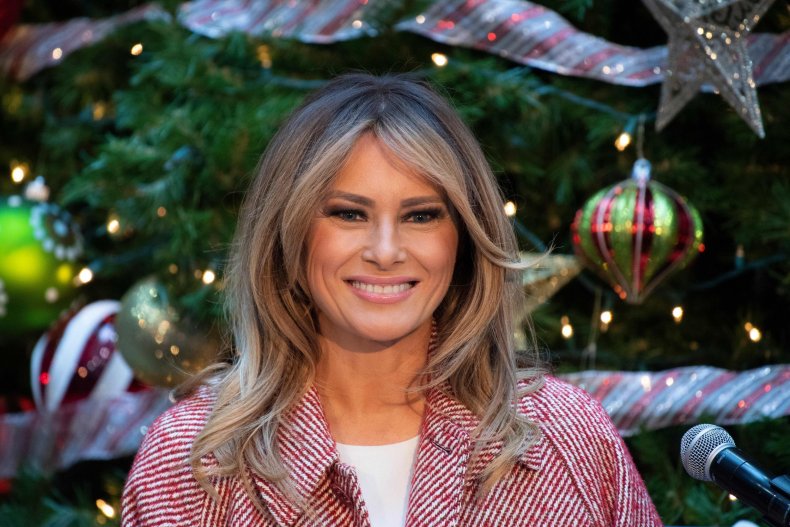 Later in June, Melania Trump brought about her most controversial moment yet as first lady, and the start of a closer embrace of her husband's rhetoric. En route to visit immigrant children detained at the U.S.-Mexico border as a result of the president's "zero tolerance" immigration policy, the first lady was photographed wearing a jacket that read, "I REALLY DON'T CARE, DO U?" Critics said she was insensitive to the issue, but her office later said the message was directed at the media.
The White House lists at least 16 public appearances, remarks or trips Melania Trump made for her "Be Best" campaign within the United States, in the United Kingdom and in Africa.
It was in October that Melania Trump made her first major trip abroad without her husband, traveling to Egypt, Ghana, Malawi and Kenya. In Kenya, she gave one of two controversial national interviews. The first lady told ABC News she was one of "the most bullied people in the world" and earlier in December, she used an even more contentious tone with Fox News, saying that sometimes it was necessary to fight back on social media.
"Although she seemed to the end the year on a more combative note and seems to be in step with the West Wing's messaging strategy in recent weeks," Wright said, "for most of the year she established quite a bit of independence from the president, refused to clean up his messes, and made public statements through her office that clashed with his, all of which likely contributed to her standing as the most popular member of the administration."
The first lady's influence within the administration was apparent in November when her office publicly called for Deputy National Security Adviser Mira Ricardel, who reportedly opposed aspects of her Africa trip, to step down.
"Melania Trump's clear role in these staffing decisions made people upset, but I think we have always been in denial about the power of the first lady," Wright said.
Perhaps as a result of what looked like her increasing involvement in the president's politics, Melania Trump's favorability rating in a CNN poll fell in December to 43 percent, down from 54 percent in October, about the same as the president's approval rating of 42.2 percent, according to FiveThirtyEight.
On Christmas Day, Melania Trump joined her husband in visiting American troops in Iraq, even though the president expressed concern for her safety.
"The men and women who serve in our nation's military give up so much so that we can be free," she tweeted. "@potus and I were honored to surprise deployed troops at Al Asad Air Base in Iraq."
"I think what we are learning is that when Melania Trump speaks with her own independent voice, the public rallies to her side," Wright said. "And when her remarks start to sound politicized or more like the party line, support for her wanes."