'Melania Trump' Addresses State of Her Union to President Trump After Stormy Daniels Affair: 'Donald, Time's Up'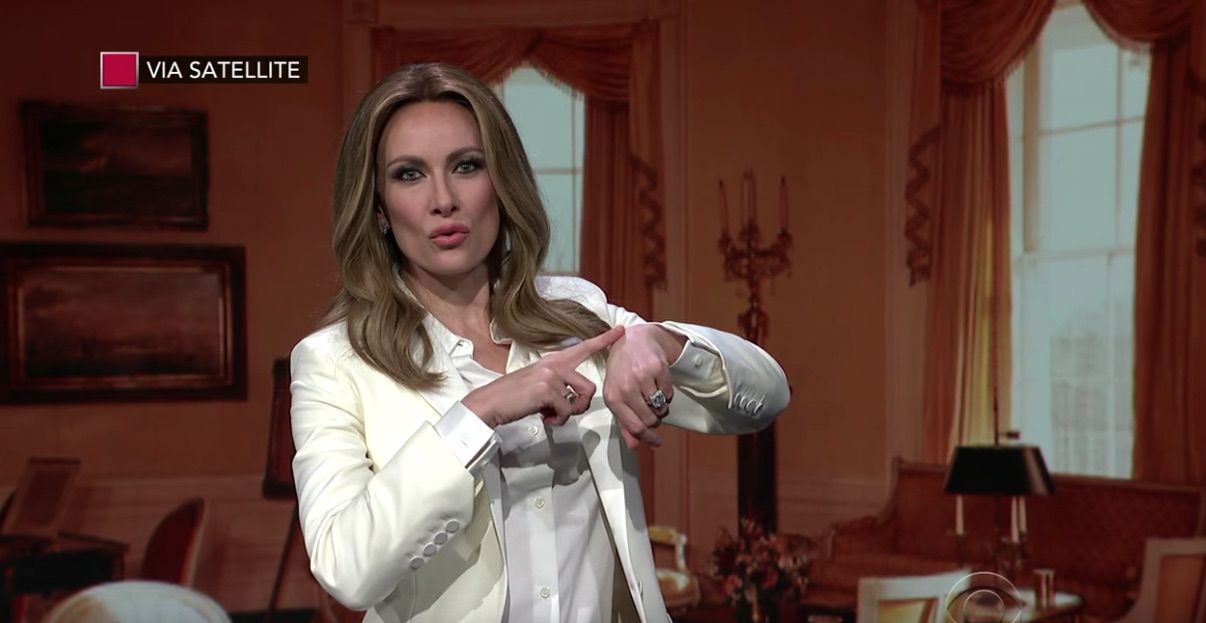 First President Donald Trump gave his State of the Union address Tuesday night and now, First Lady Melania Trump is giving America an address on the state of her union.
The president's wife, or rather, Laura Benanti's always funny impersonation of Melania, appeared on Wednesday's The Late Show to offer Stephen Colbert an insight into her marriage amid speculation she is "furious" about Trump's alleged affair with porn star Stormy Daniels.
Daniels and Trump are claimed to have slept together in a hotel room in July 2006 after meeting a celebrity golf tournament in Lake Tahoe, Nevada. Melania had just given birth to her first child, son Barron, with Trump in March that year. The affair became public knowledge in January when the Wall Street Journal reported that Trump's lawyer arranged a $130,000 payout to Daniels to keep quiet about the encounter in October 2016—one month before the presidential election. (Daniels all but confirmed she is gagged by an agreement in various television appearances, including a late-night sitdown with Jimmy Kimmel Tuesday.)
Wearing a white suit similar to the first lady's outfit at the State of the Union address, Benanti's Melania said the rumors about Trump's infidelity are "fake news."
"I do not believe my husband slept with this woman, Spanky Banjos," said the faux Melania, referring to Daniels. "I mean what kind of disgusting pig monster would cheat on his wife with porn star right after she gave birth and then pay hush money to this Cranky Ponchos?"
The first lady continued to explain that "everybody here," presumably the White House, "thinks it's a lie—and I agree. Hashtag me too," she added. Hmm, not quite the ideology behind #MeToo.
Benanti's Melania delivered another zinger: "If my husband's watching, I have a message. Donald, time's up," a reference to the Time's Up movement to eradicate sexual assault and harassment in the workplace.
But wait—that's not quite what Melania means. "Time's up…on your cheeseburger," the first lady said, producing a perfectly assembled burger, which, according to Michael Wolff's book Fire and Fury: Inside the Trump White House, is a daily snack for the president.
Melania then revealed the gift the president gave her for their 13th wedding anniversary January 22 and proceeded to whip out a cat ear-shaped knitted hat, the style of which has been dubbed the Pussyhat and has been worn by women protesting against inequality. The name of the hat is born out of Trump's infamous "grab 'em by the pussy" Access Hollywood interview.