Melania Trump Is Against Online Bullies, Except When Donald Is Doing the Bullying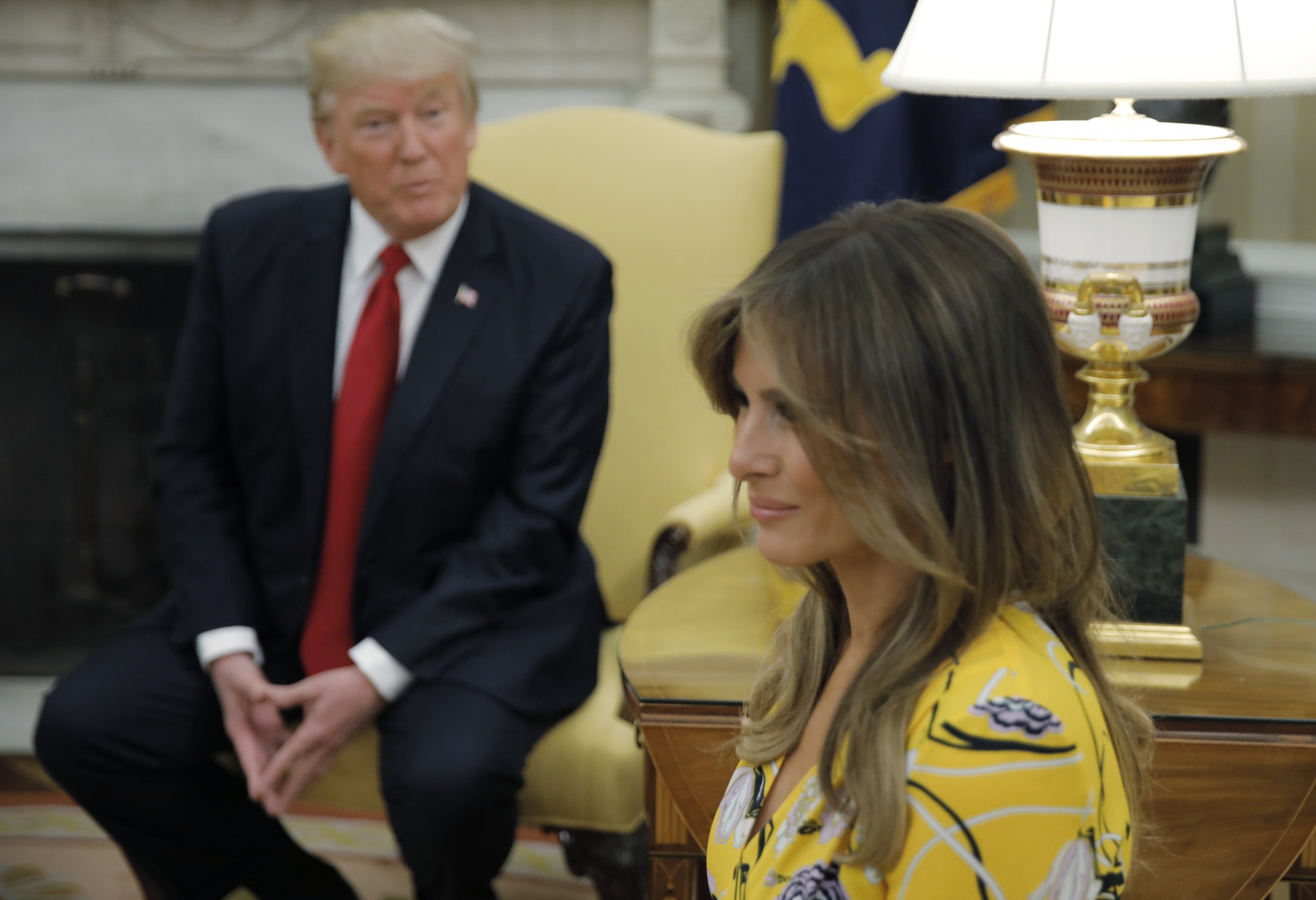 President Donald Trump Thursday tweeted harsh insults at a cable host he no longer likes, attacking her personal appearance by claiming she had cosmetic surgery. If that's not cyberbullying it at least seems like it, which is odd, since first lady Melania Trump has made anti-cyberbullying her principal cause in the White House.
The president tweeted about the MSNBC show Morning Joe, hosted by Mika Brzezinski and Joe Scarborough. The hosts—who revealed recently they are engaged—were initially buddy-buddy with Trump during the campaign but the relationship soured as Morning Joe grew critical of the president.
"I heard poorly rated @Morning_Joe speaks badly of me (don't watch anymore). Then how come low I.Q. Crazy Mika, along with Psycho Joe, came.....to Mar-a-Lago 3 nights in a row around New Year's Eve, and insisted on joining me. She was bleeding badly from a face-lift. I said no!" Trump said about the hosts in a series of tweets Thursday morning.
Referencing the president's tirade, CNN host Jake Tapper quickly pointed out in a tweet: "This reminds me: how is @FLOTUS's campaign against cyber-bullying going?"
After all, it was Melania Trump who in November said of cyberbullying, "our culture has gotten too mean and too rough." Trump said it would be her primary cause as first lady. By May, however, very little advocacy work had actually been done, USA Today reported. Stephanie Grisham, the first lady's press secretary, told the paper it was a work in progress and that "Mrs. Trump is being very thoughtful when it comes to building out her initiatives."
But while even a number of Republicans were highly critical of the presidents attacks (including Senators Lindsey Graham and Ben Sasse) the first lady was unapologetic in statements issued by her press office. Her office told NBC's Peter Alexander the first lady is "continuing to be thoughtful [about] her platform." But shortly after a statement given to CNN seemingly blamed TV host Brzezinski for the president of the United States tweeting insults.
"As first lady has stated publicly…when her husband gets attacked, he will punch back 10 times harder," Melania Trump's communications director told CNN's Kaitlan Collins, according to a tweet from the reporter.
Throughout his ascendancy to the White House, Trump has been unafraid to attack people online ranging from journalists to politicians to actors to just about anyone who might not give him total love and support.
The first lady has before defended her husband's often-lewd comments. She said he was "egged on" to participate in "boy talk" after a tape from 2005 revealed the now-president saying that with women, if you're a star you can "grab 'em by the pussy. You can do anything." In fact, on Morning Joe Trump defended her husband's comments that Mexico was sending rapists and criminals into the United States. "I don't feel that he insulted the Mexicans," she said.