Melania Trump's Approval Rating Hits 50 Percent, New Poll Shows
First lady Melania Trump boasts a pretty good approval rating according to a new poll released this week by YouGov.
Fifty percent of U.S. adults approve of the job she's doing—28 percent strongly approve and 22 percent somewhat approve—the survey found. Twenty-six percent disapproved—to some degree—of the first lady's job performance. Twenty-six percent responded that they were not sure. Outside of job performance, nearly half the country—49 percent—viewed the first lady favorably, according to the YouGov survey.
President Donald Trump, meanwhile, lags behind his wife when it comes to approval rating. Forty-four percent approved of his job performance to some degree, while 48 percent disapproved, giving Melania Trump an 8 percentage point approval rating lead.
The YouGov survey interviewed 1,500 U.S. adults from June 10 through June 12. It had a margin of error of plus or minus 3.2 percentage points.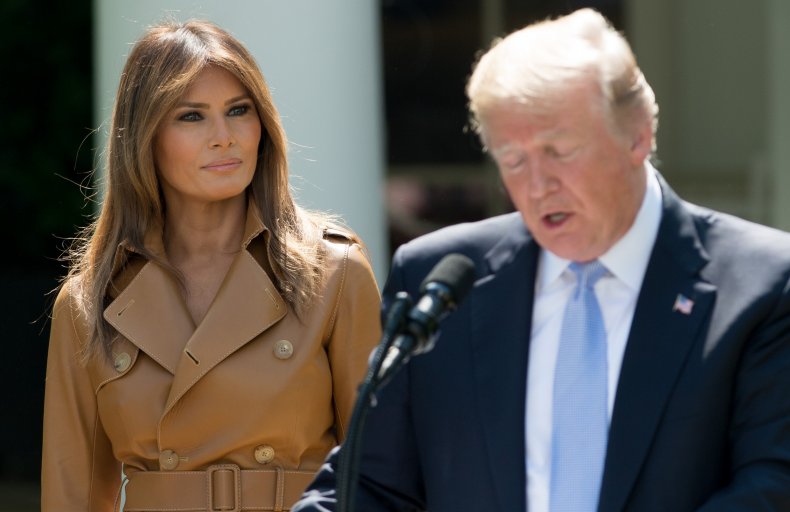 While folks might approve of the job she's doing, the first lady's absence became a bit of story recently. Melania Trump wasn't seen in public for about three weeks, leading a lot of folks to wonder where she was. Her Twitter account even put out a statement of sorts on the matter. It slammed the media.
"I see the media is working overtime speculating where I am & what I'm doing," the tweet read. "Rest assured, I'm here at the @WhiteHouse w my family, feeling great, & working hard on behalf of children & the American people!"
Melania Trump has since made her way back into the public eye. The first lady this week, for instance, attended a gala at the Ford Theatre in Washington, D.C. She delivered remarks congratulating the winners of the Lincoln Medal, given to folks whose accomplishments embody the character of President Lincoln.
"I was honored to be part of such a special evening," the first lady said in a statement, via USA Today. "Tonight reminds all of us about the power the arts have in cultivating the American voice. Thank you to Ford's Theatre Society for tonight, and your continued dedication to education and leadership in the arts; the impact they have on society is invaluable and something we will continue to cherish throughout time."