Melania Trump Backs LeBron James Instead of Donald Trump In Spat
Melania Trump appears to have broken rank with her husband President Donald Trump, issuing a statement supporting NBA star LeBron James in his row with the president.
The first lady issued a comment on Saturday backing the sports star following a tweet from Trump suggesting James was unintelligent.
"It looks like LeBron James is working to do good things on behalf of our next generation and just as she always has, the First Lady encourages everyone to have an open dialogue about issues facing children today," Melania's spokesperson Stephanie Grisham said in a statement to CNN.
Get your unlimited Newsweek trial >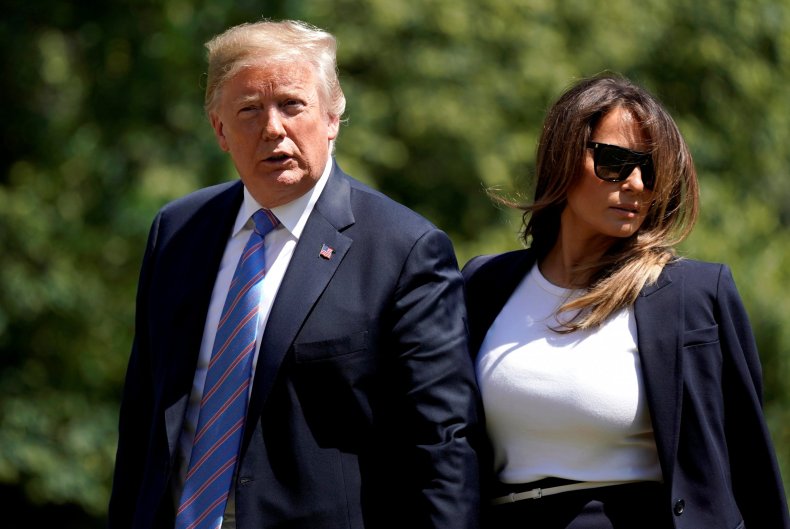 "As you know, Mrs. Trump has traveled the country and world talking to children about their well-being, healthy living, and the importance of responsible online behavior with her Be Best initiative. Her platform centers around visiting organizations, hospitals and schools, and she would be open to visiting the I Promise School in Akron," she added,
Her comments about responsible online behavior were viewed by some as a dig at her husband.
A number of sports stars have come to James' defense following the president's tweet, which came after James made comments about Trump in an interview with CNN's Don Lemon earlier in the week.
Get your unlimited Newsweek trial >
"Sports has never been something that divides people. It's always been something that brings someone together," James told Lemon.
The president "is dividing us and what I noticed over the last few months is that he's kinda used sport to divide us and that's something I can't relate to, because I know that sport was the first time I was ever around someone white," he continued.
James also suggested that the president emboldened people to share their racist views more openly.
"I think [racism's] always been there," James said. "But I think the president in charge now has given people - they don't care now, they throw it to your face."
His comments prompted a backlash from Trump, who made disparaging comments about both Lemon and James.
"Lebron James was just interviewed by the dumbest man on television, Don Lemon. He made Lebron look smart, which isn't easy to do. I like Mike!" the president added, referencing sports star Michael Jordan, who has also since come out in support of James.
Melania Trump Backs LeBron James Instead of Donald Trump In Spat | U.S.