Here's What Melania Trump Accomplished and Was Criticized for in Her Be Best Initiative's First Year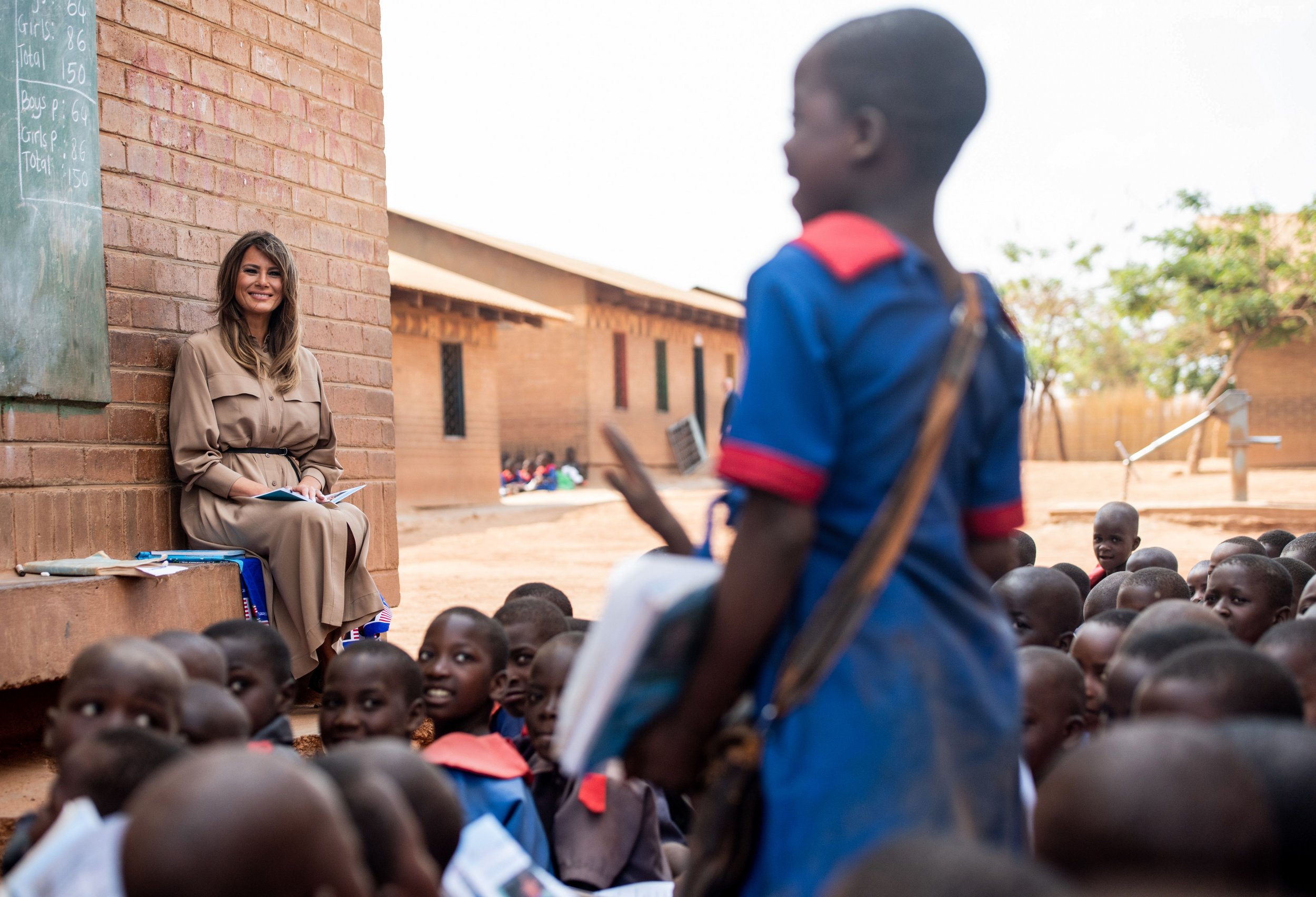 On Tuesday, first lady Melania Trump will celebrate the one-year anniversary of launching her Be Best initiative aimed at helping children be the best they can be.
Over the past year, Trump has spoken out against cyberbullying and the opioids epidemic, among other facets of her initiative, domestically and abroad including a trip to Africa. She also faced criticism for not speaking out forcefully against a Trump administration policy that led to family separations at the border with Mexico, even as her initiative focused on "the well-being of children everywhere."
"I am looking forward to this celebration," Trump said in a statement issued Thursday. "Over the past year, I have had the opportunity to meet so many incredible people who are working hard every day to care for and provide a better world for our children."
The first lady's Be Best celebration will take place at the White House with students, technology and medical professionals, Trump administration members and others who have spread her message.
Here are the milestones and accomplishments Trump has made in the first year of her platform:
Launch
Trump launched Be Best on May 7, 2017, during a press conference in the White House Rose Garden after months of anticipation of what her initiative would be.
The first lady explained that her initiative would focus on children's well-being, social media use and combating opioid abuse, with three main pillars promoting healthy living, kindness, and respect.
Immediately, the first lady faced criticism for her initiative choice because of the irony of her husband President Donald Trump's daily use of Twitter to slam his opponents.
Social media users also criticized Be Best after a journalist at the launch event asked, "is that grammatically correct?"
United Kingdom
Melania Trump brought Be Best to the United Kingdom to an event hosted by British Prime Minister Theresa May's husband Philip May in July 2017 despite plagiarism accusations that the initiative's guidelines on social media had already been circulated by the Federal Trade Commission during the Obama administration.
Grisham responded: "Our office will continue to focus on helping children, and I encourage members of the media to attempt to be best in their own professions, and focus on some of the children and programs Mrs. Trump highlighted."
Africa
In October 2018, Melania Trump embarked on her first major trip abroad without the president to Africa. Her trip to promote Be Best came roughly seven months after her husband in an immigration meeting reportedly referred to African nations as "shithole countries." She visited Ghana, Malawi, Kenya and Egypt.
The first lady read and mingled with children at schools and homes and learned about global approaches to helping the next generation.
Melania Trump also represented the United States and during a visit to a palace hall in Ghana named after ex-President Barack Obama, said that walking through a former slave trading post was "very emotional."
Criticism
On the second anniversary of her husband's administration in January, Melania Trump tweeted, "Our work in the East wing continues into 2019 with online safety, fighting opioid abuse & supporting the well-being of children everywhere! #BeBest"
Social media users ripped Melania Trump for the message, in light of the administration's "zero-tolerance" policy dictating that all adults found crossing the border illegally would face criminal prosecution and detention, while their children would be taken into U.S. government custody or sent to foster care.
Replies to Melania Trump's tweets included, "Except for the brown ones at the border," and, "Keep children in the best cages?"
Ironically, then-Attorney General Jeff Sessions announced the policy on the same day that Melania Trump launched Be Best.
Lauren Wright, author of On Behalf of the President: Presidential Spouses and White House Communications Strategy Today opined Monday that Melania Trump has not had much impact on perceptions of the administration's policy agenda, and that she could improve in that area.
"If there was one area I think she could help the most it would be immigration reform," Wright said in a statement. "There are kids suffering at the border and in U.S. custody every day and given her unique life experience and background and her concern for the well-being of kids it seems like a great chance for her to help people and provide a soft face for the administration's hard-line policy stances."
Fighting Back
The first lady began pushing back on criticism of her initiative in November, drawing some comparisons to her husband's far more combative nature.
"As I have said before, it is not news or surprising to me that critics in the media have chosen to ridicule me for speaking out on this issue—and that's OK," she said during the Family Online Safety Institute's conference in Washington, D.C., in mid-November.
"I remain committed to tackling this topic because it will provide a better world for our children," she said.
Later that month at a town hall at Liberty University in Lynchburg, Virginia, Melania Trump said, "Sometimes, you need to fight back. I'm sorry," and the audience cheered.
Opioids Efforts
Melania Trump's criticism of the media continued in March during the last stop of a three-state Be Best tour to raise awareness around the opioids epidemic.
"I challenge the press to devote as much time to the lives lost and the potential lives that could be saved by dedicating the same amount of coverage that you do to idle gossip or trivial stories," she said at a town hall in Las Vegas.
The first lady said that 72,000 Americans died of drug overdoses in 2017.
"When we see breaking news on TV or the front pages of newspapers, it is my hope that it can be about how many lives we were able to save through education and honest dialogue," she added.
In a sit-down interview with former Fox News host Eric Bolling on the matter, Trump reiterated her frustration over the media's coverage of her intiative.
"I wish the media would talk about more and educate more children, also adults, parents, about the opioid crisis that we have in the United States," the first lady said. "They do it already, but I think not enough."
Technology and Hospital Visits
Many of Melania Trump's domestic events for Be Best were at hospitals and technology companies, fitting with the pillars of the initiative.
In February, she went to the Nicklaus Children's Hospital in Miami to unveil a healing garden and speak with young patients and their families.
In March, Melania Trump paid a visit to the Microsoft headquarters in Seattle to learn about the company's work to boost safety and accessibility for young users on the Internet.
One-Year Celebration
In a release about the celebration Thursday, the White House stated that Be Best since its launch "has affected local communities across the country and world, spreading its message of kindness and shining a spotlight on successful programs and services so children and families can address the many issues they face in today's world."
The celebration will feature three guest speakers, each representing a pillar of the intiative.
Melania Trump stated it "will not only be an opportunity to thank so many leaders and innovators for their contributions to making Be Best a success, but a chance to come together as a community and set plans for expanding the initiative in the coming year as we work towards building a greater future for our children."