Melania Trump Will Bring Her 'Be Best' Campaign to London Despite Plagiarism Accusations
Melania Trump reportedly will be bringing her "Be Best" campaign, which was unveiled to much derision in May, to London later this week.
Related: President will avoid 'Baby Trump' blimp, London protests during U.K. visit
The first lady plans to tie in her child-focused platform at an event in the British capital, The New York Times reported Monday. Her host will be British Prime Minister Theresa May's husband, Philip May, who purchased a new suit for the meeting.
The first lady's spokeswoman, Stephanie Grisham, did not immediately respond to a request for comment from Newsweek.
Trump is taking "Be Best" on the road despite the harsh criticism she received when it was announced. The plan, she said, was aimed at helping "the most vulnerable and fragile among us, our children," and focused on social media use, fighting opioid abuse and their general well-being.
"There is one goal to be best, and that is to educate children about the main issues they are facing today," she said May 7. "If we truly listen to what our kids have to say, whether it be their concerns or ideas, adults can provide them the support and tools they need to grow up to be happy and productive adults."
She added: "My hope is that, together, we can be best at helping children and families finding effective ways to support each other. Together, let's encourage children to dream big, think big and do all they can to be best in everything they do."
The announcement, though, was overshadowed by accusations of poor grammar and plagiarism. One attendee at her launch event apparently asked, "Is that grammatically correct?" and social media users mocked the first lady and "Be Best" for what they deemed to be bad grammar.
Twitter users also flagged the initiative's booklet on social media guidelines, "Talking With Kids About Being Online," as having been previously distributed by the Federal Trade Commission during the Obama administration. The plagiarism claims prompted Grisham to state: "Our office will continue to focus on helping children, and I encourage members of the media to attempt to be best in their own professions, and focus on some of the children and programs Mrs. Trump highlighted in her remarks yesterday."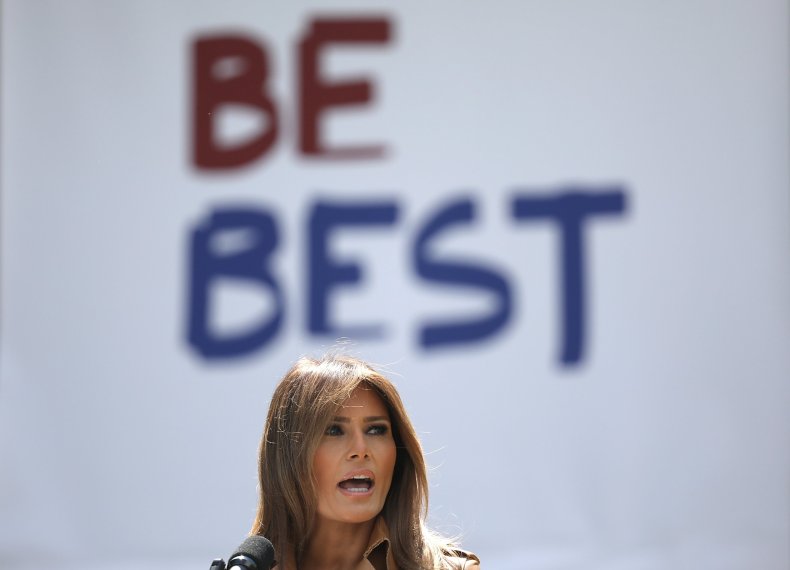 Three days after launching "Be Best," Trump, a Slovenian native, joined her husband to welcome home Americans who had been held captive in North Korea. She then underwent a kidney procedure and was out of sight for 26 days.
Since returning to public view, the first lady has made several solo trips, including two visits to detention centers. Grisham told USA Today that Trump may have solo events planned during her U.K. trip but did not disclose further details.
However, the first lady will accompany her husband to meet Queen Elizabeth II at Windsor Castle, after a meeting with Theresa May at her country retreat in Chequers, a deputy spokesperson for the prime minister said Friday.