Melania Trump Releases Video Reflecting on Legacy of Her White House Work
Melania Trump's final days in the White House are here and the first lady has released a video reflecting on her Be Best campaign.
With the violent end of Donald Trump's term as president comes the end of Melania's tumultuous stint as first lady.
"As the legacy of #BeBest comes to a close at the @WhiteHouse, we must continue to give a voice to our Nation's children & the issues that impact their lives," Melania tweeted on Friday. "It's the values & spirit of the American people that inspired Be Best & it's those values that will carry on its mission."
Be Best was Melania's initiative that focused "on some of the major issues facing children today, with the goal of encouraging children to BE BEST in their individual paths, while also teaching them the importance of social, emotional, and physical health." (via the White House.)
Her tweet was accompanied by a video of the first lady taking part in various events for the campaign over the past few years.
"My Be Best initiative was inspired by compassion, strength and kindness," she says in the voiceover. "Its qualities are the fabric of our nation and allow for a place of freedom and opportunity for all. From coast to coast, Americans have an unwavering resolve to help one another and share a common bond in wanting to create a better future for our next generation.
"Be Best is a platform that helps children achieve their fullest potential and also highlights the people and organizations that are doing extraordinary things in our country and around the world."
Melania ends her voiceover with a reflection on the legacy of the campaign.
"But our work is not done," she says. "As the legacy of Be Best comes to a close at the White House, we must continue to give a voice to our nation's children and the issues that impact their lives. It is the values and spirit of the American people that inspired the launch of Be Best and I know it is those values that will carry on its mission.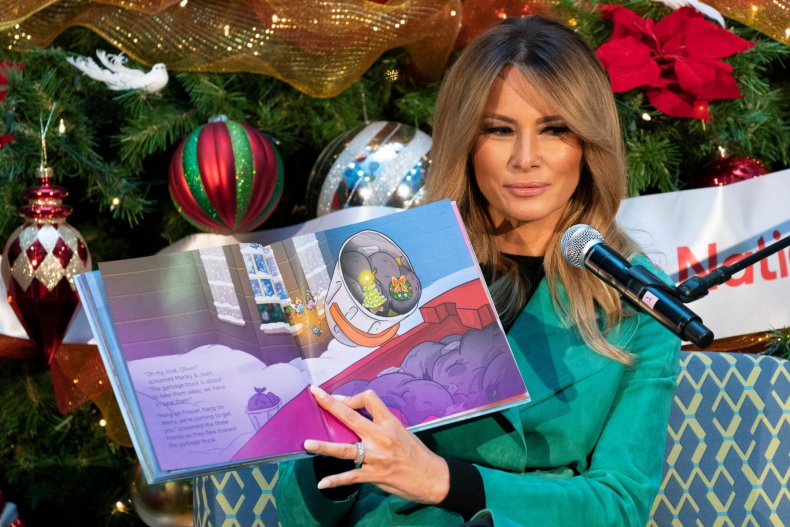 "If we continue to support one another, and come together in our communities, schools, government and places of worship, we will ensure all children have the opportunity to achieve the bright future they deserve."
The first lady ends with a blessing, saying: "May God bless you, all your families, and God bless the United States of America."
Following the attack on the Capitol on January 6 by her husband's supporters, Melania's reflection has not been received well on Twitter.
She has also been criticized for her "self-serving" statement on the Capitol violence.
In the days following the riot, she released a statement to condemn the violence and also used the opportunity to dismiss "salacious gossip" about her following the events.
"I find it shameful that surrounding these tragic events there has been salacious gossip, unwarranted personal attacks, and false misleading accusations on me—from people who are looking to be relevant and have an agenda," the statement read.
It has also been reported that Melania has not made any contact with her successor, Dr. Jill Biden ahead of next week's inauguration.