Melania Trump Links 'Be Best' With National Parks As Donald Trump Faces Criticism For Environmental Policies
First lady Melania Trump is set to promote her "Be Best" initiative along with national parks, as her husband President Donald Trump faces criticism and accusations of disregard for the environment and climate change denial.
The first lady will visit Wyoming on Thursday "to visit some of America's treasured national parks and spread the message of her initiative, BE BEST," according to a White House press release on Tuesday.
Melania Trump's spokeswoman Stephanie Grisham tweeted the release and commented, "Mrs. Trump will meet w/ children and encourage them to spend more time outdoors & learn about our amazing National Parks," with the hashtag #BeBest. The first lady retweeted Grisham, who has continued to handle her communications after becoming White House press secretary.
The first lady's Be Best initiative aims at helping children with their well-being and fighting cyberbullying and opioids use.
According to the release, her visit "will focus on one of the first lady's pillars of BE BEST–well-being–and encourage fourth graders to get a park pass from NPS.gov in order to spend time outdoors and learn more about the natural beauty of our country." It states that Melania Trump recently participated in a reopening ceremony of the Washington Monument with the National Park Service (NPS) and fourth-grade students, and handed out "Every Kid Outdoors" passes from the NPS giving students free access to America's national parks.
"In her time as first lady, Mrs. Trump has been a strong proponent of preserving national treasures so that people may enjoy and appreciate their historic value to the nation for generations to come," the press release states. "In addition to speaking with children about the value of getting out in nature and our national parks, this trip will highlight a few historic natural landmarks."
Melania Trump will fly into Jackson Hole and spend two days visiting Yellowstone and Grand Teton national parks. Her visit to promote national parks comes shortly after her husband was hit with an open impeachment inquiry, and faced criticism for mocking 16-year-old climate advocate Greta Thunberg for saying that United Nations global leaders have failed the younger generation by not fighting climate change aggressively enough.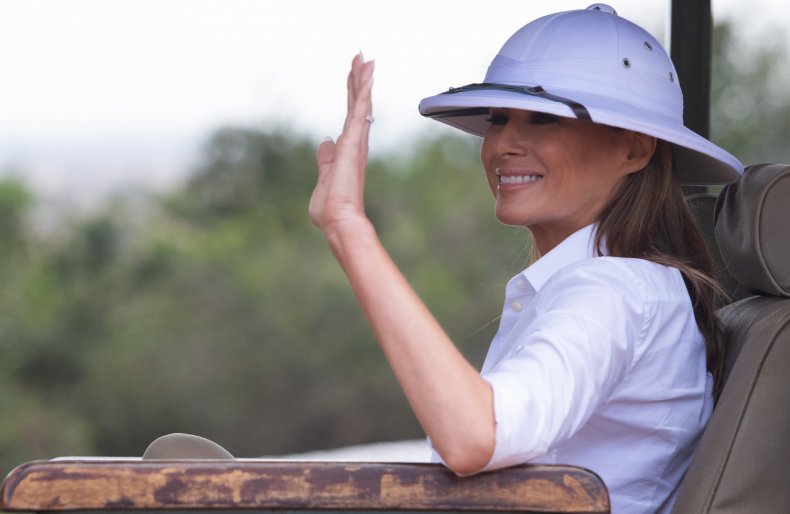 In April 2017, Trump ordered the Interior Department to investigate 27 national monuments. In August of that year, then-Secretary of the Interior Ryan Zinke recommended that the Trump administration downsize at least four national monuments and modify 10 of them.
An internal NPS report last month found that the president's proposed wall along the U.S.-Mexico border could damage and destroy many artifacts in Arizona's Organ Pipe Cactus National Monument.
Melania Trump has avoided commenting on her husband's more controversial policies, but has drawn attention for appearing to disagree with him on cyberbullying and now, national parks.