First lady Melania Trump had a message on the first day of school, her initiative to help children: "Be Best." But her tweet prompted many users to remind her of migrant children in "cages" due to Trump administration policies who are unable to attend classes.
"As students across the country head back to classes, I want to wish everyone a successful school year!" the first lady tweeted Tuesday morning, along with the hashtag #BeBest.
White House Press Secretary Stephanie Grisham, who was Trump's spokeswoman, retweeted her.
Philadelphia attorney and former prosecutor Tom Malone replied to both with, "You have students in cages. They can't go to school."
Another Twitter user commented, "Including the kids in cages taken from their parents?"
"And the #MigrantChildren Melania?" someone else tweeted. "What about their Care?"
In addition to bringing up the detention of migrant children, another Twitter user proposed what "Be Best" would look like on the issue.
"What about the children being held indefinitely in #TrumpConcentrationCamps, they need school too," the Twitter user wrote. "#BeBest, reunite and release separated families."
The Trump administration has faced heavy criticism for separating migrant families at the southern border with Mexico last summer and ended the policy. However, families are still being separated using other regulations.
Late last month, the administration introduced a new rule allowing it to keep migrant children in detention indefinitely, by ending the 1997 Flores Settlement Agreement (FSA) which limited the amount of time children could be detained and required that they are held in a manner of least restriction. The Department of Homeland Security in an August 21 press release stated that "promulgating this rule and seeking termination of the FSA are important steps towards an immigration system that is humane and operates consistently with the intent of Congress."
"This rule allows the federal government to enforce immigration laws as passed by Congress and ensures that all children in U.S. government custody are treated with dignity, respect, and special concern for their particular vulnerability," Acting Secretary of Homeland Security Kevin McAleenan stated.
The first lady has remained silent on migrant children detention. A Twitter user replied to her tweet with an image of a green jacket with the words, "I Really Don't Care Do U?" similar to the controversial jacket Trump wore on a visit to see detained migrant children in McAllen, Texas, in June 2018.
In an interview with ABC News months later, Trump said her jacket was directed at "the people and for the left-wing media who are criticizing me."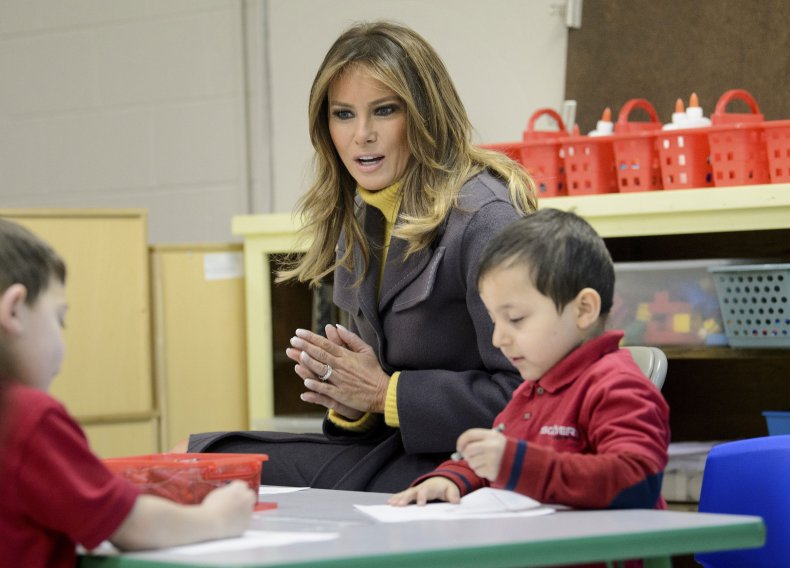 Twitter users on Tuesday mocked Trump's Be Best tweet by calling it bad grammar and bringing up accusations that she plagiarized its concepts from former first lady Michelle Obama. Other Twitter users voiced support for Trump.
"Children are 'The Best'! As a grandmother, I appreciate and admire all you do for the children in US," author Maggie Brendan tweeted along with a thumbs up emoji.