Melania Gave 'a Lot of Good Kisses' to Trump on His Birthday and Didn't Have a Facelift, President Says
President Donald Trump said he got "a lot of good kisses" from his wife, Melania Trump, for his birthday, then added that she did not get a facelift, in a Fox & Friends interview outside the White House on Friday morning.
Related: Here's What Melania Trump Has Done in Her Husband's Second Year as President
The president's statement came after the first lady, who had been out of the public eye for 26 days, did not acknowledge his 72nd birthday on Thursday on Twitter, as she had done last year.
"Yesterday was your birthday. Get any good presents?" Steve Doocy of the Fox News show asked the president.
"I got a lot of good kisses," the president responded.
Doocy then asked who the kisses came from.
"From my beautiful wife," the president said, adding that she was "doing great."
"She is in great shape. She's, like, perfect. Somebody said, 'Did she have a facelift?' No," the president said. "Did she have this, did she have that? I mean, the speculation even after the doctors gave—and these are White House doctors—they give really straight stuff, but no, she's doing fantastically well."
Melania Trump's decision not to tweet a happy-birthday message to her husband has only added to speculation that their relationship is strained. On the night of the president's 71st birthday last year, she tweeted an image with "Happy Birthday Mr. President" in fancy lettering, along with three hearts and an American flag emoji.
This year, Melania Trump canceled some of her appearances with her husband and arrived to other events on her own since reports broke in January of Trump's alleged affair with adult film star Stormy Daniels, whose legal name is Stephanie Clifford.
After the first lady underwent a kidney procedure in mid-May, which the White House described as minor, and went missing from public view for nearly a month, speculation abounded that she had returned to New York, or was out of sight because she got a facelift.
The president's comment on Friday rang similar to recent statements he's made on how "great" his wife is doing.
"First lady's great, right there," he said last Friday, pointing toward the White House before departing for the G-7 summit in Quebec without her. "She wanted to go. Can't fly for one month, the doctors say. She had a big operation, it was close to a four-hour operation, and she's doing great, right there. And you know what? She is a great first lady."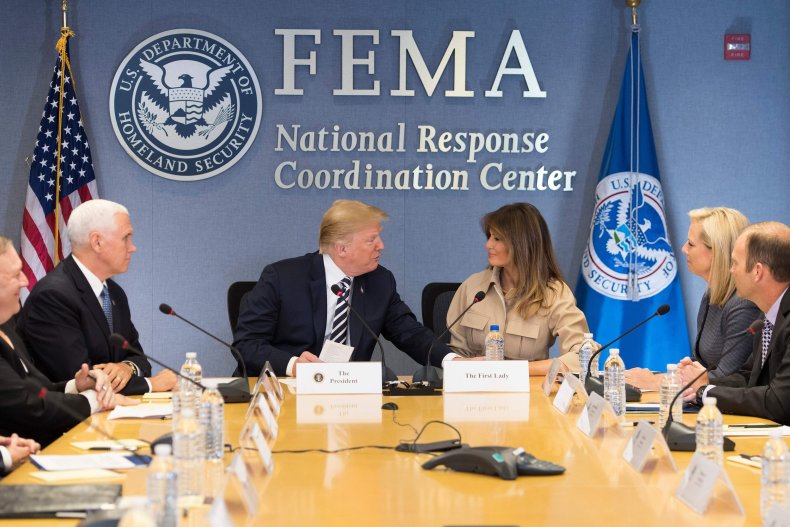 A couple of days before those comments, when Melania Trump made her reappearance at the Federal Emergency Management Agency headquarters, the president said, "She went through a little rough patch, but she's doing great, and we're very proud of her. She's done a fantastic job as first lady," he added, reaching for her arm or hand. "The people love you, the people of our country love you. Thank you, honey."
Melania Trump has not spoken publicly since her return, and during her absence sent a tweet that many suggested sounded like it had come from the president.