Melania Trump Body Double Conspiracy Theory Resurfaces After Cohen Plea, Manafort Verdict
A conspiracy theory about First Lady Melania Trump using a body double while appearing with her husband, President Donald Trump, has resurfaced just days after his former lawyer Michael Cohen pleaded guilty to eight criminal counts and his onetime campaign manager Paul Manafort was convicted of eight felonies.
Twitter users speculated that the first lady could be using a stand-in based on a video of the first couple disembarking Air Force One in Columbus, Ohio. One of the first to float the latest conspiracy theory was Twitter user The Resistance, who captioned the short clip, "Does this look like Melania?"
In the video, the first lady wears a polka dot blouse, a white skirt and white jacket while walking alongside the president. She wears the jacket over her shoulders, as the first lady frequently does, along with her signature black sunglasses. The video has received 2.7 million views since it was posted Saturday, and plenty of commentary questioning the woman's identity.
"She must have had it done during the flight because there's video of her boarding the flight. She was her normal size. This person got off the plane. Different body, different hair color. So unless she had surgery and a hair appointment midair, something is off," one Twitter user commented.
"I normally don't get caught up in this stuff, but this is kind of obvious," the user continued. "Melania is always very timid. This woman is confident and assertive. The facial structure is off. I hate to say it, but this person is almost masculine."
People on the internet pointed out other apparent differences besides hair color and mannerisms.
"Unless she put on about 25 lbs in a day and a half, that's not Melania," another Twitter user said.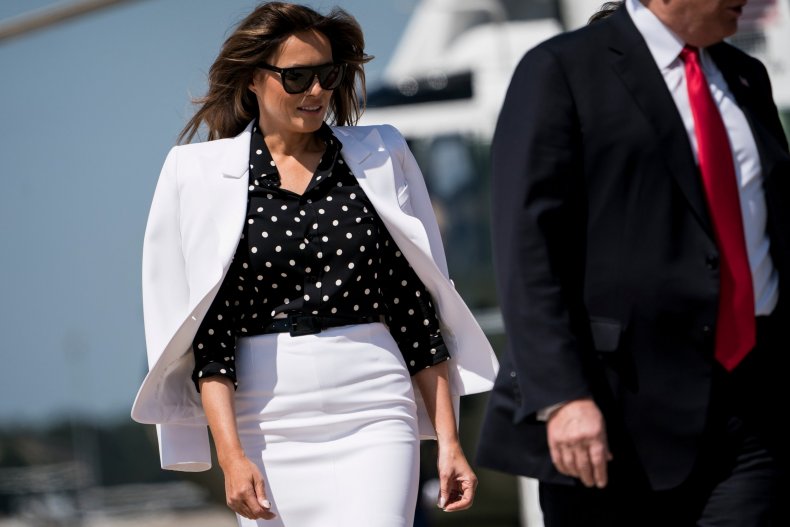 Another Twitter user tied the alleged body double to other speculation that the first lady wants to divorce her husband, as well as the president's former "fixer" Cohen turning against him.
"I think Melania is in agony with how much she hates him. She's probably threatening divorce, as in now. He's most likely agreed to let her leave the WH as long as she remains out of sight or he's getting ready to have her killed," the user tweeted. "Too bad Cohen flipped. He'd get rid of the body."
A conspiracy theory of the first lady using a body double first blew up last October when social media users zeroed in on footage of her standing by her husband while he spoke at a press conference about Puerto Rico hurricane relief and a nuclear deal with Iran. Some social media users said the first lady, who wore a coat and black sunglasses, had a different shaped nose.