Melania Trump Supported Brett Kavanaugh but Won't Attend His Swearing-in Ceremony Due to 'Prior Commitment'
First lady Melania Trump, despite voicing support for Brett Kavanaugh's Supreme Court confirmation all the way from Egypt, will not be attending his official swearing-in ceremony on Monday.
"The first lady regrets that she will not be able to celebrate with the Kavanaugh family on such a special evening, but she has a long-standing prior commitment she was unable to change at the last minute," Trump's spokeswoman Stephanie Grisham told Newsweek in an email Monday morning.
Grisham did not immediately respond to a follow-up question on what the first lady's prior commitment was.
Just a couple of days ago, Trump said of Kavanaugh from Egypt, where she ended her first major official trip abroad without her husband President Donald Trump, "I think he's highly qualified for the Supreme Court."
"I'm glad that Dr. Ford was heard," she told reporters of one of Kavanaugh's sexual assault accusers, Christine Blasey Ford. "I'm glad that Judge Kavanaugh was heard, FBI investigation was done, is completed and the Senate voted."
When asked if she believed Ford's claim that Kavanaugh sexually assaulted her when they were teenagers, Trump did not address the question directly.
"We need to help all the victims, no matter what kind of abuse they had," Trump said. "I'm against any kind of abuse or violence."
Kavanaugh was confirmed into the Supreme Court on Saturday in a narrow 50-48 vote by senators after weeks of controversy that included a Senate Judiciary Committee hearing on sexual assault allegations against him. In an emotionally charged testimony, Kavanaugh denied Ford's assault accusations as well as allegations that he drank more excessively than his peers in his younger years.
He was sworn in hours after the vote on Saturday, but his official swearing-in ceremony as the 114th Supreme Court justice is scheduled for Monday evening.
Melania Trump has backed her husband's decisions but not on all occasions, she explained during a rare conversation with reporters from Egypt.
"I don't always agree with his tweets, and I tell him that and give him my honest opinion and honest advice," she said. "Sometimes he listens and sometimes he doesn't, but I have my own voice and my own opinions, and it's very important that I express what I feel."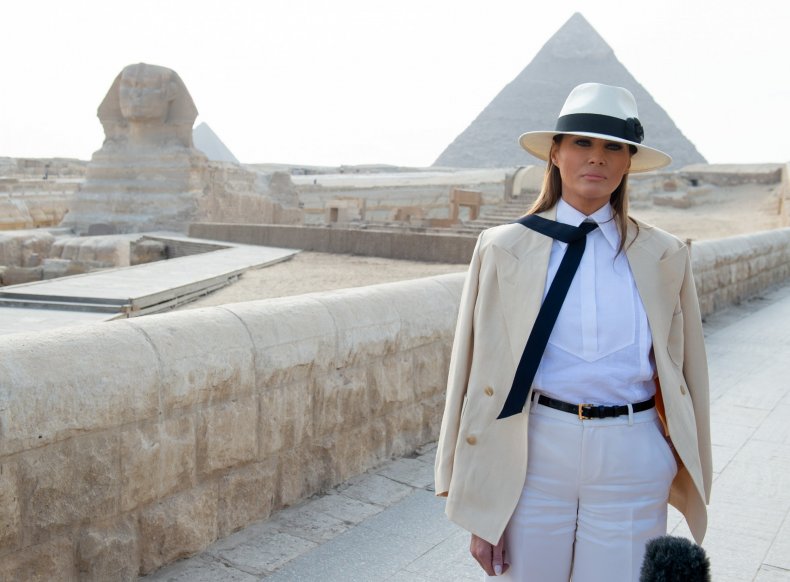 The first lady, who likes to keep private, has raised eyebrows for missing public appearances in the past. After reports broke out of her husband's alleged affair with adult film star Stormy Daniels (real name Stephanie Clifford), Melania Trump did not travel with the president to the World Economic Forum in Davos, Switzerland.