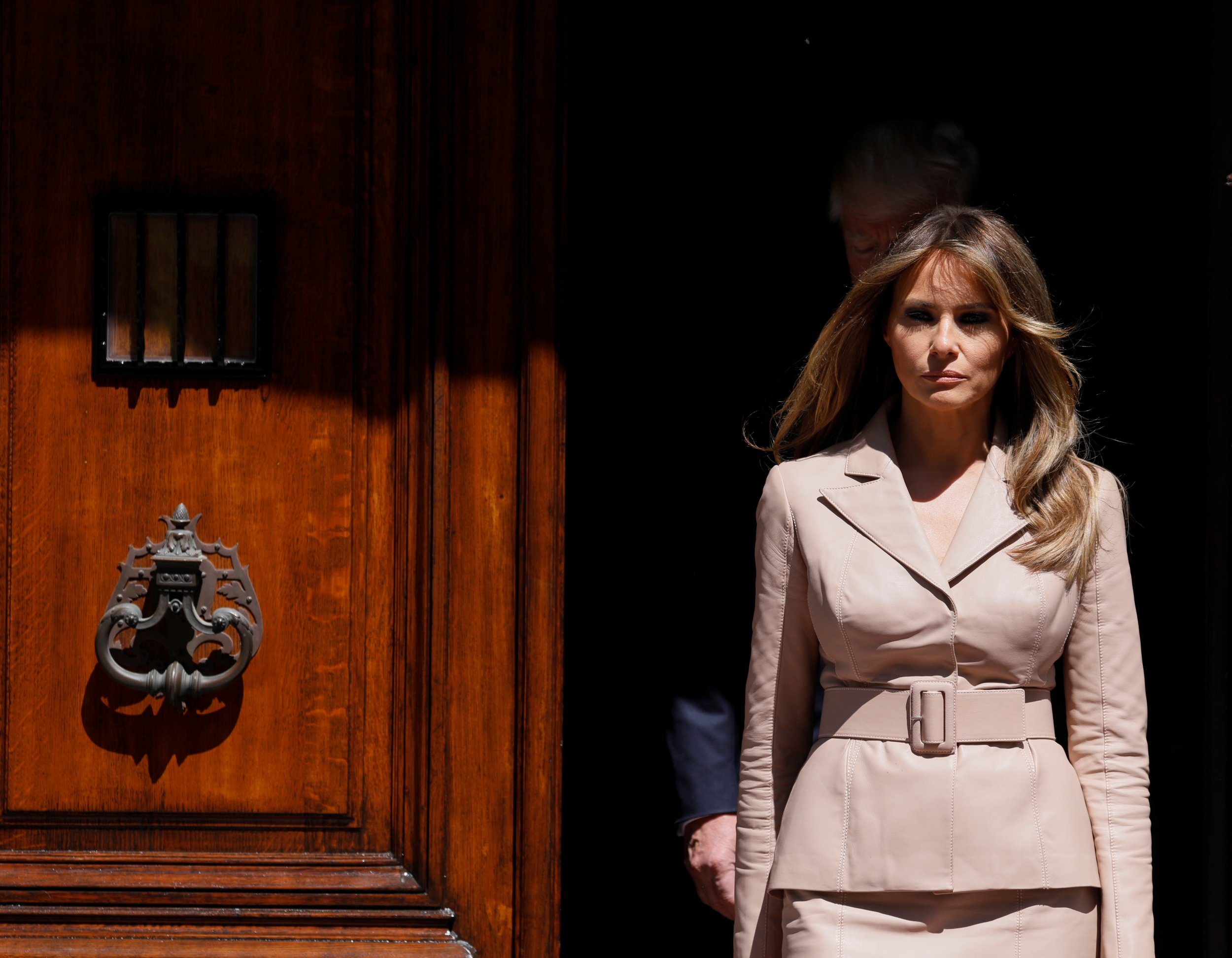 Melania Trump, unlike her husband, isn't known for being loquacious. But she's spending Thursday on a tour of Brussels with spouses of Nato leaders, and while their husbands and wives talk global security at the alliance's summit, the first lady will have to make small talk with her new companions.
As a group, they're not obvious picks for Melania's new pals. They include Emine Erdogan, the devoutly Muslim wife of Turkish President Recep Tayyip, and Brigitte Trogneux, who met liberal French President Emmanuel Macron when she taught him in school.
The day has been organized by the Belgian foreign ministry and will include trips to art galleries and a brief meeting with the monarch, Queen Mathilde of Belgium. Trump is expected to attend at least some of it. But what can she and her companions talk about in the downtime that won't get too awkward?
Trogneux met Macron when she taught him drama and literature, but they teamed up outside of class too, to write a play together. So we can assume that the theater is a safe bet for a conversation starter.
Better steer clear of the hit Broadway musical Hamilton. But the Opéra National de Paris is currently staging an acclaimed, revolutionary production of Verdi's Rigoletto . Perhaps Melania can muster a few observations on this bracing tale of a vengeful dwarf tragically obsessed with his beautiful daughter.
Erdogan is tricky. You know how it is; you get stuck talking to someone then discover they are a strict adherent of a religion whose followers your husband once threatened to ban from entering his country.
What to do? Stick to something soft, like interior decor! Melania is currently leading on plans to revamp the living quarters at the White House. Meanwhile, Emine and her husband unveiled a new presidential palace in Ankara in 2014. With a reported $9 million spent on carpets, $6.4 million on 400 pairs of 10 feet high double doors and huge silk wallpaper sourced at $2,600 a roll, it sounds like both women's husbands share a taste for the finer things.
Men are thin on the ground on the trip: German Chancellor Angela Merkel's husband, Joachim Sauer, is reported to be skipping it, while British Prime Minister Theresa May's office confirm to Newsweek her husband Philip won't make it. Philip made headlines for declaring in a recent BBC interview that in his house there are "girl jobs and boy jobs." Clearly, he doesn't see this as the latter.
But Gauthier Destenay, who is married to Luxembourg's gay prime minister Xavier Bettel, will be present. Still, if Melania wants to avoid chatting with him, she has an easy get out clause in the Mike Pence defense —no unsupervised chatter with the opposite sex.