Melania Trump Got '0.1 Percent' Talking Time in 'Brutal Dinner' With Donald, Woody Harrelson Says
Before she married now-President Donald Trump, Melania Knauss accompanied him to a dinner with two others and apparently got "0.1 percent, maybe," of the talking time while her future husband engaged in a "monologue monopoly," according to actor Woody Harrelson, who was a guest at what he called the "brutal" meeting.
Harrelson joined Trump and Knauss for dinner at Trump Tower in 2002 at the invitation of his friend then-Minnesota Governor Jesse Ventura, whom Trump was trying to convince to be his running mate for the Democratic ticket for the 2004 presidential election.
"Now, at a fair table with four people, each person is entitled to 25 percent of the conversation, right? I'd say Melania got about 0.1 percent, maybe," Harrelson told Esquire for its September issue. "I got about 1 percent. And the governor, Jesse, he got about 3 percent. Trump took the rest."
Harrelson said "it got so bad I had to go outside and burn one," (meaning smoke weed), "before returning to the monologue monopoly." They were at the table for two-and-a-half hours "and it was, let me tell you, a brutal dinner," he said.
The actor said he had seen narcissists working in Hollywood, but "this guy was beyond" and "it blew my mind."
Harrelson said he was intrigued by one thing Trump said: that he was worth four or five billion dollars.
"He said, 'I'm worth however many billion dollars. But when I die, no matter how much it is, I know my kids are going to fight over it,'" Harrelson said. "That was the one true statement he made that night, and I thought, 'Okay, yeah, that's pretty cool'."
The actor added that "the fun part" was watching Trump seemingly pin Ventura, a former professional wrestler, into saying yes for the political run, but Ventura would "slip out at the last second."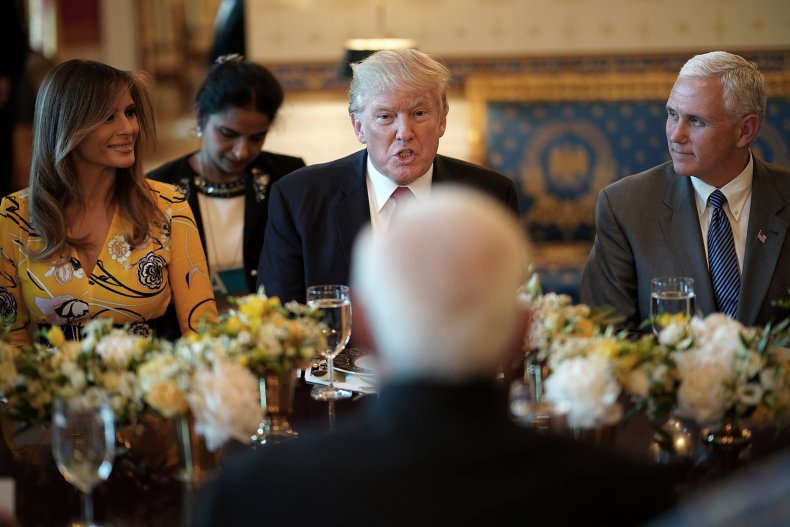 Trump, who at the time was hosting the NBC show The Apprentice, did not end up joining he 2004 presidential race. He married Melania Knauss, who became his third wife, in 2005, and went on to win the 2016 presidential election.
While the first lady speaks far less frequently than her husband, he has said he values her opinions. During his 2016 bid, Trump often joked, "You know who my absolute best pollster is? Melania," his longtime associate Roger Stone said in the recent book The Method to the Madness: Donald Trump's Ascent as Told by Those Who Were Hired, Fired, Inspired—and Inaugurated.
The president "listens to [Melania] more intently than anyone and respects her advice and counsel not only because she is his wife, but because her loyalty, grace, trust, elegance under fire, intellect and instincts are time tested and proven," his friend Thomas J. Barrack Jr. told The New York Times in August 2018.