'I Really Don't Care, Do Yule?' Stephen Colbert Welcomes Fake Melania Trump Back to 'The Late Show'
Actress and singer Laura Benanti skewered Melania Trump and her husband in a mock-White House Christmas message on The Late Show With Stephen Colbert Thursday night.
Impersonating the first lady, Benanti promised to "Make America Christmas Again," before poking fun at the couple's marriage, the president's immigration policies and a lack of diversity among top cabinet officials.
"My husband, Donald 'president' Trump was supposed to be here with me to deliver our annual Christmas message," Benanti said during the 8-minute impersonation of the first lady. "But I've just gotten word he is running late, which is surprising because I have never seen him run before."
Stepsons Don Jr and Eric Trump, she quipped, were busy hunting endangered reindeer.
While waiting for her husband, the fake Melania said, "I guess I'll have to do what I do best: Distract from [Donald Trump]'s failures." Benanti then pointed to a familiar green jacket emblazoned with the words: "I really don't care, do Yule?"
Earlier this year, Melania Trump was pictured wearing a coat featuring the words "I really don't care, do u?" as she boarded a flight to visit a migrant children's shelter in June.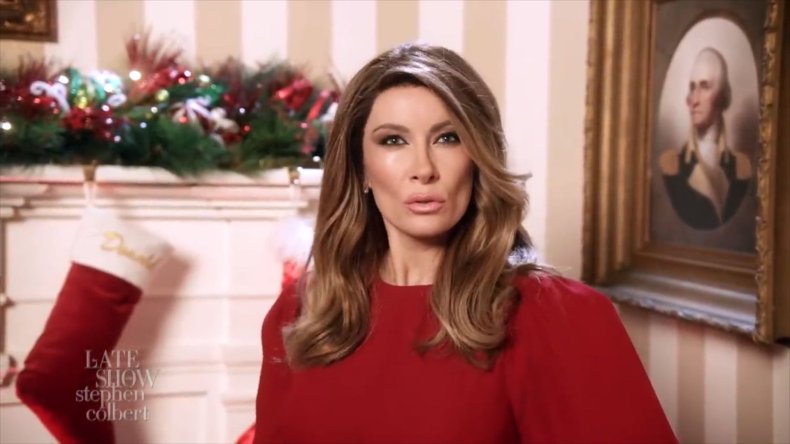 "You're free to say 'Merry Christmas' all year, unless you're a migrant child in detention. Boohoo," Benanti sang during a subsequent musical number, which also mocked a lack of diversity among senior cabinet officials.
"A beautiful white Christmas, and I ain't talking snow," she sang, holding up a photo featuring members of the Trump administration, such as Vice President Mike Pence and treasury secretary Steve Mnuchin.
Towards the end of the segment, Benanti referenced long-rumored marital issues the couple allegedly face. "The mere thought of being without my husband on Christmas Eve makes me so emotional. It just makes me want to scream," fake Melania said, before bursting into a rendition of Mozart's "Alleluia."
After a second song—in which fake Melania weighs up the prospect of leaving her husband against the threat of financial ruin—Benanti ended the skit with the words: "Merry Christmas bitches. Both things which my husband made okay to say again."
This isn't the first time Benanti has parodied the first lady on The Late Show. She previously impersonated Trump during an interview segment in November, poking fun at everything from the "Be Best" campaign to the firing of deputy national security adviser Mira Ricardel. Host Stephen Colbert broke down laughing during the fake interview over a joke about the president's "privates."